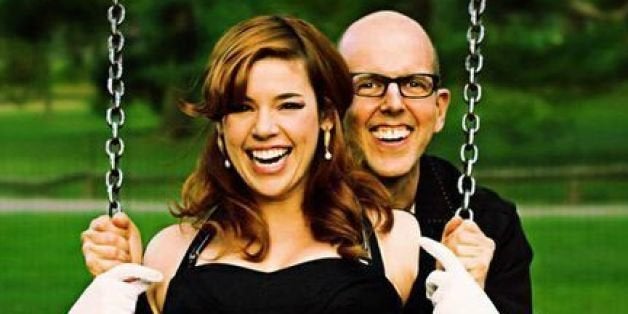 The singer-actress says the pair recorded "I've Been Played" during her first week of rehearsals for "On The Town" last summer, though the album's release couldn't come at a more prolific time for the star. Ultimately, though, Umphress sees the project as a labor of love between two longstanding friends.
Get an exclusive listen to Umphress singing "Celebrate" below:
The Huffington Post recently caught up with Umphress, who was set to perform a set of tunes with Blumenkrantz at a Jan. 5 album release party at New York's Birdland. Here's what she had to say about juggling a Broadway role with the release of her first solo recording, working with Blumenkrantz and her hopes for 2015.
The Huffington Post: What's the secret to juggling a massive role in a big Broadway musical yet still finding enough time in a day to record an album?
Alysha Umphress: Well, that's easy! We recorded the album my first week of rehearsals for "On The Town" back in August. Luckily, because most of the principles had done the show at Barrington Stage the summer prior, they focused primarily on the big dance numbers the first week and our workload was on the lighter side. I think there were a few days where I was called for maybe an hour or not at all so it was actually the perfect time to record an album! It was all Jeff's idea. He's smart.
Since this marks your first solo recording, why did the time feel right to release it now?
Well, when you're given a great platform [like "On The Town"] to get your name out there, it's an ideal time to strike while the iron is hot or at least warm? Plus this album is jazzy and swingy and very in the world of my character in "On The Town" so it's a perfect accompaniment. It would be odd if I were putting out a bluegrass/alternative album right now, right? Or maybe then people would be like, "Wow, she's so versatile!" Hmmmm....
You're certainly kicking off your 2015 with a bang. Do you see this album fulfilling a New Year's resolution of sorts?
I guess I hadn't thought about that until you said that. But yes, in a way, definitely. We picked this date because that's when we estimated the album would be done and when we could get the band together to do this release show, and it was after the holidays. But it's starting off 2015 with something really exciting that I'm really proud of, so if that's not a great way to start out the year, I don't know what is.
What's the best part about working with Jeff Blumenkrantz on a project like this?
Everything! Well, for starters, he's one of my oldest and dearest friends so it's always a pleasure to get to be around him in any capacity -- and he's so unbelievably talented that I knew the end product was going to be sublime. Jeff is a perfectionist in every aspect of his life. He's so meticulous about every detail that I wasn't worried at any point during this process. He had -- and has -- 100 percent of my faith and trust in what he does. I'm such a fan of his music and I can't wait for everyone to hear this album.
Conversely, what's the most challenging part?
I think because Jeff is so specific about what he wants, at times when we were recording, he would give me notes about phrasing or note placement that I would feel like I was nailing and I suppose (to his ear) I wasn't, so he would note me further and I would get a little frustrated and be like, "But this is how I want to sing this pass." And then I would check myself and say, "Alysha, he's producing this album, you need to take the criticism," and I would do what he wanted, and it would be great and we would move on. I love you Jeff.
This album gives you the opportunity to put your signature stamp on a number of original Blumenkrantz tunes. Which is your favorite, and why?
This is such a tough one. I loved doing all of the duets with Jeff. If we could have done an album of all duets I would have been tickled pink, but most of the duets were songs Jeff arranged and aren't original JB tunes. So duets aside I would have to say I have two. "I've Been Played," which is the album's title, is one. I love it because no one else has sung it for him whether on his podcast or on another recording and because it's the ideal smoky jazzy torch song with such clever lyrics. The first time I heard it I was like, "This sounds like it's from a classic 1940s musical." Plus, he wrote the song with my voice in mind so I feel like it's perfectly suited for me. The other is "Giving Thanks." I asked specifically if we could include this one on the album because whenever I would hear him sing it at any of his concerts over the years, it always makes me cry. I'm just in love with it.
Which of these songs best describes your current mood as 2014 winds to a close, and why?
I suppose "Celebrate"! It's fun and brassy and joyous. 2014 was one of the best years of my life and hope that 2015 can keep with trend. I have a feeling it will top it.
Which of these songs do you most look forward to performing live, and why?
"I Don't Need Anything But You" and "You Are Never Away/Ten Minutes Ago." Both are duets with Jeff which I always love doing and the arrangements are off-the-charts amazing. I'm so excited for people to hear songs they already know and to see how Jeff has made them even more amazing and unexpected.
What is Alysha Umphress most looking forward to doing in 2015?
In October my grandfather will be 100 years old. I can't wait to be at that party. He was born in 1915. That is crazy!
Popular in the Community