After nine successful seasons, CBS' hit show "How I Met Your Mother" will soon air its series finale, and for the show's stars, it will be the end of an era.
The original cast appeared on "The Talk" on Monday (Jan. 27) to discuss the show's 200th episode and its impending series finale.
Alyson Hannigan got especially emotional when asked what she would miss about Jason Segel, her onscreen husband. As one might expect, they've grown close during their nine years on the show together and have developed a close friendship.
"He's just, he's such a wonderful guy," Hannigan said. As she spoke, she began to tear up, but she played it off, joking, "I'm not going to miss him."
"I'm not good at answering this question, at all," she continued. "I'm on a daytime talk show, crying. This isn't how it's supposed to go."
The feeling's mutual for Segel. He didn't turn on the waterworks when asked what he would miss about her, but he give a heartfelt response, saying that she's helped him learn and grow during their time on the show.
"Aly taught me a lot about how to be a man, I gotta say. I was 25 when I took [on] the show, and I think we've all been through a lot personally. Aly and I have a lot of scenes together and we spend a lot of time together, and she's always been there to listen to me and to give me advice. [She] saw me through hard times and good times."
His kind words didn't help to dry Hannigan's eyes, though.
"I learned a lot from being around Alyson about the kind of person that I wanted to be," he continued.

As Hannigan continued to sniff and blot her eyes, Segel played the hero by offering up a handkerchief he had been carrying in his pocket.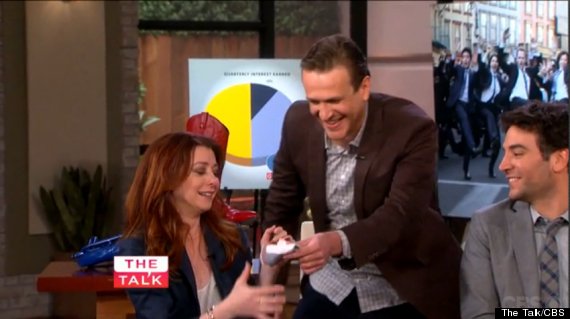 Fans will no doubt miss Lily and Marshall Eriksen as much as Hannigan and Segel will miss each other.
"How I Met Your Mother" will end in March of 2014.

REAL LIFE. REAL NEWS. REAL VOICES.
Help us tell more of the stories that matter from voices that too often remain unheard.
BEFORE YOU GO
PHOTO GALLERY
How I Met Your Mother