Alyssa Milano has an excellent point when it comes to the stigma surrounding breastfeeding.
In a May interview with Yahoo Parenting recently republished for its "Best of 2015" series, the "Charmed" star opened up about being a mother to her two kids, 4-year-old Milo and 16-month-old Elizabella. The actress has been especially vocal about breastfeeding and told Yahoo Parenting she doesn't understand the disconnect between the amount of skin shown on the red carpet and the amount of skin shown while breastfeeding.
"Not that there's anything wrong with wearing fewer clothes on a red carpet -- I just don't see the dichotomy," she said. "We've sexualized the female body so much that we forget that it has a real function -- to feed our babies. That whole 'you wouldn't poop in public, so why would you breastfeed in public' is so insulting to me."
Milano also explained to Yahoo Parenting how she has changed since welcoming her two kids. She described herself as a "type-A personality and a perfectionist," but added that becoming a mother has given her a different focus on life.
"Now that I have children I've learned to let go of a lot of those perfectionist tendencies, in order to have enough energy to be the best mom I can," she said. "That's not to say I do it perfectly every day -- every day is a process -- but as long as I'm focused on raising two good people, the rest is kind of secondary and has less importance."
When the interviewer mentioned how she probably inspires other moms by being so open about her personal experience and speaking up about breastfeeding, Milano simply said she was proud to be a part of such a community.
"I feel very privileged to be a part of the mommyhood club, it's the coolest club you can be in," she said. "There's an understanding among moms that other people don't get -- the husbands, the fathers, the best friends from childhood. I think we should all be advocates for each other."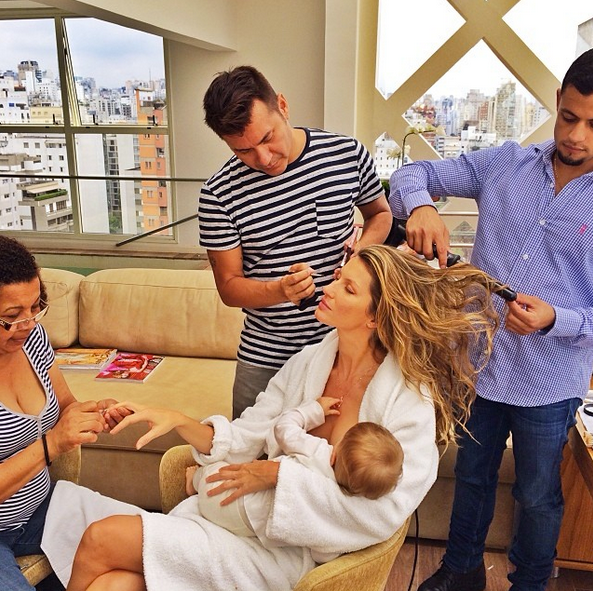 Memorable Breastfeeding Moments In Hollywood