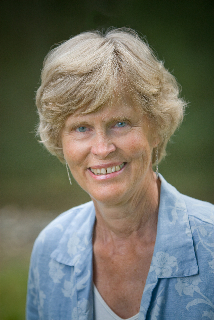 I asked Olivia about the key lesson she learned from her experience:
Our background in meditation and the Buddhist teachings were without doubt the strongest support for getting through this illness, because we knew and accepted the reality of impermanence. We knew not to make life hard for ourselves, and not to go against it. Instead we could see, this is what life is presenting us with, and we could focus on how do we handle this in the best way possible?
How would you translate the lessons you learned for non-Buddhists?
It makes a tremendous difference if you can shift the lens a little bit in how you see the illness, and look for what might be positive in what is happening. That seems so counterintuitive, but I could see that for instance there was a growing tenderness between us, that whenever you deal with something difficult like a life threatening illness or loss or a handicap it tends to break open the heart with compassion. That really happened for me.

Another lesson was not to get isolated but to reach out for help and realize there are so many people struggling with this illness, and other severe illnesses, and we need to support one another, to write about it, to share what we have learned, to realize how in some subtle ways we are connected. I really felt that at times.

The most powerful teaching I got was from Tulku Thondup, a Tibetan teacher, when he said, "Take it as a blessing. Any situation can be a source of growth. This is difficult, but it is a teaching, a training, a blessing. And so you should try to use it as much as you can . . ." I was going to name the first chapter in my book, 'Take it as a blessing', but I could not do it, because it was too radical. It was too harsh, too insensitive to what is so harrowing about this disease. But now I can look back on that and see that a lot that happened between us and around us, was both heartening and also heart breaking at the same time.

There is also a powerful lesson in the attitude of acceptance, because it helps us not struggle so much with what is happening. I was so touched by the blurb the Dalai Lama wrote about my book: "There is not much we can do about aging or Alzheimer's, but, . . . accepting the condition in which we find ourselves can be a far more positive approach in the long run."

This illness is a huge lesson in letting go and in surrender. There were times when I felt that I was almost like on my meditation cushion, that he (my husband) was my practice. When I wrote that piece about "There are no interruptions.", that was so amazing for me because the way it feels is, that whole illness is an interruption, yet when I could hold that vision that there were no interruptions, it helped tremendously.

Another lesson is acknowledging we don't know what may be going on. I tried so hard to feel my way into what he was experiencing. I said this about my mother - who also lived with Alzheimer's - that sometimes I felt that she was sitting in the cave of her heart and doing some kind of inner work we had not idea about. On some level I felt that because my mother was such a cerebral person, it was as if something else had to happen in order for her to get in touch with her heart.

I talked with Olivia about my work with Dr. Allen Power, and Nader Shabahangi, developing a new type of mindfulness-based training program for care partners of persons with a dementia diagnosis. We discussed the reductive language - terms such as dementia, caregivers . . . , and the current medical model that are being used to approach dementia care:
Our medical system is so oriented to pathology, that all they want is to find a diagnosis and to label you, and then everybody relates to the label and not to the person. I have such strong feelings about this. This is why I didn't want to read a whole bunch of books about this, because I did not want to be walking around with everybody else's context about it. I wanted to greet it as it came, as an experience, and not label it. About three months before he died, my husband said something that struck me: "They call it Alzheimer's, but I don't call it anything." When you live in the world of pathology everything follows from that. You see the dark side. You see the demons more than what the person still has. It is a cascade of aftereffects.
Last, I asked Olivia for what she would like to see included in a care partner training such as a the one we are putting together:
I would hope that the training would cover some of the things that we have been talking about, like not locking people into the box called Alzheimer's, exercising abilities they still have, appreciating the littlest things they can do. I would love for people to be trained in some kind of meditative practice within their own tradition, that would teach them about the preciousness of presence. It is such a gift to be present to somebody when everything is so unpredictable around them. I think you have to have some kind of contemplative side to stay calm and centered, and caring, and steady amidst uncertainty. I would also include being humble, not knowing what is going on for somebody whose mind has been so taken over by this illness. I feel there is a consciousness beyond the mind. I can hardly find the words for it. There is so much we don't know and and need to be open to instead of assuming things.
Much wisdom to ponder here . . . Thank you, Olivia!

Related