As my Mom's Alzheimer's advanced, my personal goals grew simpler. I was determined to hang on to at least a shred of my sense of humor. This proved challenging when my mother Peg refused to take her meds or when I stayed awake through the night to prevent her from wandering in a nearby park. But on most days, laughter -- hers or mine -- provided the one constant that kept me going. One of those days started off with the seemingly mundane task of taking Peg for a check-up. I didn't think I resembled Bonnie Parker, as in Bonnie and Clyde, but I must have cast a sinister shadow on that misty September morning. As I innocently approached the medical office front desk with my 80-year-old mother in tow, we were apparently viewed as a female version of the over-the-hill-gang.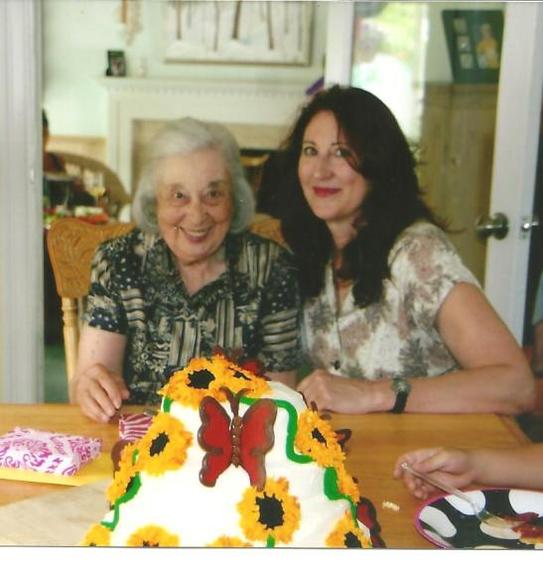 Peg and Deborah Swiss
I had recently taken over my Mom's full-time care. My father, a physician, had just passed away. He had hidden the fact that my mother had Alzheimer's. The day he died, I found a pill organizer that included Aricept which he had prescribed for the disease. It was a double-whammy for which I wasn't prepared. I knew very little about Alzheimer's so I made an appointment at a local medical center. It was raining on the day of Peg's appointment and I put on a black hooded raincoat. I was also wearing oversized "Jackie O" sunglasses in a futile attempt to cover the deep circles under my eyes. At the time, I was caring for my mother by day and then pulling all-nighters to meet the publisher's deadline for my book The Tin Ticket.
Because my Mom had always been cared for by my Dad and was terribly uncomfortable with other physicians, I wanted to make this doctor's visit as calm as possible. To that end, I passed the receptionist a note, explaining that my mother had Alzheimer's disease and had been under my father's care. Dressed in black and donning dark glasses, I had no clue why the receptionist suddenly recoiled and asked, rather brusquely: "What do you want?" When I leaned in to whisper what was in the unopened note, the receptionist moved further away and responded in a louder voice: "What are you asking?" I had no choice but to speak above a whisper, even if it meant Peg hearing me. Finally, realizing that we were not a threat, the receptionist admitted she had mistakenly assumed that I was attempting to rob the center, and must have been demanding either drugs or money in my note. Oh, yes! I'm Thelma. The petite white-haired lady who shuffles across the floor at a snail's pace is Louise and she'll be driving the getaway car.
Six years later, I still laugh out loud at this escapade. I learned that even the smallest trace of humor can tune out the frustration and fatigue that often accompany Alzheimer's caregiving. I also discovered that laughter truly is the best medicine.
PHOTO GALLERY
13 Resources For Caregivers
Calling all HuffPost superfans!
Sign up for membership to become a founding member and help shape HuffPost's next chapter