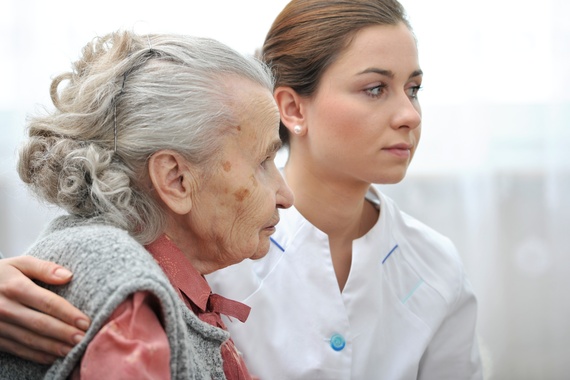 It is estimated that 11 million Americans are currently providing care for a loved one suffering from Alzheimer's disease. According to the Alzheimer's Association, this group contributes somewhere in the neighborhood of 18 billion hours of care every year. That's an estimated cost of $220 billion of unpaid labor. Each of these numbers is expected to rise considerably as the U.S. population ages in the coming decades.
Until doctors discover a cure for Alzheimer's, the disease will continue to place a heavy burden not only on those afflicted by it, but on their friends and family as well. The burden is a double edged sword. The physical work of looking after someone is hard enough, but caregivers also have to watch a loved one lose parts of what made them who they were. Bleak as this reality might sound, caregivers need not suffer alone.
Last November, in honor of National Alzheimer's Disease Awareness Month, Treato.com published its first annual list of the best online resources for caregivers of Alzheimer's patients. These are sites where people can learn about signs and symptoms to look for, how to balance caretaking duties with other familial and personal responsibilities, or connect with others who understand what they're going through. In coming up with this list, Treato analyzed more than 3,000 sites and ranked them according to criteria such as volume of posts and user engagement. Here are the top five:
1. AgingCare.com
The top spot goes to AgingCare, which describes itself as "your partner in caregiving." While this site is for caregivers of older people with conditions ranging from diabetes to Parkinson's disease, it has articles and forums dedicated specifically to Alzheimer's and dementia. Consider it a one-stop shop for all your caregiving questions, whether they're related to financial concerns or emotional ones.
2. ALZConnected.org
The Alzheimer's Association runs ALZConnected. The site has forums for both caregivers and people suffering from Alzheimer's. The community is tight-knit and incredibly active.
3. Alzheimers.org.uk
This site is the homepage of Alzheimer's Society, which is the UK equivalent of the Alzheimer's Association. It's chock-full of helpful articles and places a particular emphasis on getting involved in the fight for a cure. Like ALZConnected, its forums welcome to anyone affected by dementia, whether caregiver, patient, or simply a friend.
4. TheAlzheimerSpouse.com
Unlike the other communities on this list, The Alzheimer's Spouse is primarily the work of one woman, Joan Gershman, whose husband Sidney passed in June 2015 following a 12-year battle with the disease. Despite the site's somewhat dated appearance, its message boards, which contain nearly 8,500 different threads, are updated daily with contributions from longtime members.
5. HealthUnlocked.com
HealthUnlocked advertises itself as one of the largest social networks for people with health concerns. Since it's a "jack-of-all-trades" site, it's great for people who want to discuss Alzheimer's in the context of other conditions. Here, caregivers will find lots of support and useful conversation.
PHOTO GALLERY
7 Tips For Caregivers
Calling all HuffPost superfans!
Sign up for membership to become a founding member and help shape HuffPost's next chapter