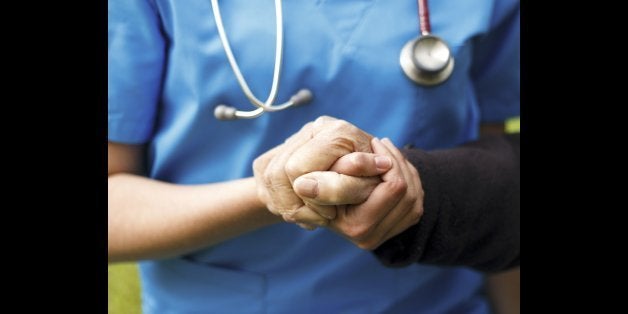 When a loved one has Alzheimer's there are five situations that may occur that are especially difficult to come to terms with. These include 1) when it's time to move the person to a facility, 2) if the person finds a new love interest, 3) when the person no longer talks, 4) when the person no longer recognizes you, and 5) when it's time to engage hospice care services. This article will look at that last item.
The need to involve hospice can be extremely difficult and even depressing. It's common to dwell on dark thoughts of impending death. Some families delay ordering hospice care because it would force them to acknowledge that the end is near and they just can't deal with that.
The very word 'hospice' can be frightening. This truly does signify that the end is near. One is about to lose his or her loved one, as difficult or wonderful as the relationship may be.
Some caregivers experience what is called 'anticipatory grief.' That is, they begin grieving over the person's death even before the individual dies. Caregivers might want to consider getting counseling to help them cope. Most hospice organizations offer counseling programs for family members or friends.
Caregivers should keep in mind that their loved ones may not be aware that death is approaching. Conversely, people with Alzheimer's may, at some level, perceive that the end is near. Either way, the caregiver's suffering is real. But there is still the opportunity to have a relationship and to enjoy life with the loved one until the end. This will require an intentional acceptance, as well as gratitude for being given a life shared with the person.
Here's my personal experience with finding a way to accept hospice care. At first I was in denial. Even though my life partner's medical team told me it was likely that Ed would pass away within six months, I continued believing and behaving as though he would live another year or two, or even more.
I eventually overcame my denial and decided to at least consider obtaining hospice care for Ed. However, I felt as though this would be tantamount to signing his death warrant. I knew that was ridiculous, but that's how I felt.
I delayed the call to hospice for weeks, telling myself Ed didn't need it quite yet. The truth was that I wasn't able to deal with it quite yet. Seeing how weak and frail Ed was, I finally felt compelled to take action. I consulted Dr. Doug Smucker, a family physician colleague at the University of Cincinnati who specialized in end-of-life care.
After answering all of my questions, Doug looked at me kindly and said, "You know, Marie, the real question for the caregiver is 'how can I help the person have the highest possible quality of life in the time that is remaining?'"
That completely changed my thinking about the situation. It gave me a new and positive goal: to bring Ed as much happiness as possible. There was something I could do. It led me to think about all the special things I could do for Ed: visiting him more often, taking my little Shih Tzu to see him, having a classical violinist come and play a concert just for Ed in his room, reading to him from The New York Times, and buying Ed even more of the little stuffed animals he loved so much.
After that talk with Doug, I spent many pleasant hours thinking up special ways to bring Ed pleasure. Once I got my mind off his looming death, we were able to have a beautiful, pleasurable, months-long conclusion to our long life together.
A loving, comfortable end-of-life experience is certainly the main reason to place a loved one in hospice care. However, there are financial benefits as well. Medicare and other insurers often will pay for services and medical supplies that are not otherwise covered.
In reality, the decision to enroll a loved one in hospice care signifies anything but giving up.It is the most courageous, selfless, and compassionate action one can possibly take once a loved one once has reached the final stage of life.
Related
Popular in the Community