It's 9:30 on a Friday morning and Molly Middleton Meyer has traveled from Dallas, Texas, to work her way through neural pathways thought by many to no longer exist.
She's seeking cerebral connections through a groundbreaking process of her own design, which is meant to not only engage, but also to creatively stimulate a group of residents at Serenades Memory Care Assisted Living in Longwood, Fla.
The process is called poetry facilitation. But to many, it's nothing short of magic.
"The first time I did this, the caregivers stood there with their mouths open," recalls Molly. "They saw people do and say things that they didn't know were possible. When the hour-long session was finished, they asked, 'How much do you charge and can you fit us into your schedule?'"
The men and women that Molly is working with today are among the 5.2 million Americans living with Alzheimer's disease, which according to the Alzheimer's Association is now the sixth-leading cause of death in the U.S. and the only cause among the Top 10 that can't be prevented, cured or even slowed. The Alzheimer's Association projects that By 2050, an estimated 16 million Americans will have the disease, with a new case diagnosed every 33 seconds and costing $1.2 trillion a year, making Alzheimer's the most expensive health crisis to ever face the nation.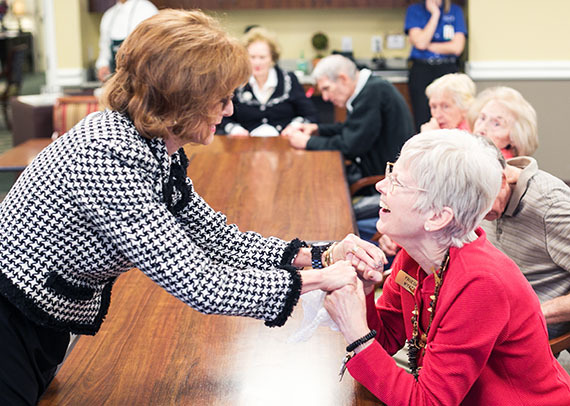 Photo Courtesy: Andrew Knowles

After warmly greeting each of her "poet patients," as she calls them, the session takes flight. Molly says, "I love birds, don't you?" "Oh yes!" answers one of the residents. "They can fly!" says another.

"You know what ... ?" Molly continues, "I've got some items that remind me of birds. May I show them to you?"

And with that, she begins pulling objects from a large bag and sharing each of the treasures she unveils. There's a birdcage, a nest, a peacock feather, a stuffed toy owl and a bird with a long red tail. Everyone is encouraged to touch each one as Molly's questions slowly awaken their imaginations.

"Look closely at this nest. What is it made of?"

"Sticks!" blurts one woman.

"Exactly! Isn't it amazing that they collect sticks and pieces of paper to make a safe home for their babies?"

Molly has gained each group member's trust by making it clear that there are no wrong answers. In many ways, wrong answers have defined their lives since first being diagnosed. Many Alzheimer's patients are easily frustrated and quickly withdraw from fears of inadequacy or embarrassment.

"May I read you a poem about birds?" Molly asks. "It's one of my favorites."

She reads a short poem and says, as if thinking the thought for the first time, "You know what? Let's write our own poem about birds! I'll help, but it will be your words, your poem. I know your poems will be even better than the ones we just heard."

"I don't think I've ever written a poem," someone says. "I don't want to," adds another.

"Let's try," encourages Molly. "It's fun and you'll be amazed. It's kind of magical."

Intrigued, they agree.

Through trial and error, Molly has developed a process that uses sensory objects and poetry recitation to stimulate long-forgotten memories and flashes of imagination.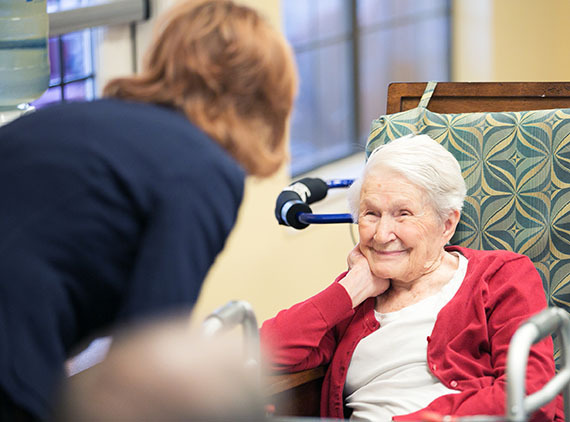 Photo Courtesy: Andrew Knowles

"I start with an idea and get the train moving, but you never really know where it's going to end up," she says. "We were doing a poem about the moon recently and someone thought I said 'mule.' That sparked a memory. So we were off and running with a poem about mules. Sometimes, you just have to jump on board and enjoy the ride."

Molly uses each object that she's shared, displaying them on a table in front of her poet patients as a springboard for creative expression.

"What do you think this bird is doing? What is she drinking?"

The answers come slowly at first, but Molly waits patiently, encouraging, directing, and inspiring.

"Good word! Oh, that's interesting! I love that!"

As she prompts, she records all of the words, phrases and even gestures to construct poems on the spot. In just a couple of moments, without so much as a slight pause, she announces:

"I think you've written a poem. May I read it to you? These are your words, your poem and your title."

Alive

A bluebird takes a sip
of clean, fresh rainwater,
enjoys a quick bath.

Splashing!
Flapping!

He shakes the water
from his feathers,
feels alive.

"Beautiful," says one group member. "We did that!" another proudly exclaims. "I heard my word!" says another.

Some simply sit back with big smiles on their faces and an obvious sense of satisfaction. The process continues and another poem is created.
"Do you want to hear it?" Molly asks. "Oh, yes!" they answer in unison. "Your words, your poem, your title," she repeats.

A Garden Of Beauty

Petunias, zinnias, daffodils, roses--
a rainbow of color, a garden of beauty.

The hummingbird drinks nectar.
The robin sings a song of love.
"Read it again!" "Nectar was my word." "I just wrote a poem!"

Molly has held the attention of a group of Alzheimer's patients, some in more advanced stages of the disease, for an hour. That's not an easy thing to do. More importantly, she has given them a sense of pride and satisfaction.

"That was really great," says one man. "I enjoyed that." They excitedly pose for a group picture and slowly leave the room, smiling. One man asks Molly for a dance and she accepts. "I love to dance almost as much as I love writing poems."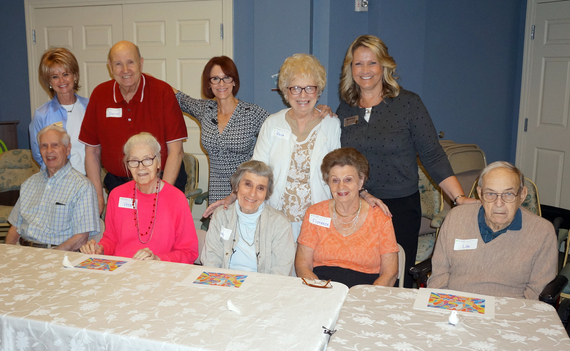 Photo Courtesy: Molly Middleton Meyer

Julie Fernandez, executive director of Serenades, one of the nation's most progressive memory-care centers, observed the entire session.

"They were nervous at first because many recognize their limitations and they didn't know what to expect," she says. "They learned right away that there were no wrong answers. They were so engaged; they loved the fact that Molly listened to them and that they were 100 percent successful in what they did. They were thrilled."

Leigh Elliott, president of Team Elliott Education, one Florida's most innovative providers of lifelong learning programs and activities, also sat in on the session.

"Molly engaged them by creating a secure environment in which they felt safe and comfortable," she notes. "When you've lost your confidence, it's not easy to speak, it's not easy to risk embarrassment; so many Alzheimer's patients simply withdraw."

Molly formats and types the poems and gives them to the care centers, where they're displayed in the residents' rooms, highlighted in newsletters and shared with family members.

"I try to think like a daughter," she says. "When residents start telling stories, I write them down to share with their families. One of my poet patients named Barbara was nearly non-verbal. I noticed her smiling with a beautiful, far-away look and asked what she was thinking about. 'The beach,' she answered. 'My sweet escape.'"

Barbara died just days later, and Molly went to her funeral. "I told her daughter, 'I loved your mother. Do you know what were her last words to me? 'The beach, my sweet escape.'"

Barbara's daughter, Molly recalls, was moved to tears because she and her mother had enjoyed many wonderful beach getaways. "It was comforting to know that even in her final days, her mother was still connected in a deep and meaningful way to their times together."

Many leading academic, healthcare and caregiving experts quickly endorsed Molly's process -- but her path to becoming a poetry pioneer has been anything but quick.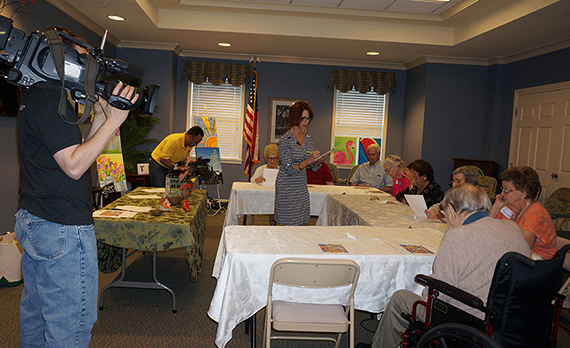 Photo Courtesy: Molly Middleton Meyer

Molly, who has an MFA in poetry from one of the most prestigious creative writing programs in the country, has herself had to deal with a relentless, heartbreaking disease that is also devastating to family members, who are left feeling helpless when a loved one is stricken.

"I lost both of my parents to Alzheimer's in 2011 and 2012," she says. "I became increasingly frustrated with much of their therapy, which I came to believe only dehumanizes those for whom so much is already being lost. I was determined to find a way to stimulate their memories and spark their creativity in an engaging, dignifying way."

She read everything she could find on dementia and studied poetry therapy. "I found nothing close to what I envisioned. I acted on a hunch, but it was an educated hunch."

One of Molly's most enlightening experiences was observing what happened when her brother, Tom, moved their father out of a care facility and into his home.

"When dad's Alzheimer's progressed, my mother moved him into a facility where he had very little stimulation," she recalls. "Tom wanted him to experience a high quality of life until the disease made that no longer possible. He moved him into his house, where he interacted with dad in an authentic, fun-loving way. Tom simply got up each morning, gauged dad's disposition and invented interesting things for them to do. They'd sit on Tom's motorcycle, watch sports on TV, Skype with relatives, take photos or jump in the car and take drives."

"Dad experienced a fantastic quality of life because Tom didn't mourn the loss of a father; he celebrated a newfound friend," she says. "He was willing to go on this journey with Dad. I wasn't able to do that at the time, but that's exactly what I do now."

It's ironic, Molly adds, that "despite all of my education and research, I ultimately learned from someone who wasn't constrained by or concerned with the accepted protocol. He only cared about giving dad the dignity that he deserved."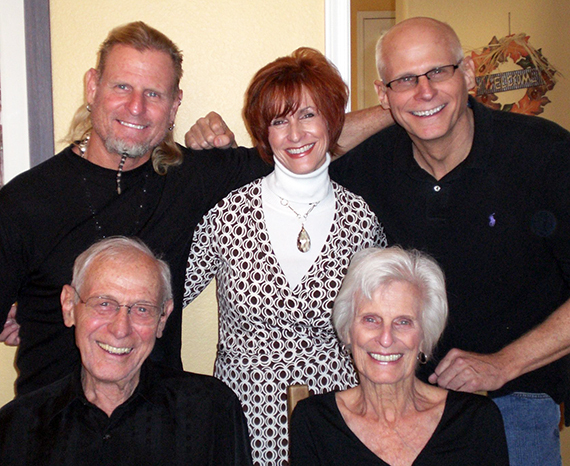 Photo Courtesy: Molly Middleton Meyer

Molly is now among those who are flipping the rules for interacting with Alzheimer's patients. And here's what she's concluded:

"Everybody says they're going away. And they are. You can't pull them back. You can only go with them. Live in the moment with them and make that moment as joyous as possible. Yes, your relationship changes, but you still have the power to bring joy and meaning and love to their lives. And even those who no longer recognize their family can still be happy. They can still have a quality of life."

But before Molly could find a way to help others, she had to find a way to help herself. In 2007, she was married to her high-school sweetheart, a successful financial advisor, had four amazing children and had just fulfilled a dream by opening her own fashion boutique in trendy Scottsdale.

Within a year, however, the housing crisis hit, the stock market crashed, her marriage began to fail and her boutique went out of business.

"I was overwhelmed and had no idea what to do," she admits. Needing work, she applied for a position with the Phoenix Teaching Fellows, a sister program of Teach for America, a non-profit whose mission is to eliminate educational inequality by enlisting high-achieving college graduates and professionals to teach in low-income communities.

Molly was the oldest applicant accepted, and after a rigorous six-week training program, was assigned a 7th grade class in an impoverished Hispanic community where English is a second language.

She formed a bond with her students and began dealing with not only their academic needs, but with their social, health and family issues as well.

"It's impossible to separate one need from another," she says. "I took breakfast to school for those who weren't fed at home. I received texts in the middle of the night saying their fathers were beating them. I was a teacher, social worker, guidance counselor and more."

At the same time, Molly had her own child at home and three in college. Plus her divorce was being finalized and her father's health was rapidly deteriorating.

Recalls Molly: "One day the principal came into my classroom and whispered, 'Your father is on life support and they're going to take him off.' I rushed to the hospital, said good-bye and watched him go. From that moment on, my mom's health began to fail."

Molly resigned her teaching position to care for her mother, who was diagnosed with Alzheimer's a few months later.

"I wasn't working," she says. "I was caring for a child and an ailing mother. I grew depressed and hit rock bottom mentally. I got help for my depression, but I needed a lifeline, something I could do for myself. I asked myself, 'What am I good at? Where do I feel safe?' The answer came immediately. School. I decided to get a Masters Degree."

Molly was accepted into the low-residency MFA creative writing program at Lesley University in Cambridge, Mass., where the professors encouraged her to study poetry. "I've always been a writer but had never written a poem, but something made me say, 'What the hell. Why not?'"

As she was preparing to leave for one of her 10-day, on-campus residencies, she received a call from her mother, whose speech was slurred. "She said, 'Can you come over yesterday? Something is wrong. There's blood everywhere.'"

Her mother had fallen in the middle of the night, fracturing her skull. That led to a series of hospitalizations and multiple strokes. The fall and the strokes accelerated her cognitive decline, and she now required full-time care. Molly called the university and dropped out of the MFA program.

"When I got up the following morning, I felt like I was quitting on myself," she recalls. "I called the university and told them everything. I shared my issues and asked if they could accommodate them."

She says the professors were "amazing" and encouraged her to continue. The struggle, they believed, would only make her a better writer. Little did she know how right they were.

During her first semester, her mother passed away.

"I began thinking about what I had seen in care centers, what Tom did with dad and mom and what I was studying in school," she says. "I began to believe in the power of poetry to engage Alzheimer's patients. Music has proven to be an amazing tool. Why not poetry?"

Molly also decided she needed a new start and made a bold move, leaving behind the town in which she'd lived for 40 years and moving to Dallas. Once settled in, she contacted the Alzheimer's Association of Greater Dallas and shared her vision.

"They were incredibly encouraging and helpful," she recalls. "They said, 'You have something here. Here are some of the top memory-care centers in Dallas. Call them up. Tell them you have our blessing and develop your program.'"

The rest, as they say, is history. Soon, even as she was finishing her MFA, Molly was working full-time and is now on the association's board of directors. Demand for her services has exploded.

"The sum total of my life experiences, many of which I thought were complete failures, suddenly came together," she says. "Everything that's been so hard and so painful has enabled me to heal myself and to help others."

Working with inner-city students taught her high-impact teaching strategies and being a mom taught her how to multitask. Adds Molly: "Being a mom is the greatest work experience there is. Never sell that short."

Molly Middleton Meyer has found purpose in her own pain and says that working with Alzheimer's patients is a way of honoring her mother and father.

"I look in their faces and see my mom and my dad," she says. "I meet the most amazing people. It's such a gift to only know them now. I don't know them as people who have lost something. I know them as people who are hungry for stimulation, hungry for fun and hungry for love."

As for Molly's personal struggles, she knows there will likely be more. That's life. But she now knows she can handle whatever lies ahead. "Eventually you have to save yourself," she says. "Wallow for a while, if you must, but get up and start fighting. You simply have to keep moving, and it's not a linear process. You can take five steps forward and find yourself 10 steps back."

"But if you keep moving, better days will be ahead. And ask others for help because they will help. It's amazing how eager they are to help."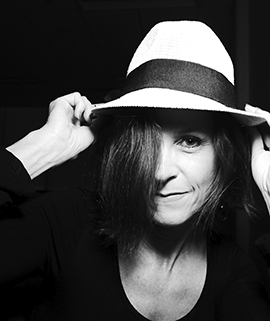 Molly Middleton Meyer is an advocate for the millions of men and women with dementia. She's a published poet and author who travels nationally to conduct facilitations, workshops, seminars, and training programs one-on-one in private homes and with groups in assisted living and memory care centers. She is also available for consultations and speaking engagements. To learn more about her work and her method of engaging and stimulating those with Alzheimer's disease, visit Mind's Eye Poetry. Photo Courtesy: Thomas Sayers Ellis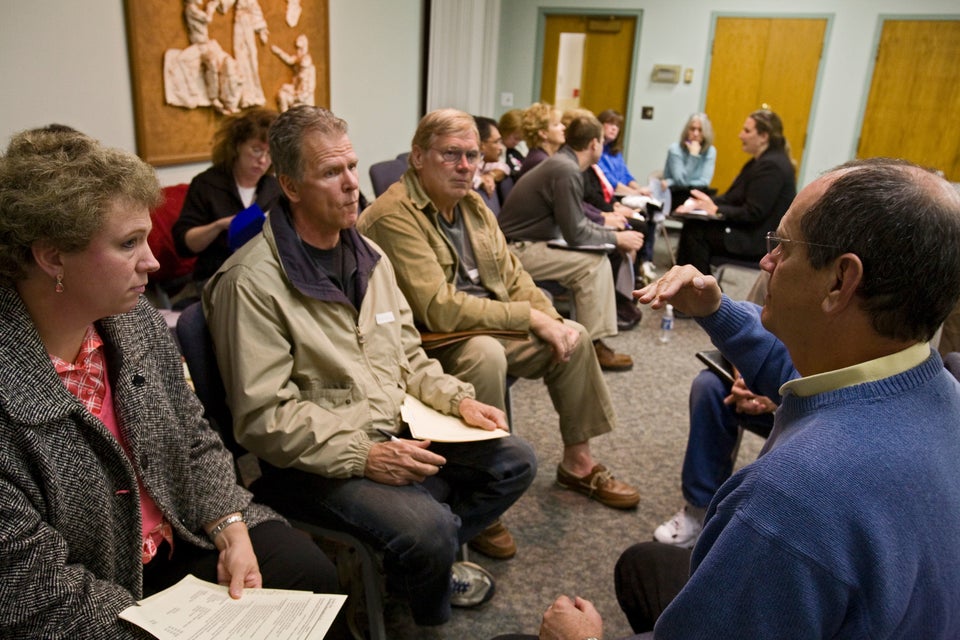 13 Resources For Caregivers
Related
Popular in the Community