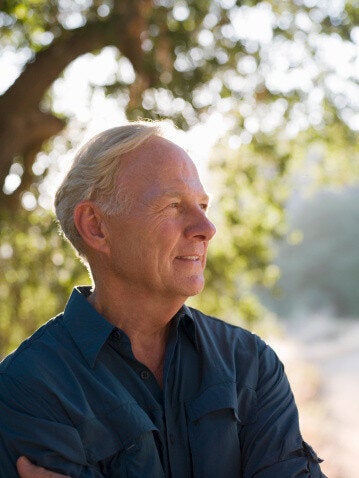 We all hope that we, and the people we love, will not develop Alzheimer's disease--and with good reason. The truth, however, is that it is possible to have a decent life with Alzheimer's disease, even though most people don't believe it.
Almost everyone believes that Alzheimer's ravages the brain, destroys a person's memories, ruins relationships--in fact, destroys the person's entire self. No wonder that a 2010 survey of 1,007 adults by Harris Interactive found that almost as many people in the U.S. fear "getting" Alzheimer's (31 percent) as fear cancer (41 percent) and that the fear of Alzheimer's increased over 50 percent since 2006--more than any other disease. Despite this large attitudinal shift, fully 62 percent of those surveyed also said they know little or nothing about Alzheimer's.
In fact, a great many people in the first 10 years of this condition live their lives to the fullest--renewing and deepening relationships with those they love and who love them.
For example, Jim Murr in South St. Paul, Minnesota lived with and loved his wife Jean for 10 years after she developed Alzheimer's. Jim wrote a beautiful love letter to her after her passing in the form of a short book describing her life and their life together with dementia during which "Jean awoke with a smile every morning," filling his heart with joy.
Another example is the 300 people living with dementia who come every three months to the Coolidge Center Theatre in Brookline to see clips of iconic films (think the "we'll always have Paris" scene between Bogart and Bergman at the end of Casablanca) and share their memories the films bring to mind.
One thing we can't hope for is a magic pill that will cure Alzheimer's. There is much research going on, and from time to time we hear about promising developments. So far the best medications can do is to slow the progressive loss of cognitive capacities. But no one expects a cure anytime soon. We will be living with Alzheimer's for the foreseeable future.
We can hope for more and more use of nonpharmacological interventions that help people with Alzheimer's live a better life for as long as possible. As I have detailed in my book, "I'm Still Here," there are a myriad of ways to help people with Alzheimer's overcome "behavior" problems and emotional suffering that are built on the perspective that a person with Alzheimer's is still a person with interests, desires, and abilities.
We can also hope for neighborhoods designed so that people living alone or with their families can more easily find their way to a shop and back home. We can hope for cinemas, museums, and coffee shops that are "Alzheimer's-friendly" with trained staff and special programs and events designed to engage customers with cognitive challenges.
And, we can hope for a reduction of the public stigma surrounding Alzheimer's so that those living with dementia are not isolated either at home and in institutions by our fears and theirs.
If you have been diagnosed with Alzheimer's disease, you can stay active and involved with other people. You can pursue long term interests and even learn a new skill. Many people find great satisfaction in art, both doing it and viewing it. Others find satisfaction in old movies that keep their memories alive, concerts with music that brings pleasure, taking walks for exercise in familiar settings. If you have ever spoken a second language, keep it up and perhaps take a refresher course.
If you are living with, or caring for, a person with Alzheimer's you can focus on the moment--even the little joys like a smile in the morning--rather than being driven by fear of an unknown future you imagine from the bad news you read and hear. You can arrange to go on a preplanned and well organized cruise together. You can find the museums in your city or town that offer special tours for people with memory problems and attend regularly. You can organize your life with the person you love around things you like to do--playing golf, going to concerts, going to sports events.
You can also become active in your community and advocate for it to become "dementia friendly." Contact your local senior center and Alzheimer's Association as well as the Mayor's office and the local department of the aging to encourage them to become "dementia friendly."
Most important, do not accept the common view that Alzheimer's is always and only bad news. It's a terrible disease, but a diagnosis of Alzheimer's is not the end of life, by a long shot.
Related
Popular in the Community