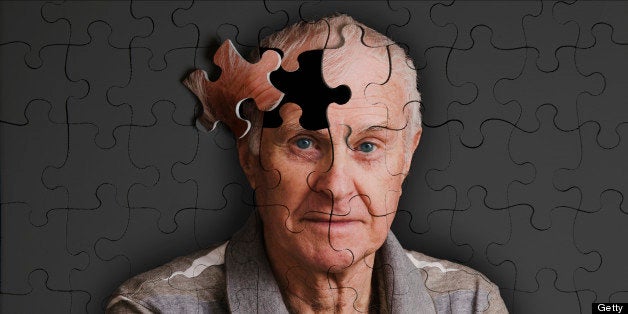 A year ago, the broad Alzheimer's community received unfortunate news. President Obama had called for an additional $80 million for the National Institute of Health's (NIH) Alzheimer's research, but the President's request found tough sledding in Congress. Objections were raised about using funds that had been re-allocated from different public health prevention efforts.
Today, it seems that the politics of Alzheimer's are improving. The Senate Appropriations Committee has recently approved a bill that includes an $84 million increase in funding for the National Institute on Aging (NIA), the NIH institute that bears the primary responsibility for funding Alzheimer's research. No uproar over the funding sources has ensued. This marks progress.
Nevertheless, the improving politics of Alzheimer's must now contend with the fractious politics of debt, deficits and austerity. If history is any guide, the differences of opinion between the Senate and the House regarding overall budget levels may run this Appropriations bill aground. Congress has shown a tendency to ignore regular-order appropriations bills in favor of flat-funding Continuing Resolutions and across-the-board spending reductions through the sequester.
Even if the bill does survive and become law, it would only increase overall U.S. investment in Alzheimer's research to around $530 million. This sum is just over a quarter of the $2 billion that the Advisory Council created by our National Alzheimer's Plan has recommended as the minimum needed to achieve the national goal of treating Alzheimer's by 2025.
Yet, for all the political obstacles and funding shortcomings, the Appropriations Committee's bill marks a turning point for Alzheimer's. For the first time, Alzheimer's research funding has been explicitly linked with debt and deficits. The Appropriations committee has articulated the relationship between Alzheimer's research and Medicare and Medicaid spending. As the report stated, "[W]ithout a medical breakthrough to prevent, slow, or stop this disease, the total payments for health care, long-term care, and hospice for people with Alzheimer's and other dementias are projected to rise from $203 billion in 2013 to a staggering $1.2 trillion in 2050." Furthermore, the Committee noted that the nation's fiscal and economic health is "inextricably linked to our ability to curb the cost of health care.
A truer statement could not be made about Alzheimer's. Alzheimer's is not only driving our ongoing national deficits, its costs are producing a drag on economic growth. For example, worldwide, the estimated cost of the disease amounts to 1% of global GDP. In the US, care costs alone for Alzheimer's amount to 1.4% of GDP, or $1 for every $72 of GDP.
These numbers, however frightening, become more real when broken down into costs that individual families must face. According to a recent study by the RAND Corporation published in the New England Journal of Medicine, the annual cost in the U.S. attributed to dementia for an individual family was nearly $50,000, including foregone wages. This sum is roughly equivalent to median household income in the U.S. With Alzheimer's infecting one in every eight people over 65 and nearly half over 85, the disease will prove financially ruinous to millions and millions of families across the country without breakthroughs in treatment and care.
The U.S., of course, is hardly alone. Life expectancies are rising all across the globe, with the most dramatic increases seen in the developing world. According to Alzheimer's Disease International, two-thirds of people with dementia live in low- and middle-income nations, and this proportion is poised to increase as life expectancies continue to extend overseas. According to the United Nations population fund, life expectancy at birth in the world's least developed countries will extend by more than a decade by mid-century. There is tremendous reason to celebrate this achievement, but the rising incidence of Alzheimer's gives more than ample cause for concern.
If the U.S. can make the needed strategic investments in Alzheimer's research today, it will pave the way not only for its own fiscal and economic health, but also for that of other nations. Consequently, it will further establish itself as a leader in the largest unaddressed global health issue of the 21st century.
The G8 is being urged by UK Prime Minister Cameron to develop a global response to Alzheimer's. The U.S. should join with the UK and other G8 nations to fashion a realistic and strategic global action plan, starting with a clear goal to prevent and effectively treat Alzheimer's by 2025. This will include, at its core, adequate levels of private and public investment in research and drug development.
A critical step has been taken by the Senate Appropriations Committee, thanks to the leadership of lawmakers like Senators Barbara Mikulski of Maryland, Tom Harkin of Iowa, Jerry Moran of Kansas and Susan Collins of Maine. Now, it's time to rally behind their leadership and generate the kind of American leadership we need in order to beat the 21st century's greatest health and economic threat.
REAL LIFE. REAL NEWS. REAL VOICES.
Help us tell more of the stories that matter from voices that too often remain unheard.