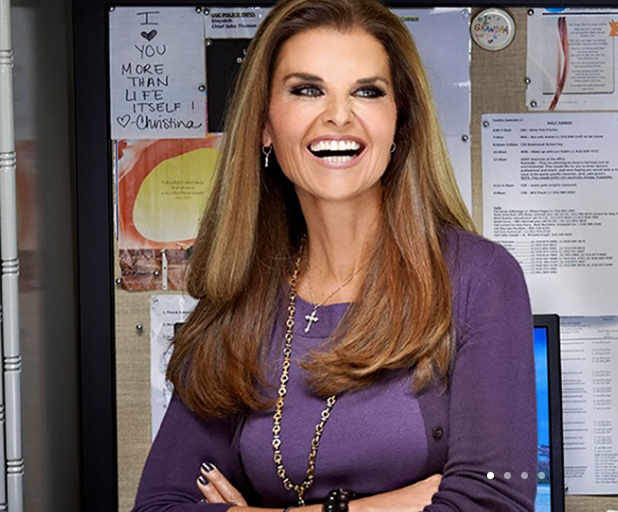 Aging is such a taboo subject in our society, especially for women. There is a great deal of shame attached to this, which the most universal and natural process known to man. Therefore, we are taught to do everything - prevent it, hide it, stop it – save discuss it. Not to mention, our primary concern regarding aging tends to focus on the external. I'm turning 35 this week and I definitely wake-up each morning to a face that reflects signs of aging. These signs cause a great deal of concern - so much so that I dedicate time and money every day to combat them. My body probably gets an even harder examination - and by examination I mean criticism. And in all this over-analyzing, I must admit I never think to care for what's inside my head – certainly nowhere near as much as I concern myself with what's on the outside.
So I was struck by this when I joined Maria Shriver, who opened Wednesday's Alzheimer's awareness program, "A WOMEN'S HEALTH SUMMIT: IT STARTS WITH THE BRAIN" by asking the audience to put their hands on their heads. "That's your brain in there," she said, "and it deserves your attention." I realized in taking part in this simple exercise and by paying close attention to the panel of experts, that I was seriously neglecting the most important part of my body. And that I was under some very misguided assumptions about Alzheimer's in general. I believed Alzheimer's was a disease of the aged and not all that common - therefore not very relevant to me and posing no known threat.
What I learned is that Alzheimer's is one of the greatest health challenges affecting women in America today. Every 66 seconds another brain is affected and two-thirds of them belong to women. African Americans are two times more vulnerable and Latinx are one-and-a-half times more likely to be diagnosed than whites. And, even more alarming, is that the onset begins in the brain 20 years prior to diagnosis. After the age of 60, a woman has a one in six chance of developing Alzheimer's and is twice as likely to develop Alzheimer's as she is breast cancer.
I was shocked by the statistics and my lack of awareness. Even more so, it never occurred to me that I could look after my brain as I do the others parts of my body. And I'm not alone in my ignorance. A national poll, co-sponsored by The Women's Alzheimer's Movement and the DC-based Bipartisan Policy Center, revealed that 68% of women said they would do something to prevent or slow symptoms of Alzheimer's if they only knew what to do.
And what a great question! What can we do now to lead a "brain-healthy" life? Maria Shriver and WAM partnered with the initiative's foremost doctors, scientists, thought-leaders, survivors and caregivers to answer just that:
Exercise: Studies show you'll improve blood flow to the brain, release hormones that make you feel good, and stimulate the growth of neurons and synapses in your brain.
Diet: A good rule of thumb is "what's good for your heart is good for your brain." Load up on leafy greens and stick to real, whole foods which means ditching anything processed containing long lists of unknown ingredients and chemicals. Reduce salt in favor of natural herbs and spices to add flavor and lose refined sugar all together. I know - that's a tough one for me too!
Sleep: Your brain needs 7 to 9 hours a night in order to get the therapeutic benefits which include cleaning out amyloid deposits that can lead to dementia and Alzheimer's.
Meditate: Bob Roth of the David Lynch Foundation called meditation "necessary" and just as important as sleep in maintaining a healthy brain. Allowing your mind to take a profound state of rest - even for as little as 5 -10 minutes daily - can seriously lower risks for dementia and Alzheimer's.
Social Connection: Studies show that regular social interaction assists in maintaining brain vitality. Spend time with your friends and family. Don't isolate yourself – share your concerns and grief with others to lower the stress hormone cortisol and increase oxytocin, a hormone with a natural calming effect.
Sex: Author and Journalist, Sally Quinn, who actively speaks out about the reality of living with Alzheimer's, named "sex" as the #1 activity for care and prevention. Can't imagine that would require further explanation. Let's just do as we're told.
Popular in the Community