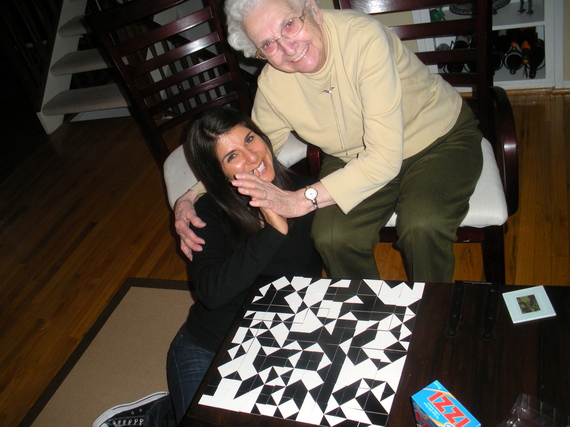 I'm afraid. Two of my grandparents suffered from Alzheimer's. My great uncle was diagnosed at an early age. Every time my mom forgets where she put her keys, I get a little nervous. I have to accept that the disease is in my genes. I'm not alone.
By 2025, the number of people age 65 and older with Alzheimer's disease is estimated to reach 7.1 million -- a 40 percent increase from the 5 million age 65 and older currently affected.
By 2050, that number may triple.
We know what's coming, yet there is more focus on finding a cure for the disease than preventing it. Although Alzheimer's is at least partially genetic, there is plenty we can do to keep our minds sharper. The technology we depend upon to keep our lives together, however, only seems to make us more scattered.
We've begun to acknowledge the need to counteract the mentally atomizing effects of our modern-day social weaponry. You've probably seen the commercials for Lumosity, a website and app that offer members various games to help "achieve their brain's full potential." Lumosity is the leader in this recently emerging market. Its games are fun, simple to understand, and certainly more stimulating than Candy Crush Saga.
But for a different market, the one that grew up before iPhones, there is a different need. Every day, more people are diagnosed with the early stages of Alzheimer's. For this group, whose numbers unfortunately continue to grow, a website may not be the right answer.
Enter ThinkFun. Created by husband and wife team Bill Ritchie and Andrea Barthello, the company has created brain-stimulating games for kids and adults. Their goal is to "translate the brilliant ideas of the craziest mathematicians, engineers and inventors into simple toys that can be appreciated by boys and girls around the world." Ritchie makes a simple but fundamental point: "Generally, the things that you want to develop when young are the things you don't want to lose." The games support problem solving, reasoning, visual/spatial, speech and language, focus and attention, and memory. Three of the games are available as apps, but their main focus is the more tactile format. Especially for older generations, there is something irreplaceable about the social connection the games provide.
Charlotte Fixler may be the director of communications at ThinkFun, but her love of games didn't begin with her job. "My grandma Doris taught me dozens of games, from GoFish to Scrabble." At 89 years young, Charlotte says her grandma has been, "the most honest and eager product tester we have!"
"Playing with her is a bonding experience, and the fact that we're both stretching our minds is just an added bonus. She's remained incredibly mentally sharp (she never lets me win) and I strongly believe it's because of her love of games and puzzles."
Here are ThinkFun's best games to keep your mind sharp:
Chocolate Fix $19.99
Purpose: Strengthens deductive reasoning.
Description: Sudoku-style play where you use clues to put pieces in their correct position.
Review: It took a few minutes of staring at the accompanying card before figuring out my first move. Once you get the idea though, you can start making your way through the challenges.
Solitaire Chess $19.99
Purpose: Strengthens logical reasoning.
Description: Introduces chess rules and challenges experts.
Review: I was skeptical about this one. I never had an interest in playing chess, much less playing chess alone. It's a lot less intimidating when you can take it step by step. I might have to try a full chess game sometime.

Rush Hour $19.99
Purpose: This game sharpens sequential reasoning and planning skills.
Description: Their "Rubix Cube." Move cars blocking the way to let the red car escape.
Review: It doesn't take long to figure out why this is ThinkFun's top-selling game. It's addictive.
For more information and to purchase games, visit: ThinkFun
Thanks to ThinkFun for their time and information.
All quotes and facts are attributed to ThinkFun and its owners unless otherwise noted.