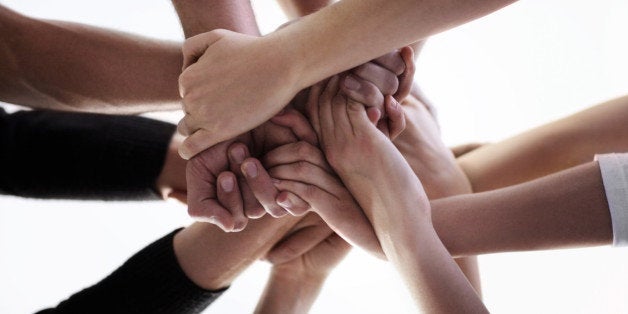 Caregiving for a loved one with Alzheimer's disease or related dementia can be incredibly rewarding, but it can also be tremendously discouraging and stressful. After many years supporting patients and families at Banner Alzheimer's Institute (BAI), we've learned how helpful it can be to talk with others who are going through similar experiences.
Through our Family and Community Services program, we've developed a variety of support groups that bring together a range of caregivers, depending on their life circumstances. Our Circle of Friends Support Group is designed to help a broad network of spouses, adult children, family and friends solve their common problems. Our Caregivers Support Group for Adult Children provides these families the opportunity to discuss and seek resolution for the particular challenges faced in caring for your mother or father. Another is our Men Who Care group, designed specifically for the challenges of men, who may not be as experienced or as comfortable as women in the caregiver role. These support groups are aimed at addressing the unique needs of both patients and families, and we've seen countless people benefit from this programming.
Our support groups offer a safe haven to share the victories and frustrations alike, and allow caregivers to listen and learn from others who have been faced with similar challenges.
Through my experience, there are several key factors that determine the success of a support group. If you are thinking about starting a group of your own, keep these tips in mind as your effort develops.
1.Establish a specific purpose.
It's important to establish a clear purpose and principles for your group from the beginning. Keeping in mind the "who, what, where, when and how" of the group will help potential members understand what your specific group can offer them and if it is the right fit.
2.Set ground rules.
To ensure everyone feels comfortable, outline appropriate behavior and expectations for the group such as keeping personal information confidential, being respectful of others' ideas and suggestions, etc.
3.Engage a knowledgeable facilitator.
Having a facilitator with solid experience and training in Alzheimer's and dementia, who also has the resources to network or consult with knowledgeable, experienced health care professionals will provide added value. This will allow the group to better address the unique needs of each participant. It's also key to have a facilitator who knows how to keep the meetings upbeat and accept participants as they are.
4.Meet regularly.
How often your group meets is entirely dependent on participants' needs and the availability of meeting space. Regardless of the frequency, it's important to meet regularly to keep people engaged without overburdening their busy schedules.
I recently received a note from Cindy Krasniewicz, a Scottsdale, AZ resident who has attended many BAI lectures and workshops and who describes BAI as an invaluable resource in helping to understand Alzheimer's disease and other related dementias. In her efforts to share what she's learned from BAI with others in her community, Cindy started a peer group--the Scottsdale Alzheimer's Support Group for the Adult Child - so that other families wouldn't need to face Alzheimer's alone, as she did in the early years of her mother's disease. It's because of people like Cindy that we continue our work to improve the lives of those affected by this terrible disease.
If you want to learn more about what you can do to help end Alzheimer's disease, visit the Alzheimer's Prevention Registry (www.endALZnow.org). The Registry is an online community of people like you who have experienced the devastating effects of Alzheimer's and want to help push prevention research forward. Members are sent updates about Alzheimer's news, prevention studies happening in their area, and information on overall brain health and caregiving tips. Please consider joining us today and using the Registry as a resource for your support group.
Related
Popular in the Community