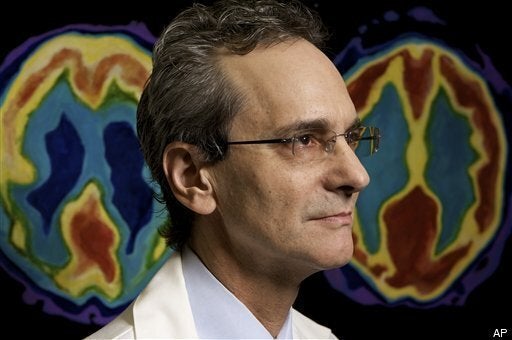 It's been a tough year for anyone who cares about people with Alzheimer's disease. A National Institutes of Health panel surveyed all existing research and concluded that there is no cure or long-term treatment, at least for now. Eli Lilly suspended clinical trials for its once promising drug Semagacestat because it was actually making patients worse.
Even supposed good news -- the discovery of a biomarker and a brain scan that can predict Alzheimer's disease with a reasonable degree of certainty -- got a mixed reception. Many questioned why anyone would want to know they would eventually get a debilitating fatal brain disease if so little can be done.
Yet something can be done. There are treatments available right now that most families coping with Alzheimer's or other dementia never hear about, but which can significantly improve their quality of life. We can help families stay together longer, and have happier lives.
Called non-pharmacologic therapies (NPTs) or psychosocial interventions, these treatments do not come in a pill. Instead, treatments such as personal counseling and occupational therapy-based strategies support families and teach them the skills they need to protect their own health and cope with the intense demands of caregiving, while helping people with dementia stay independent and safe for as long as possible.
Improving quality of life for individuals with dementia and their families is a fundamental treatment goal, but consistently receives far less attention and funding than drug research. The Rosalynn Carter Institute for Caregiving states that there are proven programs which are actually more effective than any known drugs for Alzheimer's disease and adds, "to not make them widely available to caregivers is shortsighted and a violation of the best principles of public health."
There are a growing number of such non-pharmacologic interventions, two of which we developed. One example, developed at New York University Langone Medical Center, includes comprehensive assessment, individual and family counseling to reduce conflict and improve communication among family members, and additional counseling by telephone. People caring for a spouse with dementia who received the NYU Caregiver Intervention were more satisfied with social support and consequently less depressed, less bothered by difficult behaviors, had better physical health and were able to keep their ill spouses at home longer than those receiving usual care.
Another model, Thomas Jefferson University's Jefferson Elder Care in Philadelphia, employs occupational therapists to assess the patient with dementia and identify preserved capabilities as well as the caregiver's needs. Then families are provided strategies to manage day to day care, such as simple communication techniques, safe-proofing the home, establishing daily routines and engaging the individual with dementia in meaningful activities. Families report feeling more confident and less upset, and their ill family member functions better and exhibits fewer challenging behaviors.
These programs meet the gold standard for both drug and non-drug treatments: they have been proven effective in randomized controlled trials. And, unlike drug therapy, there are no adverse side effects. There is also an economic argument to be made for better caregiver support. In 2009, nearly 11 million family and other unpaid caregivers provided an estimated 12.5 billion hours of care to people with dementia. This care is valued at nearly $144 billion. The country can't afford the consequences of these caregivers becoming too burned out or sick to carry on.
Moving a person with dementia to a nursing home, while sometimes unavoidable, is expensive, can increase confusion and agitation, and can sometimes even contribute to an earlier death. Peer-reviewed studies have shown that the NYU Caregiver Intervention delayed nursing home placement by an average of 557 days. Since nursing home care costs an average of $65,000 per year, this could mean a savings of $100,000 per patient. The occupational therapy program at Thomas Jefferson University has been proven to be cost-effective and to save caregivers up to five hours a day in time otherwise spent in hands-on care.
Non-pharmacologic therapies can be so cost-effective that, "failure to fund effective caregiver interventions may be fiscally unsound," according to a 2009 report in the journal Alzheimer's and Dementia.
Alzheimer's can happen to any of us, robbing us of what we treasure most -- our memories and our ability to function independently. Today 5 million Americans have Alzheimer's disease; that number is estimated to reach 13.5 million by 2050. We must recognize the importance of counseling, skills training, and home environmental interventions, increase support for further research, and help families connect with existing proven programs. For now, it's everyone's best hope.

Mary S. Mittelman, Dr.P.H., is Director of the Psychosocial Research and Support Program at the Center of Excellence for Brain Aging and Research Professor in the Department of Psychiatry at New York University Langone Medical Center.

Laura N. Gitlin, Ph.D., is director of the Center for Applied Research on Aging and Health (CARAH) at Thomas Jefferson University and a professor at the Jefferson School of Health Professions' Department of Occupational Therapy.
Support HuffPost
The Stakes Have Never Been Higher
Related
Popular in the Community