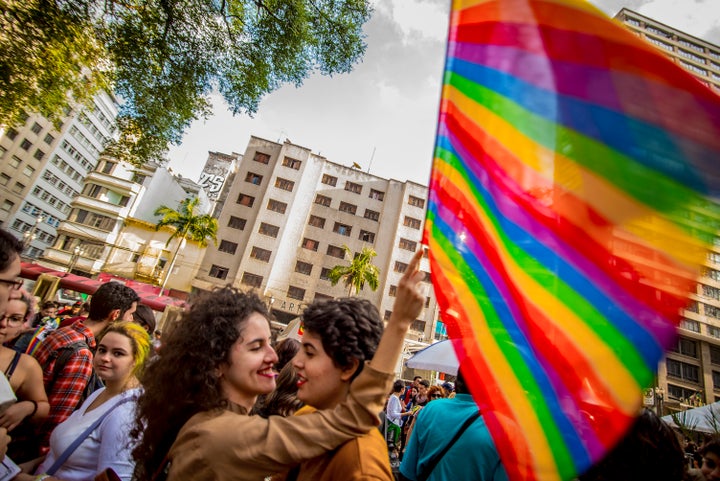 I participated in my first LGBTQ Pride Parade 24 years ago in Syracuse, New York. The "parade" consisted of maybe 100 people, all of whom pretty much knew one another.
On an early Sunday morning, we marched down an empty downtown street, led by our one "Dyke on Bike," Karen. Our only spectators were a few unsuspecting citizens at a bus stop and a guy walking out of CVS with a prescription bag in his hand.
Since then, I have participated in countless Pride Month activities, from film festivals and dance parties to political rallies and San Francisco's famed Dyke March led by hundreds of women on roaring motorcycles. I've marched in the San Francisco Pride Parade at least 10 times: as a marriage-equality activist, as a married lesbian with kids, and most recently as a divorced lesbian Solo Mom.
So you could say I'm pretty dialed in to the whole Pride celebration thing. But every year when Pride Month rolls around, I hear this nagging little question in the back of my mind. Am I really "proud" to be a lesbian? Honestly, I don't know that I am. It's not that I'm ashamed to be a lesbian; it's more that I don't really think of sexuality as a point of pride or shame. I think of it as an indisputable trait, like red hair or green eyes.
Before my kids came along, I didn't reflect much on my reasons for participating in Pride activities; I just did it. I found it both comforting and inspiring to be surrounded by so many LGBTQ people, to be in the majority for once. I liked the "we're here; we're queer; get used to it" vibe—plus the music was good.
But kids ask a lot of questions, such as "Why do we have this parade?" and "Why isn't that man wearing any pants?" I had no problem answering their questions:
1: "We have this parade to celebrate families like ours."
2: "I don't know. Why do you think?" (A.K.A. the response I use whenever I need a beat to figure out what I really want to say.)
But I still haven't quite figured out the answer to my own question. Am I really proud to be a lesbian? That word, proud—it just doesn't sit right with me.
Looking back to the first Pride Parade in 1970, then called the "Christopher Street Gay Liberation Day" march, I understand the origin of "lesbian pride" (or bisexual, transgender, genderqueer, gay, pansexual, or asexual pride). That first event commemorated the one-year anniversary of the Stonewall Riots, an uprising of queer youth against an oppressive and harassing police force. As Doric Wilson recounts in the film Stonewall Uprising, "In those days, the idea of walking in daylight, with a sign saying, 'I'm a fa****,' was horrendous. Nobody, nobody was ready to do that."
Back then, marching in the streets meant, "I refuse to be shamed."
I was six months old when the Stonewall Riots broke out. Forty-seven years later, as an out lesbian, an activist, a writer, a previously legally married lesbian, a lesbian protected by divorce laws, and a lesbian raising kids—my healthy, thriving life is built on the shoulders of the Stonewall generation. Because they threw off the shackles of shame, giving new rise to an outspoken LGBTQ rights movement, I have the privilege of saying my sexuality is not a point of pride or shame (nor, by the way, is it a "lifestyle"). My sexuality is a fact.
So, no, I'm not particularly proud to be a lesbian, just as I'm not particularly proud of my red hair or green eyes. Being a lesbian is not an accomplishment, not like helping win marriage equality for the nation is an accomplishment or defending a transgender person's right to use a restroom is an accomplishment or, for that matter, guiding two tweenage boys through a school week, solo, without yelling at anyone is an accomplishment.
But I am proud to follow my heart, to love whom I love, and to live openly as my true self, no matter what other people think. I am proud—enormously proud—of the courageous, relentless, forward-thinking, bold, creative legacy of queer people and the LGBTQ rights movement. I am proud to receive the torch of the Stonewall uprising and to carry it forward, fighting for social change, relentlessly, until all members of the LGBTQ tribe feel safe, protected, loved, and fully expressed as they are, for who they are.
This post originally appeared on ESME.com.
Popular in the Community