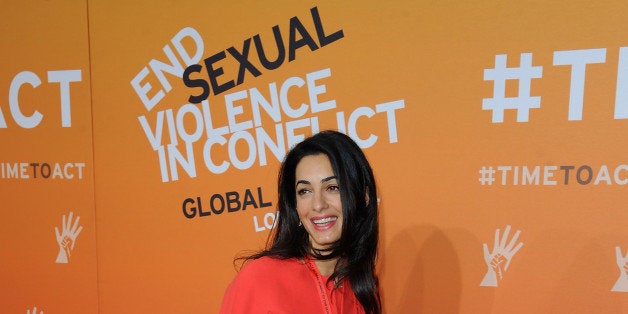 What I love more than smart women is smart women working together for a good cause, especially one that demonstrates women's rights are human rights, and this week was the perfect example of what I am talking about. Amal Alamuddin, international human rights lawyer representing UNICEF (oh and George Clooney's fiancé) attended the Jolie co-sponsored Global Summit to End Sexual Violence in Conflict, the largest gathering ever brought together on the issue "with a view to creating irreversible momentum against sexual violence in conflict and practical action that impacts those on the ground."
Amal attending Jolie's event in a professional capacity, despite the famous friendship of their fiancées, demonstrates great examples of women who appear to have achieved success in both their professional and private lives, all while snagging the hottest men on the planet. I mean seriously, that has to be said.
But what's even better is that despite being engaged to Brad Pitt and George Clooney, respectively, is that these men are not the most impressive thing about Angelina or Amal -- their resumés are.
Angelina Jolie is an Oscar winning actress who is also a UN Special Envoy, and after years of dating women who let's just say were not the most academic, Clooney retired himself from permanent bachelorhood for a global human rights lawyer, who is Lebanese-British and attended Oxford.
Amal and Angelina are not defined by the men in their lives. They are beautiful, intelligent women working together to make the world a better place for other women.
Have we died and gone to Wonder Woman Heaven?
Yes, we still have a long way to go to end violence against women and girls. Yes, women are still being gang-raped in India and hung on a weekly basis. Yes, more women are killed in the U.S. in gun-based violence. But can we just take a moment to applaud Angelina and Amal?
It is so important for women to have role models like this, to see women doing really excellent work for human rights. Women need to see more of this so we can be more of this: independent female powerhouses working together.
On a side-note: Women like Angelina and Amal also totally shatter the "Princeton Mom" nonsense that women should relegate their hard work to "catching a man" in college. Not that we needed that "theory" to be disproved, it is still great to see it destroyed.
Eradicating rape as a weapon of war, prosecuting gender-based violence sounds like an impossible task. But when I see brains like Angelina Jolie spearheading the initiative with women like Amal working with her, I suddenly grow optimistic about ending sexual violence in conflict.
Related
Popular in the Community