The early morning sunrise on the peerless island of Anguilla, my home, always feels like the PM sunshine but with a cool gentle breeze.

Free, warm and dancing to its own rhythm it's own sound......the captivating Sounds of Anguilla permeate every aspect of this island paradise. I've used my island as inspiration to birth my art. The way the beautiful Anguillian women dance to the tunes of a live local soca or calypso band, hair blowing in the wind, bright smiles, laughter, waistline and hips swinging to the beats. Telling their folk stories proudly across 35 square miles from the east to the west end of the island. A tiny Caribbean treasure with more beaches than traffic lights all adding inspiration and color to comprise the infectious Sounds of Anguilla.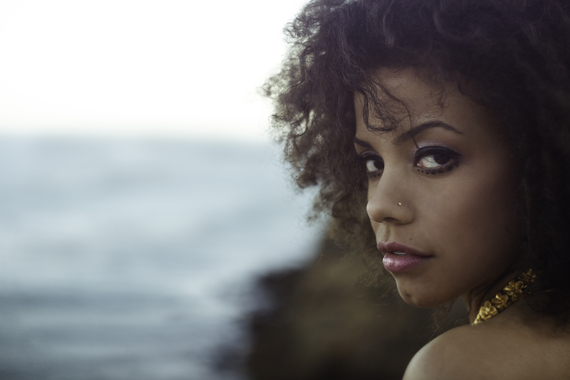 Photo Credit: Kerry Furrh

It's easy for me to be lyrically honest in the context of my songs as my inspiration comes from the loud crow of the fowls just outside my window. I can still hear my brothers running up the ramp singing the same church hymns my great-grandparents sang on Sunday morning as loud as they could. As I sat in the western doorway giving way to the most perfect scenic view of the ocean in hues of blue that defy imagination. I would always sing unapologetically to my grandfather's flawed and imperfect guitar playing, and nothing made me happier or was more fulfilling. What I loved most was coming home every day after school to the stereo blasting of musical legends such as Billie Holiday, Nat King Cole, Nina Simone, Bob Marley and Bill Withers.

To be honest Jazz, Soul and even Blues wasn't my favorite style of music to listen to at first, but I grew to love and appreciate its art form while it slowly became apart of the fabric of my musical evolution. From the rasp in Nat King Cole's voice to the fearless, honesty and strength in Nina Simone and Billie Holiday's songs. The emotive melodies of Bob Marley always sent my spirit souring. I knew then that I wanted to write and sing words of substance and be an inspiration for those who would hear and be impacted by my music in the same way, just as those artists pierced my soul with their musical offerings.

Anguilla gave me life and made me who I am today. I got a full dose of gospel, soul and R&B music during my journeys to nearby islands where we would perform spiritual dance with our church group.

One Christmas, my Mom brought home an array of CDs by musical giants such as Toni Braxton, Celine Dion, Whitney Houston and Alicia Keys, and from that day onward I'd beg her to cornrow "snake" braids in my hair inspired by the style of Alicia. My mom had no clue what she had gotten herself into introducing me to these female powerhouses, but she quickly learned how passionate I had become with the musical influences of the artist she introduced into my life. We would sit outside on the porch with the house windows wide open letting the sounds and vibrations drift through as the sounds and lyrics filled the air, blaring the chorus "No one, no one, no one, could get in the way of what I'm feeling... No one, no one, no one..".

My music has allowed me and my fellow Anguillian artist to perfect our craft daily, travel and share our music with the world and connect with people from all walks of life, while following our dreams. I have been blessed to perform at places like Soho House in West Hollywood, The Bitter End, The Hudson Hotel and Rockwood Music Hall in New York all enriching experiences which have become the most exciting part of my musical journey! Anguilla is a tiny slice of heaven but it's rich heritage and musical footprint stretches worldwide. When people visit the island that I proudly call home the experiences they leave with allows them to take a piece of our culture with them through our unique musical sounds.

My obsession with Anguilla's rhythms has birthed and sustained my passion for music, one that has fueled and fulfilled my dreams and aspirations of taking our eclectic sound to the world. I'm so proud of my contribution to the Sounds of Anguilla a milestone CD compilation that showcases our island paradise as it shares our native beats through the artistry of each talent that contributes their talents, wizardry and rich musical footprint. Each contributing artist offers many variations of art from the silky rasp of legend Bankie Banx, to the eclectic glare of British Dependency, to the soulful vibrations of Natalie and the thought conscious lyrics of Reggae band True Intentions and Omari Banks, culminating with the lyrical aerobics of rising rap star Raskim.

As fall is upon us I want my continued evolution through music to capture not only the wonderful sounds, sights and spirit of my island, but also share my journey in discovering who I am and what it meant growing up in Anguilla. I want my music to be seductive like the warm flavor that satisfies the soul almost like the feeling you get when you crave your favorite food. It keeps you coming back - like a sweet Addiction you wish would never end.
Download Amalia's single "Cry Sometimes" here: https://itunes.apple.com/us/album/cry-sometimes-single/id890903208
Like her on Facebook: https://www.facebook.com/AmaliaOfficial and on
Twitter: https://twitter.com/AmaliaWatty
Follow her on Instagram: http://instagram.com/amaliawatty
Subscribe to her on Youtube: www.youtube.com/AmaliaWatty
Calling all HuffPost superfans!
Sign up for membership to become a founding member and help shape HuffPost's next chapter