Paradigm Shifters is a series of interviews with a select group of women and men from eclectic walks of life. It will highlight unspoken, real-life insights on how they have been able to turn weakness into strength. A naked soul point of view of how their breakdowns were really a preparation for breakthroughs. They are your quintessential paradigm shifters; internal shifts converted into genuine change.
Everything I have ever done has been focused on this underlying theme of shifting the paradigm because, "What we think determines what we feel and what we feel determines what we do." Hence, why Empowered by You takes lingerie, which has traditionally been seen merely as a tool of seduction and redirected that energy as a tool of empowerment.
I hope from these stories you will look at your own situations, struggles and accomplishments through a different lens. At the very least you will be more equipped with real life tools to change your own paradigm. At the end of the day, we are our own Alchemist turning the silver we were born with into the gold we are destined to become.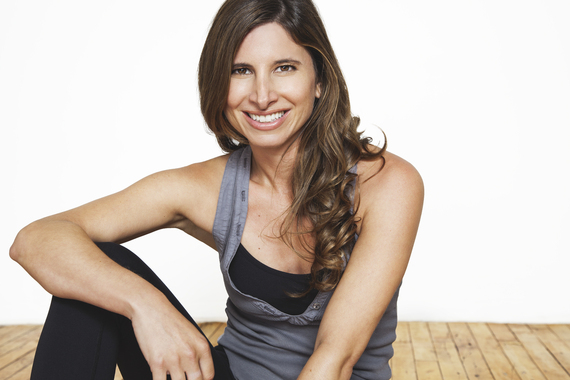 Amanda Freeman - Founder & CEO, SLT
Tell me about yourself and your journey towards launching SLT.
I am a single mother of an 8-month-old girl named Flynn, an entrepreneur, a sister and a good friend. I was fortunate to get a great education (Duke undergrad and Harvard Business School) and I've had a career that I'm very proud of and have enjoyed (most importantly).
I started out as a trend forecaster where I studied the macro and micro trends that most affected Generation X & the Millennials. I did market research, consulting and trend forecasting for companies such as ESPN, Target and Hearst Magazines. The trend I most related to was The Rise of Wellconsciousness. Roughly 10 years ago, there was an emerging interest in preventative health and healthy living. Identifying a gap in the online publishing marketplace, I left to co-found Vital Juice, a healthy living daily email focused on delivering the latest in fitness, nutrition, beauty and wellness to inboxes.
It was while running Vital Juice that I discovered the Megaformer, an amazing piece of fitness equipment. I had grown to love boutique fitness, but didn't like the results that I saw people achieving in many of the most popular workouts. I was looking for a workout that was fun, challenging and led to the results I was seeking - long, lean muscle-tone. The Megaformer was exactly what I was looking for. So, I opened my first SLT (which stands for Strengthen Lengthen Tone) in 2011 in Midtown Manhattan with 10 Megaformers. Nearly 5 years later, we have 11 studios with more on the way.
You made an amazing, empowering decision to have a child and raise that child as a single mother. What were some of the final deciding factors in this decision?
I was the kid who always knew I wanted to be a mom. Being a bride, wasn't as important to me. And in business school, I had an experience that solidified my desire to be a mom.
I was taking a class called "Women Building Businesses" and all these very successful women CEO's would come in and speak about their careers. After each of these lectures there would be a Q&A and each broke down in tears when asked about her work/life balance. None of them had personal lives they were content with. They had prioritized their careers at the expense of their personal lives. One articulated it as, "I made the decision to do 'Less, Better'." That really stuck with me and at that moment I decided I would do 'More, Worse'. I would become a mom, no matter what impact it had on my career.
After having had serious relationships throughout my 20s and early 30s, I was single for much of my mid-late 30s. I always knew it was an option to have a baby on my own. But, it was a last resort. I knew it would be hard and that I had to be really comfortable with myself and the decision. I had to mourn the life I had imagined for myself, with a father for my child (or children). I spoke to a number of women who had made the single mother decision for themselves and they seemed pretty happy. On my 38th birthday I had a meltdown and decided it was potentially now or never.
What has been the most rewarding since you launched SLT?
The growth of the business is what's rewarding. We just opened our 11th studio and have a lot of expansion ahead. We expect to have 20 studios by the end of 2017. We are constantly improving our training programs and offering fresh workouts daily.
The heart of the growth is the people, both staff and clients. I'm a people person and like to see the people around me happy. I consider myself very lucky to get to work with amazing, passionate instructors who genuinely believe they're teaching the best workout out there. I love it when clients tell me that SLT has changed their body and that they are addicted to their workouts.
Hindsight is a beautiful thing. However, some of our biggest breakthroughs come from moments that seemed at the time like breakdowns. Can you name one?
For my personal life, my breakdown would be my 38th birthday. I was in a horrible mood and I basically threw a temper tantrum. I wanted to cancel a reservation my sister made for my birthday.
Although my business was going well, my personal life was not at all where I wanted it to be and I was really upset about it. But that horrible moment eventually led to my decision to have a baby on my own Flynn who is the best thing in my life right now.
What kind of legacy do you wish to leave behind?
I'm not sure about legacy; but the philosophy I try to live by is that in life you regret the things you don't do, much more than the things you do. Nike said it best: just do it. If you're debating over something just take the leap. I mean that in particular for women.
I strongly believe women have a disadvantage in the workforce. We are much more risk averse. And we have these biological clocks that I cannot pretend don't affect our careers.
Women need to be bold and not afraid of failure, not afraid to ask for things they want. You know, I had a baby on my own. I could have let the fear of what people might say (I'm an old maid, I'm not cute enough, I'm difficult) prevent me but I didn't. You just have to do what you think will make you happy.
If your life were a book, what would be the title for 2015? What about for this year?
For 2015 that phrase I learned in business school "More, worse". That was the year I resigned myself to live a life full of experiences and imperfection. I did what I wanted to, even if I couldn't give my full attention to everything. For 2016 "40 af". This year is all about celebrating where I am at as I hit the milestone age of forty. I have a kid, I have a great business, and I just bought a house and a car. I had almost none of those things one year ago, so I'm trying to revel in the amazing things that come with getting older.
Related
Popular in the Community