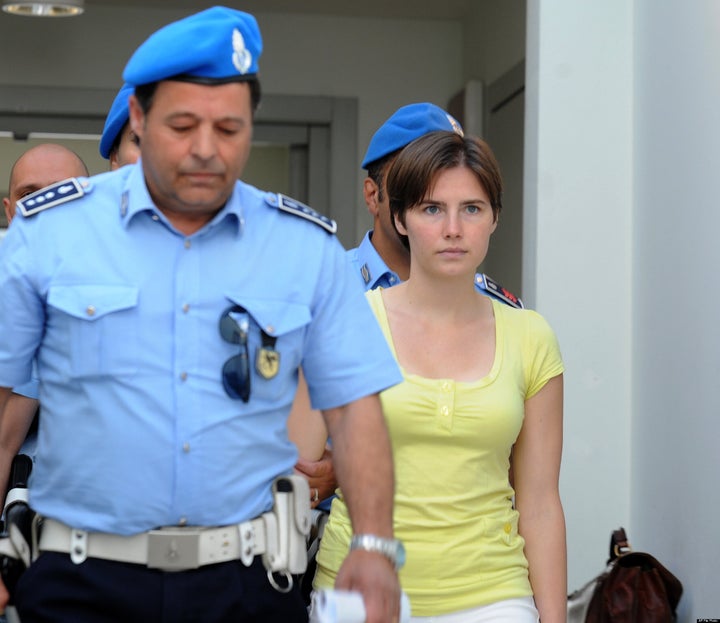 Amanda Knox briefly reappeared in an Italian court Friday for a hearing on possible police slander charges just as details on dueling Hollywood versions of her case are beginning to emerge.
Knox, the U.S. college student convicted of killing her British roommate Meredith Kercher in Perugia, Italy in 2007, had accused eight officers of beating her during the murder investigation, Reuters reports. The slander charges were separate from the murder case, which is due for an appeal hearing Nov. 24. If convicted, she could face an additional six years in prison on top of the 26-year sentence she received late last year.
Knox's family members and attorneys say the 23-year-old has been frequently depressed as of late, turning down tranquilizers offered to her by prison physicians.
"She's very down," Rome-based lawyer, Maria del Grosso, told The Seattle Post-Intelligencer, noting that her client attended the 20-minute, largely technical hearing as it provided a rare opportunity to leave her jail cell. "I've told her to be tough; it won't help to fall apart now."
Meanwhile, the staggering global interest surrounding Knox has not gone unnoticed by Hollywood. Last month, the BBC reported that "Heroes" actress Hayden Panettiere had been tapped by Lifetime to star as Knox in a made-for-television movie about the case. According to The Guardian, British director Michael Winterbottom has already been scouting locations in Italy for a second movie version, set to star Academy Award nominee Colin Firth as a journalist covering the trial.
Calling all HuffPost superfans!
Sign up for membership to become a founding member and help shape HuffPost's next chapter