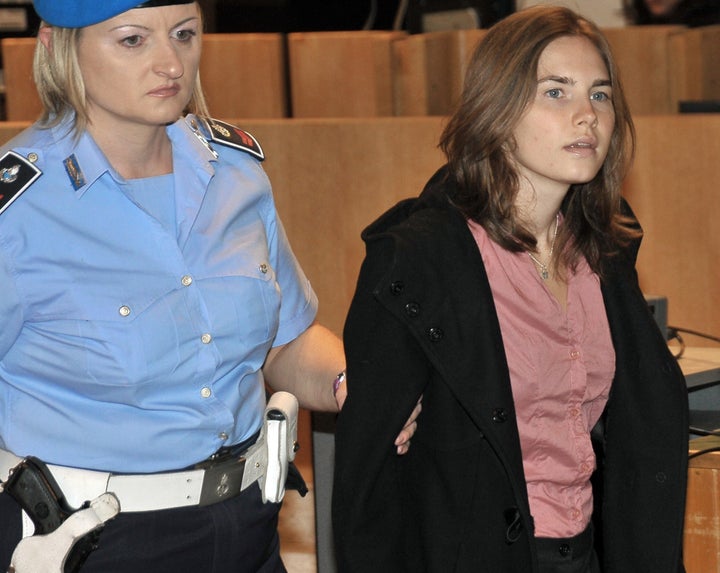 When I was in northern Italy last May, I was taken aback by the smart, professional Italians I talked to who were more-than-convinced that Amanda Knox was guilty of murder. Not only that, they were very defensive about it. I tried in vain to argue that the DNA evidence did not point to Knox, or her co-defendant, and that the Italian prosecutor had overreached, to say the least. But for these good people, more was at stake: saving face. Now, after Knox's acquittal, they will have to live with the consequences of their denial, or remain in it.
Last spring, while in Venice, the Knox case was simmering beside the "bunga bunga" party scandal that befell Italy's Prime Minister Silvio Berlusconi. The debate in the Knox case centered on new tests of the DNA evidence in the 2007 brutal stabbing death of 21-year-old British student Meredith Kercher, Knox's college roommate in Perugia, in central Italy. Why did so many Italians hold onto their belief that Knox did it, in the face of faulty evidence? In America, commentators had long chalked it up to saving of face, a kind of national self-consciousness among Italians -- the "honor" of their country, and the effectiveness of their judicial system, stood in the balance.
But to stay true, they had to cling to a lot of assumptions they'd held onto the four years since the murder. To them, the police in Perugia were professional and handled DNA evidence properly. DNA evidence linking Knox to the murder, they'd insist, WAS found at the scene (even though none was found in victim Kercher's bedroom). The flamboyant prosecutor in Perugia, Giuliano Mignini, was professional, a hero in the face of international pressure to drop the case. The homicide very well could have been a sex game that went too far. For instance, look at the numbered list of seven sex partners the then-20-year-old Knox had prior to the murder (three over a matter of weeks while in Italy). The handwritten list was requested of her -- and craftily leaked to the media -- by Italian prosecutors. So, Knox was loose sexually. She fit a stereotype some Italians believe, that the "typical American girl is secretly some kind of monster." Some claimed she and her Italian co-defendant and former boyfriend, Raffaele Sollecito, were spoiled kids who pinned the whole crime on an African drifter named Rudy Guede (who is serving 16 years for Kercher's murder).
What about the DNA evidence? Well, they'd say, Italians were just as skilled as their American counterparts in handling and interpreting scientific information (until the release of video showing the inept mishandling by Italian investigators of Kercher's bra clasp, a key piece of prosecution evidence). But while DNA data is seen as crucial in TV detective show-obsessed America, many Italians saw them as merely technical details. The circumstantial evidence convinced many in Italy of Knox's guilt, and in conversations, these stories were recited over and over.
In particular, Knox's weird behavior after the slaying pointed to someone not completely sane and, perhaps, capable of murder. She kissed her boyfriend while police went through the murder scene; at one point, she did cartwheels with police present; she signed a confession in which she said she heard Kercher scream and also falsely accused a café owner -- later found to have had an alibi -- as the one who killed Kercher; she claimed she and Sollecito watched a movie on a laptop computer the night of the murder, but Sollecito failed to remember that; she smiled strangely in court as if the proceedings were a joke; she did not seem to feel sorry enough for Kercher.
What possibly could have been Knox's motive? The speculation (far-fetched) was that maybe Knox was angry with roommate Kercher -- who complained about the men Knox brought home -- and prosecutor Mignini theorized she wanted to scare her in a sex game, but Knox got stoned, a knife was introduced and the game went too far. Further, Guede (who unlike Knox, fled the country after the murder and was caught in Germany) testified that Knox and Sollecito were involved in the murder (even though Guede's DNA was everywhere in Kercher's room, and none of Knox's DNA was found there). Also, who was it who broke a window at the home Knox and Kercher shared, which police said was an attempted cover up, to make it look like a robbery occurred? (Kercher, in fact, was robbed of 250 euro).
To many Italians, the stories of Knox's bad behavior kept other, more significant concerns about the prosecution's case at bay. If the DNA evidence did not figure, if the knife prosecutors said killed Kercher, did not match her wounds, as the defense claimed, then these stories nonetheless kept her guilt alive. Her false accusation of the café owner was considered bad enough (wrongfully accusing someone who was not guilty!) regardless of whether her claim came after a 14-hour police interrogation without her lawyer present. It all added up.
With Knox (and Sollecito) now acquitted and freed, the soul-searching, or lack of it, begins in Italy. Some who remain skeptical may say the Italian appeals court decision acquitting Knox on Monday was political, not based on fact, or that the two are wealthy defendants who got off. Whatever the rationale, some in Italy, and elsewhere, will still complain that Knox got away with it.
These are not good times in Italy, for a number of unrelated reasons. The nation has no clear successor to Berlusconi and depends on his political skills despite his continuing embarrassments; the country's $2.2 trillion debt is the highest in Europe's Euro Zone, and S&P downgraded the country's credit rating in September, 2011. Now, the Knox case provides another sobering fact. But perhaps it's produced a face saving of another kind, from an Italian high court that made a rational decision, based on fact instead of gossip.
Jeff Burbank is a California-based author, freelance journalist, adjunct lecturer at San Jose State University and a former Fulbright scholar in Azerbaijan.

Related
Popular in the Community