The Daily Mail published an erroneous news story claiming that Amanda Knox's murder conviction was upheld on Monday.
On Monday, Knox, an American student, was found not guilty of murdering her British roommate Meredith Kercher. She successfully appealed the 2009 conviction after spending the past four years in jail, and will be freed from prison. The judge began by finding her guilty of defamation, before announcing that the other parts of her conviction would be overturned.
British blogger Malcolm Coles caught the Daily Mail's huge error, writing, "I'm not sure it can get more embarrassing than this for a news site."
According to Coles, the newspaper jumped the gun, publishing its pre-written story as soon as the judge deemed Knox guilty for defamation.
The British tabloid published the story with the headline "Guilty: Amanda Knox looks stunned as appeal against murder conviction is rejected." It incorrectly described in its lede, "Amanda Knox looked stunned this evening as she dramatically lost her prison appeal against her murder conviction."
It also incorrectly described the case's prosecutors as being "'delighted with the verdict" and having said that "'justice has been done' although they said on a 'human factor it was sad two young people would be spending years in jail.'" The paper went on to say that Knox and fellow defendant Raffaele Sollecito would be returning to prison, where they would be on suicide watch for the next few days. It was not clear how the Mail obtained these quotes.
The article has since been replaced with a correct account. Coles noted that Sky News and the Guardian also incorrectly claimed that Knox had been found guilty. One of the Guardian's live updates had said Knox lost the appeal without specifying that she lost on just the defamation charge. The paper has since added clarification.
PHOTO (via Malcolm Coles):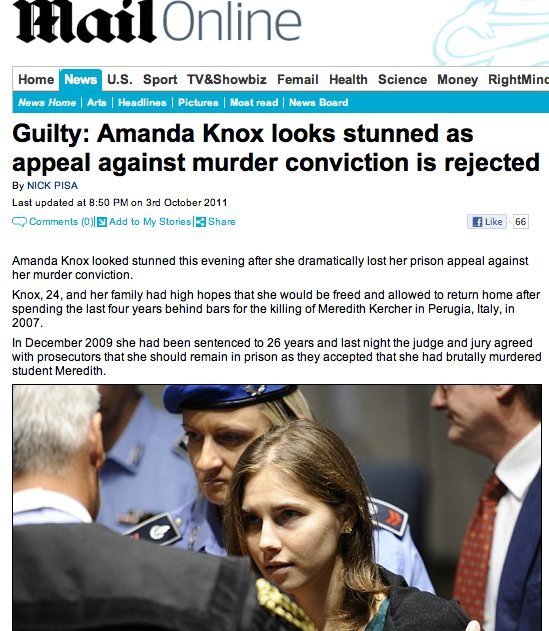 Related
Popular in the Community