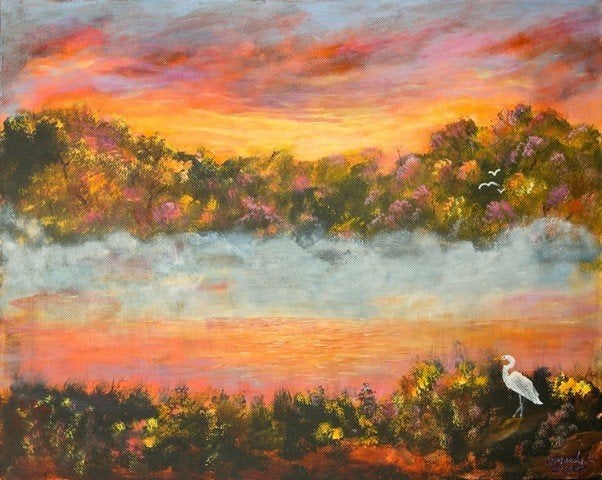 Amanda LaMunyon, a talented 16-year-old artist, has Asperger's Syndrome. Instead of being a setback, however, this allows her to concentrate on her painting. Two years ago, Amanda was a finalist in CVS's "All Kids Can Create" contest, which puts a spotlight on creative kids around the country. The young, Oklahoma-based artist writes on the "CVS Caremark All Kids Can" website, "When I put a paintbrush in my hands for the first time, I instantly felt my life change. I could finally focus without getting distracted and my paintings helped me convey everything I had difficulty expressing,"
At only 12 years old, Amanda addressed the United Nations during World Autism Awareness Day. She delivered a poem, "A Little Secret," which she wrote herself. (She speaks around the three minute mark in the video below.) Looking very self composed despite her young age, the precocious artist reveals, "She is very well meaning, but frequently misunderstood." This can be a common complaint among those living and dealing with people who are autistic; at times, it seems they are living in their own world. But this doesn't get Amanda down; instead, it motivates her to create bridges between people. She writes on her website, "I hope to continue to share my art and my story of overcoming challenges."
We interviewed Amanda about her work, and her responses are below.
HuffPost Arts: How did you first develop an interest in art?
AL: I first developed an interest in art and painting when I was about seven years old. I couldn't stay focused, so my parents thought it was a good idea to have an outlet. They looked up art lessons, and I took my first lesson with my teacher, and after my first lesson she said, "I think this girl can paint;" I've been painting ever since.
HuffPost Arts: Have you kept in touch with this teacher?
Yes, she's a very dear friend of the family. We just love her.
HuffPost Arts: Are there any artists who have inspired you?
I like Monet, Van Gogh, the French Impressionists. I definitely consider myself an Impressionist artist so I enjoy that type of work more.
HuffPost Arts: Do you prefer to do landscapes?
It varies. I like doing anything with nature, whether it's landscapes or animals.
HuffPost Arts: What kind of museums do you like in Oklahoma?
We don't have that many art museums here, but I've been the OKC Museum and the Tulsa one.
HuffPost Arts: Were you ever able to see Impressionist work up close?
I was able to see Monets, yes. Whenever I know there's a piece of Impressionist work [I tell my parents], "We're going to this museum!"
HuffPost Arts: Are either of your parents artistic?
Not much. I believe I was born with the ability; I just had to acquire it.
HuffPost Arts: What do you want to do in the next few years?
Painting is my life now. I want to get a degree in graphic art and painting [and] I want to do more work with charities.
See a slideshow of Amanda's work below, and let us know if you've ever found solace in art in the comments section.
If you'd like to participate in "All Kids Can," please submit your or your child's artwork before April 8, 2012 here, and it will be featured in an online gallery. In addition, the artwork submitted could be chosen for display in the "What Inspires Me" exhibition this August in Washington, D.C. at the Dr. Martin Luther King, Jr. Memorial Library.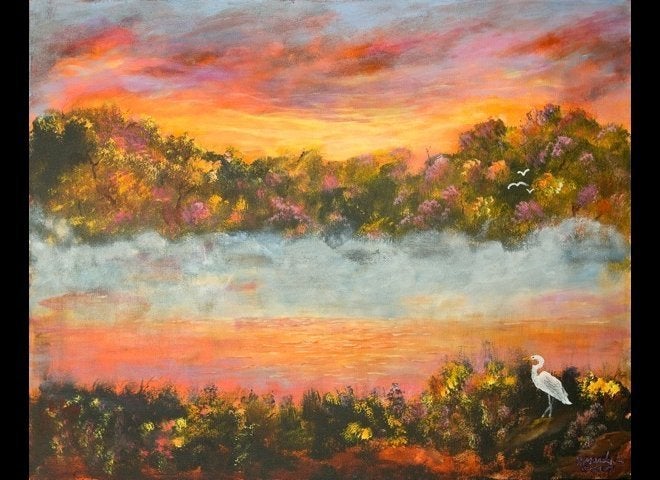 Support HuffPost
The Stakes Have Never Been Higher
Related
Popular in the Community