Crance: (verb) to dance and cry simultaneously, fiercely, taking no prisoners, not caring who's watching, balls to the wall, real horrorshow like.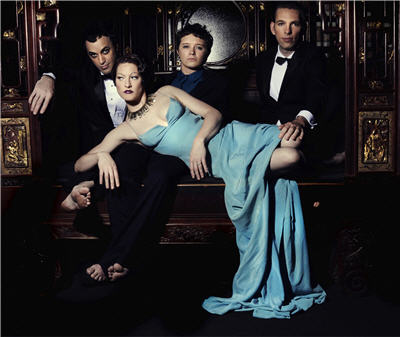 Photograph: Shervin Lainez
Three years ago, Amanda Palmer opened a show at the Music Hall of Williamsburg by marching through the audience from the back of the floor, singing and shouting through a megaphone, stopping to hug and kiss fans in the packed crowd who were delirious with joy. When she climbed up on stage to play, the word YES was written on her chest in large black letters. Which kind of says it all -- in a nutshell -- about this artist, and the way she shows up in the world.
That night I flagged down a taxi and shared it with a young man who had taken the train into New York from way down in South Jersey for the concert, who had waited to meet her and was thrilled to have gotten Amanda's signature on a CD after the show. Because after that show, after every show in fact, she waited until the last person who wanted to see her had done so; signed every piece of merch, hugged every fan, posed in every photo, connected one on one with each of them. Not in a fake rockstar I'm better than you type of way; but in a real this could be you, but it's me, and I'm here for you kind of way.
It is because Palmer built her audience this way over a period of years; brick by brick, bleeding finger by bleeding finger, that paved the way for the incredible success of her Kickstarter campaign four months ago. You may remember it -- it made international news. The goal was to raise $100K in 31 days; she did this in the first seven hours. By the time the campaign drew to a close she had amassed $1.2 million and had changed the music industry, not to mention the intersection of art and commerce, forever.
Crowd-funding had a new high water mark. Every major music industry publication turned its bright spotlight onto Amanda as well as business press, and television, internationally. "My fans are so fucking great, and are literally, I mean thousands of them, holding me up and making me possible," Amanda said. "They are literally making it possible for me to make music for them -- the way I want." She shares it all (including the budget for the record and where the money was going to), honest and open-hearted, with her devoted, ever growing fanbase; via Twitter, via her blog, via her website - the good and the bad -- the ridiculous and the sublime. And they respond in kind. With fistfuls of cash for the new album and the mounting of the tour; with heartfelt tweets addressed to her when they get the record in the mail such as: just gonna find a corner in the library to sit and cry because @amandapalmer will do that to you. #TheatreIsEvil #genius (@wesssels); holy shit #theatreisevil (@mitchsdavis); @amandapalmer's #TheatreIsEvil is absolutely perfect. Wow. (@lizardpiss_).
Palmer's new album (her first full length release since 2008's Who Killed Amanda Palmer) Theatre Is Evil is the grand and beautiful statement of an artist who has come into her own and who is doing exactly what she wants to do, and I mean exactly. The album consists of 14 songs, every one of which constitutes a fierce statement of purpose. She's never sounded better, never had a better group of folks backing her up. Frequent collaborator Jason Webley (who also introduced her to writer Neil Gaiman, now her husband) was the catalyst for The Grand Theft Orchestra (the band's name, by the way, was crowd-sourced via Twitter): Michael McQuilken on drums, guitarist Chad Raines, and Jherek Bischoff on bass. "It's an entirely new way of making art for me. And I couldn't have chosen better people. They're all geniuses in their own way."
The new record was recorded in Melbourne, Australia with producer John Congleton (St. Vincent, Murder By Death, Modest Mouse, Xiu Xiu). The album is studded with in-your-face rockers like the opener, Smile ("a giant smeared wall of noise and sound in the tradition of Swans and My Bloody Valentine and the loudest bands I love") and Do It With A Rockstar ("I wanted it to sound like a classic rock song, like a song you weren't sure you hadn't heard before"); The Killing Type ("a total catchy Cars-y song... I wanted this to be a super great minimal 80's song") and Want It Back ("about that moment in any relationship where you want to stop time and rewind and you can't"); Lost ("a healing song"), Melody Dean ("my first out and proud song about being bisexual"), and Massachusetts Avenue (an old favorite that Palmer fans will recognize from her performances; rebirthed from a piano ballad to a boisterous tune flavored with a full-bodied horn section; "like all of the catchy tunes on the record, it's incredibly sad").
There are plenty of piano-hearted ballads that will please Amanda Palmer fans as well as enchant new listeners: Grown Man Cry (Palmer and her band fleshed out the arrangement with the directive that it sound like one of the saddest songs on Depeche Mode's Violator album; deeply pensive with a robust beat pulsing underneath); Trout Heart Replica (another concert favorite, here trimmed like a dark valentine with lace and velvet by Jherek Bischoff's string arrangement); Bottomfeeder ("I found myself, even in the process of writing it, thinking, wow this is not an Amanda Palmer song, what are you doing? - but those are the kind of paths that I've been allowing myself to take, to write the songs that feel unfamiliar to me").
And there is the breathtaking poignancy of The Bed Song which is like a Chekov short story set to music. Palmer admits that part of the deal of allowing herself to grow as a songwriter has been allowing herself "to be literal when I want to be literal... I think as I've gotten older I've just allowed myself more to recognize the song for what it wants to be and not fuck with it... <The Bed Song> didn't need to be any weirder, it didn't need to be any less literal than it was, it just kind of tumbled out and I tried to get out of its way"). And Berlin, a sober and heartbreakingly cold-eyed look at a long ago period in Amanda's life ("Berlin is more sort of a Dresden Dolls song... an old school old style Amanda Palmer very theater-y, multiple-parted song. But once I heard the way the recording came out with the horns and the band I just couldn't bear not to put it on the record").
Musically, Theatre Is Evil has an overarching super tasty 80's new wave pop vibe -- at once taut and sparkly and taffy sweet. "That's my jam, the music I love, that's the music that speaks to me and really has influenced me the most. And I speak the language of 80's as a songwriter." The album roars to a close with the bright sunlight of Olly Olly Oxen Free, "To me that song is just about total relief of pain and self and past which is kind of perfect and sort of wraps the whole record up and throws it off a cliff."
As a whole, Theatre Is Evil is shot through with a dark and simultaneously crancingly joyous aesthetic the tone of which is set at the record's start with the booming German dancehall intro by performance artist Meow Meow:
"How can I slit my wrists when I can't stop dancing?"
Amanda Palmer and the Grand Theft Orchestra take the stage at Webster Hall Tuesday September 11th to celebrate the new album's release with a global webcast. Tickets here.
Calling all HuffPost superfans!
Sign up for membership to become a founding member and help shape HuffPost's next chapter