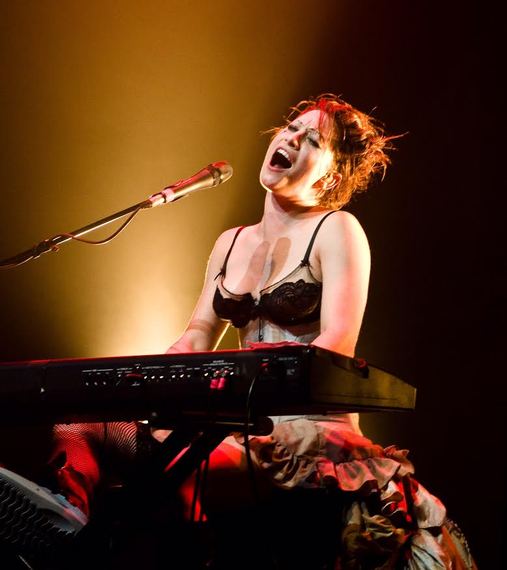 I'm not sure how it happened but I came to the Amanda Palmer party a wee bit late -- and then it all changed having been gifted her book the Art Of Asking and then being intrigued enough to watch her Ted Talk but what about the music? After all she's a songwriter and musician right? Yes, yes she is -- something I discovered when I stumbled upon her music video Do It With A Rockstar and unexpectedly ended up at one of her shows. And there in the music full of raw unadulterated emotion in all its beautiful forms I discovered the real alchemy that is Amanda Palmer.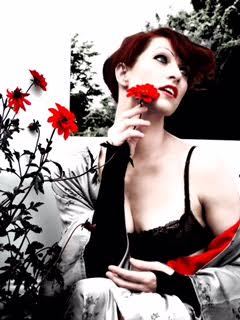 When you strip away everything else she has done -- author, TED speaker, and crowdfunding innovator -- one thing becomes oh so very clear all those other wonderfully creative "things" are in the end fueled by one thing -- the music. Palmer formed the Dresden Dolls with Brian Viglione in 2000, has had a successful solo career and is the lead singer for Amanda Palmer & The Grand Theft Orchestra -- and yes you could say music is in her blood. Her voice, her words, her intensity and her utter realness have the ability to reach into the inner world of listeners to transport, transmute and connect in a way that for those who love her and her music is, well, simply revolutionary.
And that alchemy combined with her stunningly intimate relationship with her fans, which is obvious when you check out her social media streams, it's really no surprise that in 2012 she was the first musician to raise 1.2 million on Kickstarter after leaving her label and looking to fund her new album. Ultimately starting her down a path that now lets her create the music she wants to and make it totally accessible to just about everyone -- all without having a record label.
Palmer recently released a beautiful new album entitled You Got Me Singing, with her dad Jack Palmer. In some ways it's a different kind of album for Palmer having a more folk, blues, and country vibe, and covering musicians like Leonard Cohen, Phil Ochs and Sinéad O'Connor, somewhat like an epic retro flashback to another time. And her propensity for alchemy is in full swing, combining Palmer's smokiness with Jacks Johnny Cash like baritone making it a must. Palmer admits that all the non-musical creativity swirling around her along with the controversy she has been known to stir up can be distracting, but in a very real way recording with her dad brought her back to the music. "This record with dad was a very pleasant reminder for me that I have spent 15 years in the recording studio making records and that I am pretty good at it."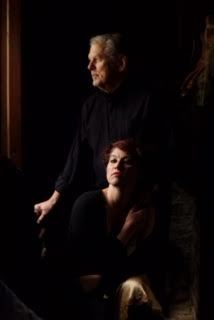 Some suggest that Palmer was estranged from her dad -- and it riles her up since it's simply not true. "We were never estranged. We always maintained a relationship, but for many years we were not particularly close -- which is sad in itself." But that has all changed now, and music was the key. "I have always used music as the universal duct tape to fix problems it doesn't always work but in this case it did ... inviting my dad on stage and recording this album created a closer relationship ignited by music." And perhaps as any alchemist can tell you there are other unseen forces at work. "Going into a room and stepping out with something that didn't exist before and the act of singing with someone else is so beautiful. It does something that we are unable to do any other way."
Making the kind of album she wanted to make when the emotional stakes were so very high required that she not only create music but put on her producers jacket too. This meant that while in that studio she was also managing everything from what equipment to use, studio time, and keeping everything on point after a dozen or more takes of the same song, to deciding to change a cord, and maybe just maybe telling her dad that something needs to be changed -- yes she did it all. The time was right for this album, for this collaboration, because she was ready, not just emotionally, but in terms of her musical evolution having honed her "hard" skills over the last decade of making music. "Ten years ago I could not have done it -- I just didn't have the skill set."
Palmer went from straight from finishing up the Dad album to recording with her teenage hero Legendary Pink Dots front man Edward Ka-Spel in the UK -- with the two sitting down and writing songs from scratch. He is still her hero and in some ways the collaboration was a spiritual awakening, but it was also a revisiting of sorts since when she was 18 she randomly met Ka-Spel, who listen to her songs and told her to keep making her music at a time she needed to hear it.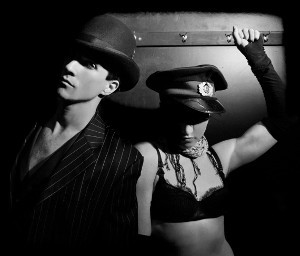 And as if all of that wasn't enough she headed back to the U.S. to make a record with her best friend Jason Webley once again writing songs from scratch, and nurturing a relationship through music. "It was a great excuse to also drink wine and talk about our lives." Palmer also began rehearsing for two Dresden Dolls reunion shows, which had fans all fired up because its been five years since the duo has played together. All of these instances of coming full circle is not lost on Palmer. "It feels like I'm on fire on a tightrope between past and future."
So without a label how does all this Amanda Palmer fire starter like musical goodness happen? "Patreon has made it easy -- it is the hidden hero of all this creativity," she says. Patreon is an online platform that lets people support their favorite artists. Every time she creates something and sends it out into the world, whether that's a new album, a video, or something else her supporters pay $1, $3, $5 and up. And to date they have helped fund 17 "things" everything from her Dad Album and a DOCU-FILM to a full band production of a song called "Machete" about love, and grief and yes paradoxes.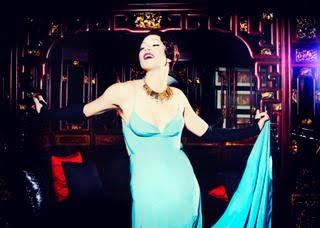 And it's not a one way street, with Palmer it never is, in exchange her supporters are part of a special Patreon community, getting access to new releases, and special extras -- and yes, Palmer, knows just how special these relationships are. "I practically want to cry about how lucky I am ... It feels amazing because over 8,000 human souls trust in my ability to make good art."
Palmer has a life long friend called Anthony who she met as a child, and says very clearly taught her much of what she knows about about the nuances of love -- and it's hard not to think that their relationship has been a catalyst for connecting so deeply with those eight thousand souls. Frankly I think I would have really liked her Anthony. Just over a year ago he died, and two months later Palmer gave birth to her son, who she named after him, and is called Ash for short.
All of this coming full circle and digging deep into the music has ignited a desire to hit the road for a new stripped down tour before taking on the next "cosmic distraction." A tour with just her, Ash and her piano. Yes, a tour stripped of everything except the music ... and the love. "Music is my spiritual bread and butter -- and the tree from which all the other branches grow," she says.
Yes, Amanda, yes it is -- and I can't wait to see what you do next...
Thanks to Amanda Palmer for the photographs and Carlos Acosta for schooling me on the music.
Calling all HuffPost superfans!
Sign up for membership to become a founding member and help shape HuffPost's next chapter