The moment an assertive black woman expresses her opinion, she becomes an Angry Black Woman.
The latest victim of this archetype is actress Amandla Stenberg, who you might recognize from her role as Rue in "The Hunger Games."
Apparently, Stenberg received backlash for expressing her opinions.
Stenberg did receive praise for calling out Jenner as a cultural appropriator, but she indicated that others have dismissed her words, labeling her an Angry Black Girl. This is the exact same stereotype Stenberg is preaching against -- those that devalue black women by reducing their emotions and labeling them erratic and irrelevant when they're everything but.
Stenberg's frustration with the treatment of black lives is valid and shared by many African Americans, both men and women. Yet, to classify her as an "angry black woman" is, like Stenberg said, to undermine her critiques of those who simultaneously borrow from and oppress black people. She's expected to comply with that reality and, apparently, keep her mouth shut about it. That notion is pervasive -- and it is unfair.
The problem is two-fold. The people who fueled Stenberg's latter argument -- that opinions don't make people necessarily angry -- are too busy feeding her initial point, that black women are treated as less than human.
Then, perhaps more importantly: If anger is what Stenberg feels, anger is what she should be allowed to express. Her anger should not be invalidated or treated as if it's an emotion only expressed by black women. Black women are constantly dehumanized and exploited which, you're damn right, triggers anger.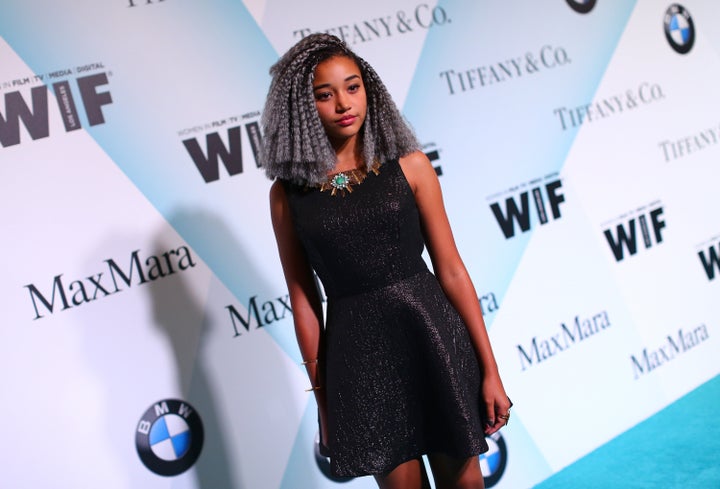 The Angry Black Woman trope persists on television shows and in real life -- some of the most influential black women in our country have been labeled Angry Black Women including First Lady Michelle Obama and TV mastermind Shonda Rhimes. Both women have spoken out against it.
Black women shouldn't have to apologize for being angry -- just as we would never apologize for being black. But it is when the two become synonymous where the stereotype flourishes and becomes a bigger battle to fight.
Black women are often shamed for our assertiveness and, as in Stenberg's case, must defend ourselves in order to fight against this idea.
Our culture, our opinions and our voices cannot continue to be reduced to ugly stereotypes. But as long as they are, I hope Stenberg keeps those "strong opinions" coming.
Be angry, speak up, refuse to be silenced.
Popular in the Community