"Everything, Everything" tells the story of 18-year-old Maddy Whittier (Amandla Stenberg), a young woman who's confined to her house due to severe combined immunodeficiency. But when handsome, charming Olly (Nick Robinson) moves in next door, Maddy begins to question whether her health is worth her isolation from the real world. As it turns out, Maddy will risk anything — and quite possibly everything — for love.
We spoke with Nick and Amandla about their characters, their on-screen chemistry and their least favorite words.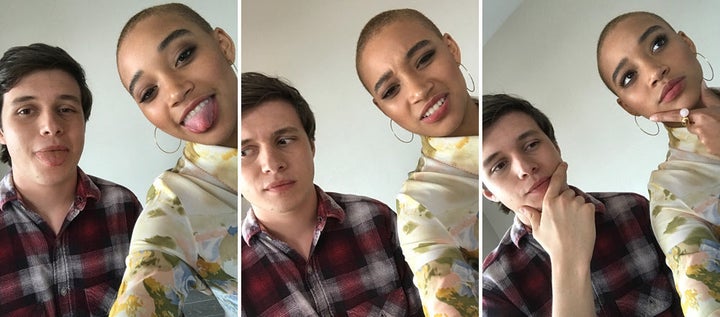 You would think it would be difficult to relate to Maddy, since she's suffering from such a rare deficiency, and yet she's such a sympathetic character. How do you achieve that?
Amandla: I see the film less as a story based in reality and more as a kind of fable or fantasy, like a modern-day fairytale. When it comes to Maddy, I think the things she's experiencing are these grandiose, kind of fantastical things, but they're actually metaphors for things that are much more based in reality. I think her being trapped inside of this house is more like her being trapped by limitations that she's placing on herself and that her mother is placing on her. I think that's why it might feel relatable to people.
What were the easiest and most difficult parts about taking on your roles?
Nick: I think one of the more difficult parts was trying to make some of the more fantastical elements still seem grounded. I think that some of the easier parts were just the moments between Olly and Maddy, like the quieter times when they meet for the first time and when they start to have a more comfortable relationship.
A: I agree. I think the movie has a very specific tone in that the circumstances are obviously kind of ridiculous, but the characters themselves are very real and grounded and act like nothing's weird. I think that's what's kind of clever about it.
Did you read the book before filming?
N: It's a really beautifully written book. The simplicity of it is very beautiful and sparse, which makes it a lot easier to connect to.
A: I hadn't read the book before I heard about the film, and when I received the material I was really intrigued by the book because it's written by Nicola Yoon, who is a black woman, and she wrote the book for her daughter, who is biracial. Maddy is specifically written to be a biracial character falling in love with a boy who is white. That's never a conversation in the book, it's never a conversation in the movie, and I think that's really refreshing. That's what drew me to the book and to the project as a whole.
What did you most want to get right as you translated the book to screen?
N: Like Amandla said, I wanted to have this relationship between these two people, but not highlight the fact that it's an interracial relationship. It's not really explicit at all ― it doesn't really amount to a conversation, which I think is a great thing. I also wanted to capture the element of whimsy and fantasy that I think the book does really well.
A: The book is really lyrical, so I think that was important to capture in creating the movie ― that it feels light and airy and fun and joyous, even though it all happens within one house, pretty much.
You two have such palpable chemistry on-screen. What was your favorite scene to shoot together?
N: For me, it was all of the sequences once Maddy left the house.
A: Yeah, we literally got to go on vacation for part of the shoot, so that was probably our favorite.
Nick: It was cool, too, because for Maddy's character, she's experiencing all these things for the first time. It's cool for Olly, because he gets to go and experience some of that with her, where he sees everything for the first time again.
Both of your characters have complex relationships with their parents. What does this movie have to say about family?
N: Hmm ... run away?
A: [Laughs] I think Maddy's relationship with her mom is one of the most startling and compelling parts of the movie. It says a lot of interesting things about grief, and how we as women deal with grief, and how oftentimes we aren't able to deal with it because we have to be strong, we have to take care of the kids and move on. In terms of their relationship, there are negative aspects to it, of course, but it's really cool to see a nuanced mother-daughter relationship being portrayed by a black mother and black daughter. That's not how we're often portrayed on film. I feel like black families are portrayed in a very specific way, when black mothers and daughters have really nuanced relationships. My mom is one of my best friends, and also my mom, and there's a sense of sisterhood between us as black women. I don't think we see that often in movies about black people. It's relentless love.
What's your favorite food?
A: Pasta.
N: I was gonna say pasta! Sushi.
What's one book you read that truly moved you?
A: Beloved by Toni Morrison.
N: Shantaram by Gregory David Roberts.
Least favorite word:
A: "Moist."
N: "Crusty."
"Everything, Everything" hits theaters Friday, May 19.
Popular in the Community