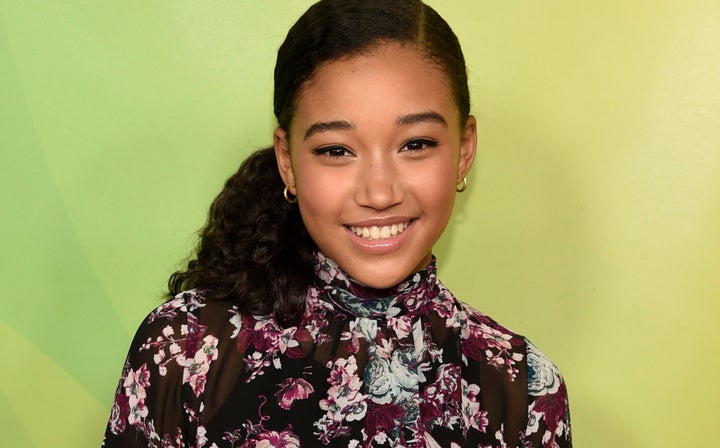 Now, the cooler than cool 16-year-old actress Amandla Stenberg has broadened her activism efforts to include encouraging more young women and girls to pursue their interests in STEM (science, technology, engineering and math) fields.
Sitting in a town car before the event, Amandla looked up from her signature black Converse sneakers and floral pants, which were thrifted from Crossroads Trading Co., with a sincere expression -- and she said matter-of-factly that the science behind the derby is really cool.
Amandla -- whose name means "power" in Zulu -- sat down with The Huffington Post for a wide-ranging interview before joining the race day festivities, touching on everything from how to get more girls involved in science, to the power of activism, to where she'd like to go to college and who she admires the most.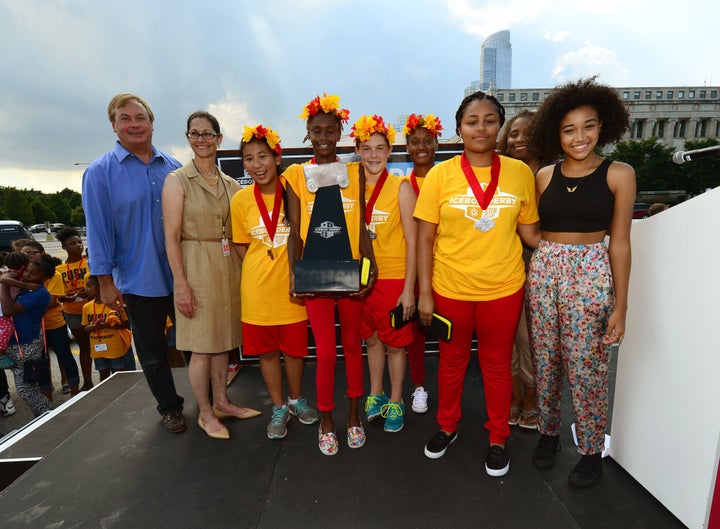 Getting young women excited about STEM is a big part of the Icebox Derby. Why do you think more girls should be involved in STEM and how can we make that happen?
I think it has to do with the way that we raise girls and boys differently, and it's not like girls are not intrinsically interested in math and science and in STEM fields. But ... we teach them that they are not capable or that they won't be good at it, and therefore they're kind of deterred from pursuing interest in those fields.
So it's really exciting to be here and I think the way that we can work on this is by having more events like this, and I think it's also really important how girls are raised. I don't really believe in, you know, gendered childhoods. I don't really believe in teaching boys and girls that they should have separate interests. So, I think it really has to do with how you raise your kids.
What advice would you give to a young girl who may feel as if she's "incapable" of succeeding in a STEM field, or who may even see science and math as "uncool?"
I think it's really cool! I mean, my only advice is just to pursue anything you're interested in. And it's easier to say, "Don't care about what anyone thinks," than it is to actually not care about what anyone thinks. But honestly, anything you're passionate about, that's what you'll be the best at.
Why do you think it's important for young celebrities -- like yourself -- to speak out about this lack of women in STEM and other social issues?
Often we look to celebrities as role models and celebrities have the most visibility, therefore they're able to dictate the media and share messages, and those are the messages we look at the most.
Hopefully by being here and talking about girls in STEM fields and talking about feminism, I can somehow impact girls who might follow me on Instagram and be interested in STEM but are feeling kind of insecure about it, because they don't think they can be good at it.
The lack of women in STEM is a big issue for your generation, because in these fields are where we're seeing projected job growth, and the potential for future innovations that could transform our country. But what other issues do you think are facing your generation?
I think it's a really critical time right now, especially for millennials, because we're facing sexism and we're facing racism and police brutality. And I feel like we're one of the most passionate generations in terms of combating that. It's really inspiring how social media is used as a tool for social justice and activism and spreading the message about events like this. So I feel like we're the generation that's really going to make a change.
Yeah, I was not expecting that response at all. I made the video for school with a friend of mine, her name is Quinn Masterson, and I just posted it on Tumblr one day because I thought Tumblr's a cool community of people who care about social justice and therefore they'd appreciate it -- and it just blew up on Tumblr.
Then it was put on YouTube and turned into this ginormous thing. It really made me realize how we really do want to talk about these issues, and how I actually do have a say in social justice and the visibility of issues that we talk about. It was just an eye-opening experience for me. I didn't realize I could really contribute to such broad conversations like that.
"If I'm receiving hate about something it must mean that I'm saying something that's important."
Do you think sometimes young celebrities shy away from making statements about or speaking out on certain issues because they fear how the public may react? Is it hard as a young celebrity to speak out because of that?
Yeah, definitely. It's hard for anyone to be an activist. It's really difficult because you're going to face ignorance and you're going to get hate. Mentally that can be challenging to ignore and overcome, but I feel like, if I'm receiving hate about something it must mean that I'm saying something that's important. Because, for anyone to care about it, it must be kind of controversial or it must have significance in weight. When I get hate, I'm almost like, "Cool, I'm doing something right."
So it's something to celebrate rather than shy away from.
My top choice is NYU. I'm applying to the film school. I also want to study psychology, so I think I would take that as a science course. And I want to make projects that empower, specifically, young black girls.
Yeah! Spike Lee is just so incredible. I remember watching "Do the Right Thing" when I was younger and it really impacted me, and I rewatched it recently. It's a timeless movie. There are just so many messages in it that are applicable to what's happening right now.
That's so interesting to watch it now and compare it to everything going on in our country.
Right, so that movie to me is like my favorite movie of all time because of the messages it has about police brutality and race relations. Also, just the culture of the movie and the style of it is just so cool.
So, Spike Lee is someone you admire. Who else do you look up to?
Ava DuVernay is one of my biggest role models of all time, and we actually met a few months ago and had this conversation about going into fields of directing as a black woman. She's just so dynamic and so wise and I'm so lucky that I could even meet her and have her be a part of my life.
Now I want to know, what do you like to do in your free time?
I'm in a band called Honeywater and we actually just released an EP on iTunes. So, I play the violin. I've been playing since second or third grade.
Me too! I started playing at a young age, and studied Suzuki.
I did Suzuki method for a little bit, and then I got tired of it and I quit violin for about a year. Then I started up again but just doing covers of songs I liked -- like, Beatles covers and R&B covers, and then I ventured into folk. So, it's been a very interesting violin journey.
A journey that we'll continue to follow.
This interview has been condensed and edited for clarity.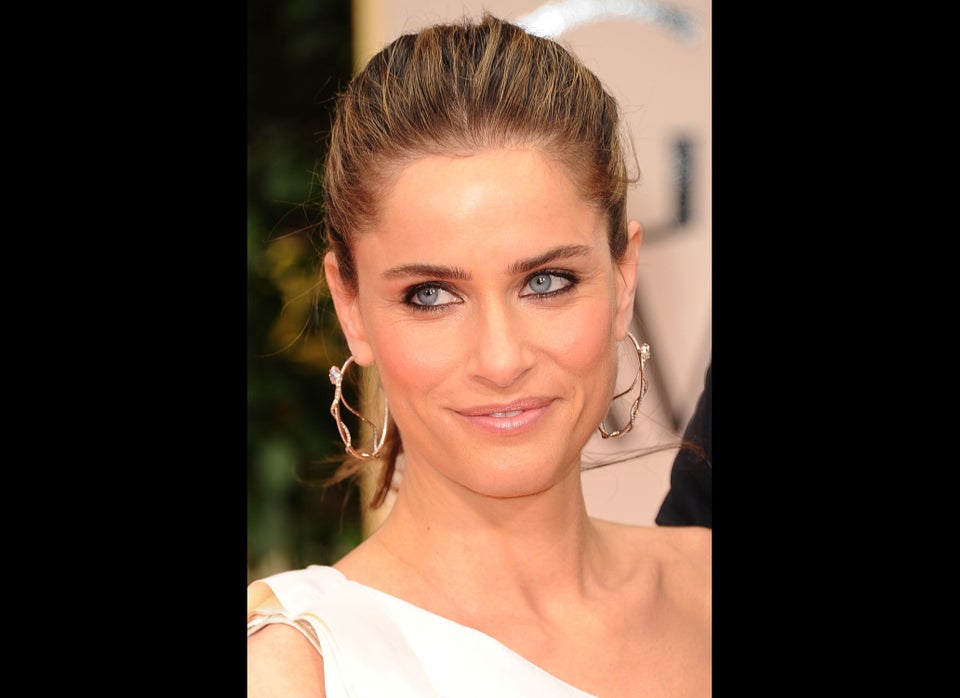 Celebrities Who Are Involved In Advanced Science