Need a spa vacation? Don't have the coin for The Golden Door? Want a break from your digital dependence and barrage of RSS, Twitter, Facebook feeds and updates? Amansala's your paradise.

I'm so zen and content upon my return from my stay at Amansala's Bikini Bootcamp that I had to drink several cups of green juice (one of my learnings at Amansala) to completely depict this eco-fabulous retreat.
A fellow working mom and I decided to get our bods in bikini shape (yeah, right) and have some time for ourselves to decompress and relax. I've had my eye on Amansala and Tulum for a couple of years and a January break seemed like a perfect time to go somewhere warm, eat healthy and get active.
Amansala is located in Tulum, Mexico about 1 hour, 40 minutes south of the Cancun Airport. The Mayan Riveria is beautiful and the Tulum area is quiet, unblemished with beautiful fine white sand beaches and the clear turquoise waters of the Caribbean. There is jungle on one side of Tulums main street and one of the best beaches in the world on the other. It's breathtakingly beautiful.
Amansala is an "eco-chic" resort. You stay in simple huts right on the beach with nice beds and linens and mosquito netting around your bed. There are no televisions, solar powered lights only after dark - and candles for ambiance in your lodging at night -- that sort of thing. We opted for the "Bikini Bootcamp" program which is not drill instructor style but a healthy program in equal parts of exercise, relaxation, spa and sightseeing. Mornings begin at 7 am with journal writing and coffee followed by a four-mile beach walk. A healthy breakfast of granola, yogurt and fresh fruit comes next followed by eggs and fresh juices.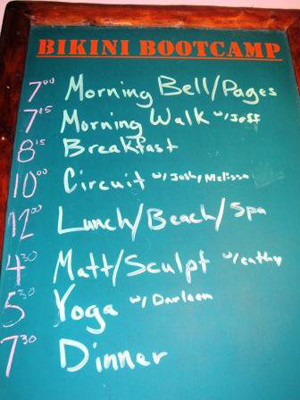 Circuit training, body sculpting and daily yoga classes, along with a special activity (a bike excursion to the Tulum ruins) complete the day's activities. There is plenty of time in the morning before lunch and again after lunch until about 4 pm to enjoy the beach, read in a hammock, take a bike to nearby Tulum village to shop, go for a swim or do nothing. Two massages and a Mayan clay skin treatment are also included in the package. The treatment, which locals say helps to remove toxins from the body, is done on the beach and entails slathering your body with a mix of clay, honey and olive oil. After 15 minutes, you cleanse your body in the sea. The group is small, only 22 people max and our gang had a great time bonding and getting to know each other. There was one lucky guy, Raphael, who we adored and help the ladies stay in check.
The all-inclusive package covers all meals and accommodations. You'll find delicious, low-fat, high-protein dishes that incorporate local fish, lots of steamed vegetables and fresh fruit. Fresh, crisp, veggies with lime and cilantro are served with the best guacamole I have ever had. I didn't miss the chips one bit and could have licked the plate. Oh yes, I did lick the plate.
Amansala also believes in balance, not deprivation. I relished my evening sunset margarita on the beach and an excursion to Salsa Dancing at Le Zebra a few minutes from Amansala. By the end of each day, we were so happily exhausted from exercise and relaxed from the surroundings, that we were snoring under mosquito nets by 9 pm.
There were a few non Bikini guests there when we were there, some of them families. I can't recommend the area enough for family travel. The beautiful beaches, tranquil waters, historic Mayan sites, eco-explorations, cenotes (fresh water sinkholes that you can snorkel in), swimming with dolphins, etc. It is also largely an affordable vacation with many moderate and economy cabana accommodations. Amansala welcomes families and has several double double cabanas and also several one bedroom "rooms" that can interconnect for larger groups. Plus, the gorgeous resident yellow labs love to play and entertain guests. For the more adventurous, try Extreme Kiteboarding which is very popular along the Tulum beaches.
Amansala is all about getting back to basics, but with style and comfort and that is reflected from the moment you set foot on the property. With the beautiful fabrics blowing in the wind, to the one of a kind mosaic ceramics in the bathrooms, to the friendly staff... you know you have arrived to a unique piece of paradise. The American owner, Melissa Perlman, set out to create an atmosphere that would feel more like staying at a friends beach house than a hotel, and she has definitely succeeded.
A 5 night stay (some programs are shorter) is $1575 plus tax and service (17%) and includes:
- accommodations
- all meals
- 2 massages
- a Mayan clay treatment
- all classes, activities and excursions that include yoga, circuit training, bike rides, snorkeling trip, body sculpting and more.