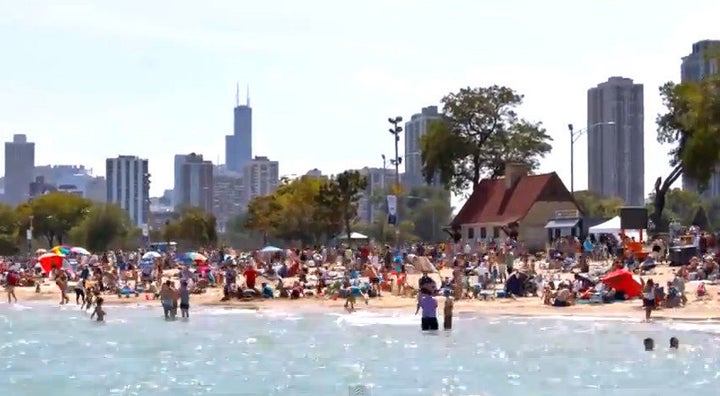 There is a temptation, when trying to describe an artist's sound, to compare them to other artists, but there is something inherently limiting in this. Yet by associating a new artist with another with whom we are more familiar, we are able to more easily categorize them. Many of us are much more comfortable when we can place music into a recognizable genre -- into a safe category.
This is the third in a series of four pieces focusing on artists whose work is about something more than just entertaining. The first featured an interview with Interscope and Matriarch Records artist Starshell -- a new pop/hip-hop artist. The second looked at soul/R&B singer and actor Rob Murat. This third installment considers a sister who is more difficult to categorize musically. I imagine that the great Duke Ellington might describe her with what his contemporaries felt was the highest compliment that he would offer another artist, and say that she is "beyond category." Her name is Amatus.
Breaking Free and Coming Home
"An artist is willing to live on the edge in a different kind of way," Amatus says with a rare combination of vulnerability and subversiveness.

She was answering the simply complex question of "How are you doing?" in a recent interview. She was referring to the reality of the artist's daily grind, but her words point to an interesting calling on the life of an artist. Artists -- true artists -- are meant to live on the edge(s).

Amatus-Sami's music has a well-rounded edginess to it. Her music is on the edge of many things. The edge of hip-hop, the edge of electronica, the cutting edge of production, the edge of breaking through.

The best music breaks through -- breaks down walls and flies towards freedom.

She's free -- unbeholden to category or expectation. Her sound is free. I want to say that her music is the love child of Portishead and John Coltrane (Love Supreme era) but that, of course, would be unhelpful and constricting.

One of the new tracks on the forthcoming album, "Coming Home" begins with the lyrics:

"I'm trying to be more than you know. Keep telling myself that the distance will not ever turn me cold."

These lyrics speak to what the industry needs -- more artists who are willing to be more than what is already known; sisters and brothers who have the courage to break out of categories. But defying the expected is something that Amatus-Sami has been doing her whole life.

South Side Sister to New Muslim Cool

Born on the South Side of Chicago, Amatus-Sami Karim is the daughter of a former share-cropper -- turned jazz musician -- turned Imam. The Imam's daughter has sojourned along a path that has led her from the south side in Chi-town to a prep school outside of Philadelphia, to NYU for college, to London to study at the Royal Academy of Dramatic Art and back to the States for a career in the music, film, and theater industries.

Her life -- any life, really -- is understood differently by different people. Someone from the theater community might hone in on her experiences on the stage or on the screen or on her work in scoring and doing music production for projects like the critically acclaimed interpretation of Macbeth by The Georgia Shakespeare Company or the groundbreaking documentary New Muslim Cool. A music or hip-hop head might want to focus on her work with D'Angelo, Ahmir "?uestlove" Thompson, Roy Hargrove, and Q-Tip or her work writing for/with Meshell Ndegeocello and Ursala Rucker. Activists might want to hear more about the Leeway Foundation funded documentary on gun violence and the families that it effects that she and friend Aliya Latif have been working on. Muslim brothers and sisters may want to know more about the Imam's daughter's deep faith and the way it is expressed in her art and life. Depending on where one is coming from one might see or focus on one of the particular intersecting identities that compile her life.

I have a feeling that engaging her music is the same. To the cats who love trip-hop, that's just what they'll hear. To the neo soul types, they will vibe to a new voice from the second generation. Hip-hop purists will hear a B-girl trying to change the game.

At present, Amatus is completing the final mixing of her upcoming EP with features production work by JRock Studios (who've worked with the like of Kid Cudi, John Legend, The Roots, Keri Hilson, Blondie, and Whitney Houston) and Rola Pola Studios (who've worked with artists such as Bjork, Morcheeba, and Saint Lucia).
The soon to be released tracks (in anticipation of the full album) seem to try to speak to people and not just move feet. Amatus is patiently critical of the contemporary music scene as she spits sad truth; "Music today, especially American music, has not been able to seep into people's experience as much as it's supposed to."

There is nothing wrong with tracks that are just meant to be club bangers or albums that are intended to be background noise, but there does seem to be a missed opportunity with these efforts. Critics of rap and hip-hop too easily dismiss songs that are "gangster" or otherwise negative. While critiques of violence and misogynistic lyrics should never be overlooked or given passes, when a track can speak to or present a glimpse of the reality of the daily experience of an individual there is redemptive value and great import in that work. When experience is not presented or spoken to, there is a missed opportunity. Amatus is right in this -- much of what is getting rotations on airwaves lacks the courage (or the artistic freedom?) to seep into people's experiences. And this is a tragedy.

Cherished Memories

I first met Amatus through mutual friend Aliya Latif. The two were working on the aforementioned documentary on gun violence and reached out to see if I could connect them with some folks in Philly who they hoped might be available to be a part of the project.

I soon learned that the project had a personal angle in it for Amatus. Her brother, her cousin, and roommate all died in separate incidents from gun violence and filming this project was in a way, her effort to process the indescribable and perhaps help others do the same. The film features interviews with the family members of individuals who have fallen victim to gun violence, law enforcement officers, gun control activists, public officials, and others. Around the same time she began working on the documentary, she filmed the video for her song "Cherish" which she dedicated to her late brother. Her freedom and courage to address gun violence in her music and in her art, is a model for artists who want to break free from just entertaining and work to create art that "seeps into people's experiences" challenging norms for progressive change.
I wanted to present this eclectic renaissance artist to others who are hoping to share their art with the world for two main reasons. Firstly because she is "next," in that Amatus is a name that you'll be hearing a lot more about in the upcoming seasons, but also in the sense that she is where music needs to be going next.

Secondly, I wanted to write about her because she lives an important challenge for us all. She has the courage to be free. Her sound is free, liberated from any category, and it is just plain good.

http://amatusmusic.com/
REAL LIFE. REAL NEWS. REAL VOICES.
Help us tell more of the stories that matter from voices that too often remain unheard.