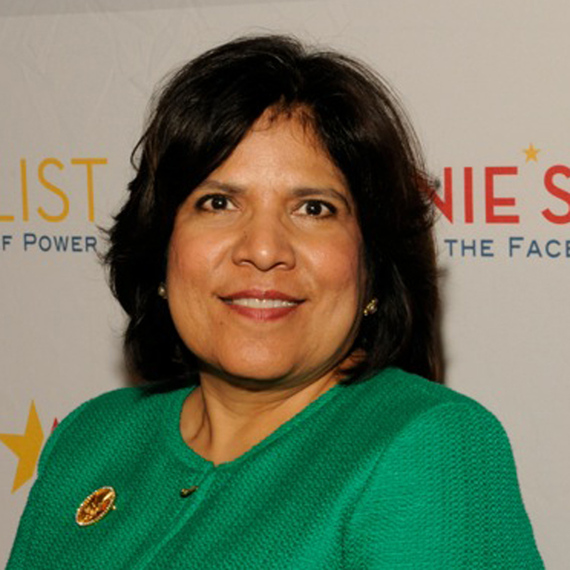 Grace Garcia was the matriarch of a tight-knit circle of women working to change the face of power in Texas politics. She was our leader, with a collection of experience, skills and smarts that no one else could rival. And she was dedicated to building other women up, and creating a community of support, the type of which has already drastically changed that face of power in Texas.
Grace was most recently the executive director of Annie's List -- an organization that works to recruit and elect Democratic pro-choice women in Texas -- and she was tragically taken from us too soon in a car accident on June 2nd. That afternoon, Grace was en route to a political event featuring Wendy Davis and Leticia Van de Putte. That morning, I saw her for the last time -- fittingly we had breakfast together with a small cadre of Texas women leaders, strategizing about the upcoming anniversary of Senator Davis' filibuster; with Grace, as always, pushing us to think bigger and to reach further.
Every day since Grace's death, her name has been echoing in my head and heart. I want to tell everyone about her, and I want to read endless tributes to her. I don't understand a world in which every woman in Texas does not know of Grace Garcia and what she did for all of us.
There are many good articles out there, summing up the legacy of Grace's work. She lived an incredible life, and had an incredible career dedicated to public service. From work in Texas politics, to electing President Clinton and then working in both the Clinton and Obama administrations, her life's work reads like a story. And then after all of those accomplishments, Grace came home, to Texas. Her final year of life was dedicated to getting more women in power in this state, and it has been a historic year for her to lead that charge.
But Grace's impact cannot be summed up just by biography and references to her vast and immeasurably impressive body of work. When telling stories about Grace to women who did not know her, I find myself going back to a series of points: She was hilarious. She would take no shit. And she supported other women fiercely -- she had our backs, mentored us and created a beloved community of young women leaders who all soaked up wisdom from her.
Just a few weeks ago, Grace and I drove together to Ft. Worth, along with the political director of Annie's List, another young Texas woman changing the face of power. We got on the road at 7:30, with Grace and I soon establishing clarity around the fact that both of us were not morning people. And yet, from 7:30 until we arrived, all we did was laugh hysterically and brainstorm ideas and ways to make Texas better.
I have never in my life been so thankful for a 7:30am road trip. On that drive, we talked about the upcoming anniversary of the filibuster, and how to explain how many ripples it had -- how many generations of women would have different, more engaged, lives because of that experience.
Jill Abramson had recently been fired from the Times, and I'm pretty sure we spent about an hour and a half of the drive talking about that fact -- talking about glass ceilings and glass escalators and, again, how to change the face of power. We talked about an article in Slate, which described how Abramson was a legend to young women at the Times. How they had once invited her out to one of their regular happy hours and were shocked when she showed up and stayed the night dishing stories and advice.
I don't think Grace understood that for so many of us women in Texas, we felt the same about getting to spend time with her. I doubt she could understand the full ripples of change created in all of our lives for having known and worked alongside her. I don't think she understood that when she gave us her time, and jokingly gave us a hard time, while imparting wisdom, we soaked it up like a rare form of mentorship in a space where women are still too little in power, even despite the candidates at the top of our ticket. And on top of this, she was a Latina in power, in a state where women and Latinos are massively underrepresented at the tables where political decisions are made.
Grace was our matriarch. Once we got to Ft. Worth that day we entered into a meeting that involved discussion of women in Texas politics. We all knew we needed to demand more inclusion, more respect and more representation. But, once again, it was Grace who made these points and suggested solutions that would pave a way towards more equality. We all watched her go to bat for the women of Texas, and again we all were inspired, taking notes on how to accomplish such bravery and strength. I knew in that moment how valuable it was to work alongside her, even if none of us knew then how little time left we had to learn from Grace.
The night of Grace's passing, calls flew between the women in Texas politics. We wailed and drove to each other and faced together this unfathomable reality. Early the following day, we circled up again, wandering in shock through the aisles of grocery stores, picking up food and anything that could be of comfort and showing up to support the women who worked with Grace. The Annie's List's office turned into a living tribute to Grace. Strong and smart women showed up all day, food in tow, hugging each other, helping with logistics and making sure we all were okay. Grace taught us how to do that, and taught us how important it is to do that.
The work to make Texas a more equal place, full of opportunity, is led by women throughout the state, most of them with names you would not recognize. But Grace knew our names, and she knew how much this circle of women mattered. She invested in us, she loved us and she showed us how to be strong and smart and support each other.
We will likely never find a way to make sense of how such an astonishing woman was taken from us during such a crucial time. But I can promise you that anything you see about strong Texas women this year, or in years ahead, is in large part due to Grace Garcia. She was our matriarch. And the ripples of change she created will reverberate every time a Texas woman demands better. It will reverberate in every woman who has been inspired to get involved in politics. And it will fuel the efforts of every Texas woman working to still make Grace proud by making some history this November.
Thank you, Grace, for everything. You were our matriarch. And you were our hero. The women of Texas will never be the same for having had you lead the way amongst us.
Popular in the Community