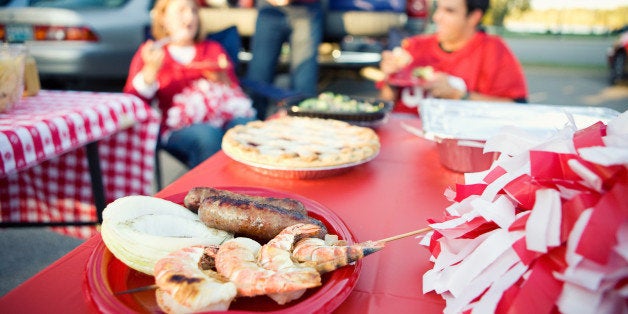 Tailgating. It's a uniquely American tradition. The practice of drinking and eating before opposing teams (or forces) duke it out goes as far back as the Civil War, according to Vice. Before fighting Union troops at the First Battle of Bull Run, Confederate supporters came to the Manassas, Virginia battlefield with food and booze.
Modern tailgating has gotten pretty involved. It's no longer bringing a sandwich and a six-pack and sitting on the back of someone's pickup truck. Now, people throw elaborate parties and might even spend the whole game entertaining fellow fans from their parking space. To ensure you're prepared for game day, we've teamed up with [yellow tail] to come up with some of the best tips and tricks to maximize your tailgating experience.
Prepare as much as possible beforehand. Make a list of everything you need. Check out the stadium website for rules and regulations on tailgating and take advantage of apps designed specifically for tailgating prep.
Cook as much as you can before arriving. This way you don't spend the whole time behind a grill. Especially if you don't have a portable grill.
Whipping up your famous pulled pork recipe? It never tastes as good cold. Instead of buying standing trays, use bricks to prop a pot or pan above a Sterno can placed between the bricks to heat the pot or pan from beneath.
If you're serving pulled pork, you might as well bring corn on the cob and biscuits, too. Turn your cooler into a warming oven with bricks, wet towels, aluminum foil and a little help from your oven before hand.
Make sure everyone knows which side you're on. Freeze colored water balloons as a spirited replacement for ice cubes.
Tailgating is an all-day event, and if you're going to last, hydration is the name of the game. Frozen bottles of water will kill two birds with one stone. They'll help keep things in the cooler cold and you'll have ice-cold water to drink when they start to melt.
Everyone loves to have great tunes when they're pre-gaming. Avoid lugging your heavy (and expensive) sound system and create your own speakers using two Solo cups (which should automatically be on everyone's tailgating supplies list) and a used paper towel roll.
Surfaces are scarce when tailgating. Attach magnets to your koozies so that you can just attach them to the car when you need two hands for that pulled pork sammie.
Use large decorative chargers as plates. They're big enough to fit food and drinks all on one lap-friendly eating surface.
Keep serving sites organized by using cardboard six-pack containers to hold condiments and spices. It also makes it easier to pass them around at once, because who uses salt without pepper?
If you have a pair of athletic tube socks with the right colored stripes, you've got yourself a couple of awesome gameday koozies. Cut off the foot and use the ankle part to keep your beer from sweating.
Keep your drink bug- and debris-free by turning cupcake wrappers upside-down over the opening of your drink. Shove a straw through for easy access and you've got a lid that will cover almost any drinking vessel.
Did Karen forget the bottle openers again? While you contemplate whether or not to invite Karen next weekend, rest assured that you can impress everyone in the parking lot with these beer and wine bottle opening tricks using things that someone is guaranteed to have because you can basically open a bottle with just about anything.
Tie distinct balloons or flags to your car or tent so that it's easy for friends to find the right parking spot or "grey truck."
Tool boxes are great for organizing grilling utensils.
Pop-up and folding hampers make for the perfect garbage bins and are in nearly every dorm room.
Create a convenient hand-washing station by filing an empty industrial-sized laundry detergent container with water.
Take an empty apple sauce or baby food pouch and fill it with your beverage of choice for an easy
Throw some sage or rosemary on the charcoals to act as a natural mosquito repellent. Alternatively, take some shots of apple cider vinegar or crush up some dried mint and wrap in a cheesecloth pouch for insect repellent potpourri.
The fun & rivalry of the pre-game celebrations are just as important as the game itself! [yellow tail] is the perfect wine for your tailgate celebrations with its laid back, approachable style and wide variety of wines sure to please all your tailgating buds. Simply put: Open it, drink it, and enjoy it whenever, wherever because seriously good wine doesn't have to be serious.