Fishing line is a huge danger for marine life. It can strangle or weigh down smaller sea animals, such as dolphins, sea lions and turtles, and can cause a slow, painful death for whales that drag the line -- and the fishing gear attached to it -- for an average of six months before dying. According to the Pacific Whale Foundation, young whales like the one missing off Maui are more susceptible to entanglement because they try to play with the gear.
But not every fishing line encounter ends in tragedy. Sea life caught in fishing line often lend themselves to some of the most beautiful and dramatic animal rescues. Here is a look back on the last two years of fishing line entanglements that began tragically, but ended happily.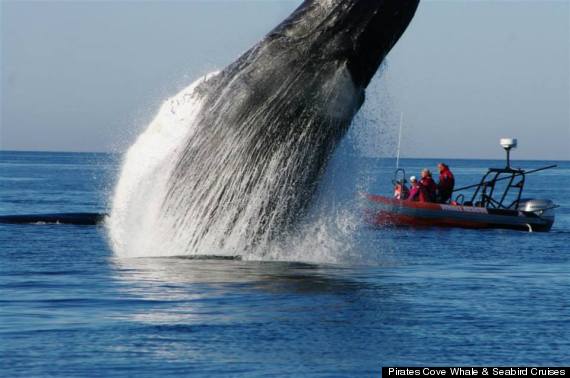 Sea Lion Shot With Dart Gun To Be Saved, Canada, October 2013
Last month, a veterinarian made what he believed was the first successful sea lion disentanglement rescue done with a tranquilizer gun in Canada. The sea lion was being strangled by plastic string wrapped around its neck. The vet shot the dart gun from afar to tranquilize the sea lion. After it was asleep, rescuers worked on cutting away the strings. Veterinarian Martin Haulena speculated that the string had been used to wrap fish boxes."On its own it looks so innocuous, but you can see the severe injury caused to the sea lion." The lion had bright red lacerations underneath where the string had been. After it woke, the sleepy guy slid back into the water and swam off, finally free from pain.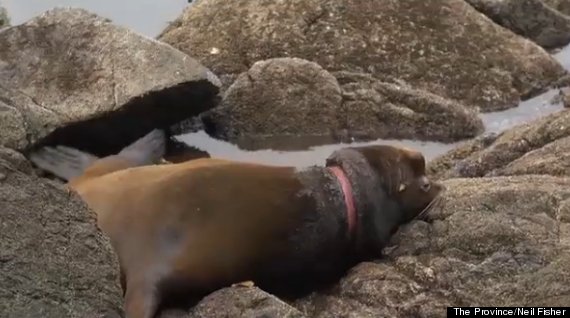 Dolphin Asks Divers For Help, Kona, January 2013
A bottlenose dolphin swam up to divers in waters off Kona, Hawaii with a fishing hook stuck in its pectoral fin and line coming out of its mouth. As though it were asking for help, the dolphin rolled over on its back and stuck the fin in front of the divers. After the divers cut the line, the dolphin swam to the surface for air, then returned to them so they could finish untangling the line. More evidence that dolphins are often smarter than people.
Divers Find Four Trapped Whale Sharks, Indonesia, November 2012
Why save one whale when you can save four? Divers in Indonesia got the surprise of a lifetime when they encountered four whale sharks caught in a fishing net. The enormous creatures were freed by pure teamwork as the group of divers cut the sprawling net open, after which the gentle giants stayed and swam with the divers, letting them hold on to their fins and even sticking around for an underwater hug.
Calling all HuffPost superfans!
Sign up for membership to become a founding member and help shape HuffPost's next chapter
BEFORE YOU GO
PHOTO GALLERY
Hurricane Sandy Animals Rescues