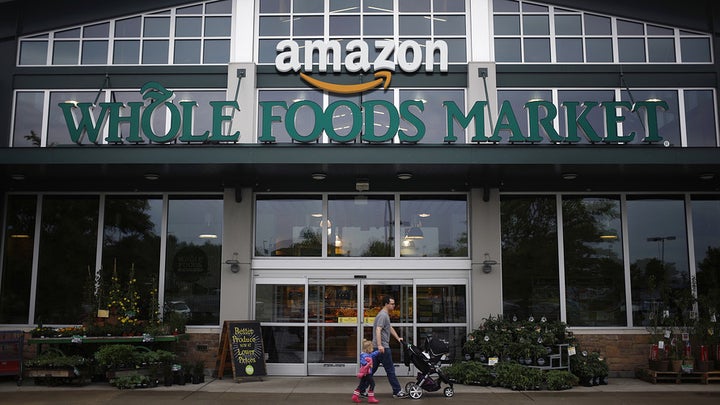 Advances in technology and education have dramatically raised our expectations of the tools and services we use. We expect almost everything to be both simplified and personalized to our unique requirements. Many brands are struggling to adapt to the growing demands of needy consumers and the thirst for instant gratification, despite increased digital capabilities.
A noticeable casualty is brick-and-mortar stores, shuttering their doors by the hundreds. In a dramatic twist, Amazon started redesigning brick-and-mortar stores by merging their online shopping model with the experience of physical shopping.
And now, with the announcement that Amazon is set to acquire Whole Foods Market for an incredible $13.7 billion, the acquisition allows Jeff Bezos to cherry pick the most lucrative elements of the grocery shopping experience and digitalize them. The high-end grocer focuses on health-conscious shoppers, offering natural food that is free from preservatives, colors, flavors, etc. As consumers continue to invest more time and money in their health, Amazon made an incredibly shrewd move at just the right time.
"Millions of people love Whole Foods Market because they offer the best natural and organic foods, and they make it fun to eat healthy," Amazon CEO Jeff Bezos
Whole Foods' superior capabilities in sourcing high quality organic product coupled with Amazon's world class inventory management, supply chain, warehousing, pricing and forecasting capabilities, and of course Alexa, really has the potential of causing a metamorphosis within the retail industry.
Removing friction points is somewhat of a specialty of the tech behemoth. The one-click checkout is something that many have aimed to replicate but rarely mastered quite like Amazon.
Walmart has been busy shopping too and recently snapped up online apparel vendor Bonobos for a cool $310 million. The move further presages how both Amazon and Walmart are shoring up their weaknesses for an inevitable showdown. Make no mistake, the race to find the perfect balance between brick-and-mortar and online shopping is underway.
Ironically, it appears that Amazon is attempting to build a hybrid version of Walmart while Walmart is desperately trying to become Amazon.
Our data shows that people are looking for more convenience, which can be met by shopping online. We forecast it will grow to 9% of the market and be worth $150bn by 2025 - Kantar World Panel
Spectators are anticipating Walmart's next move. Many predict that the traditional supermarket could acquire an online grocer, such as Shipt, to expand their reach and enhance consumer ease.
Amazon's recent successes can certainly overshadow its more significant missteps. We would do well to remember that not all Bezos touches turns to gold. The tech giant's 3-D Fire phone failure was a $170 million loss that Bezos surely hasn't forgotten.
That said, he continues to blaze ahead with remarkable single-mindedness. In a letter to shareholders last year, Bezos expressed his greatest fear: that Amazon would become a slow and indecisive company.
Someone much wiser than me once said, "I don't fail, I learn." There is no avoiding the fact that mistakes will happen, but it's knowing when to cut your losses and learn from the experience that provides real value. In other words, failing fast and cheap rather than slow and expensively is possibly Amazon's biggest strength.
The technology behind Amazon Go has the potential to be a game-changer of epic proportions. The mouth-watering prospect of using an app to enter a store, take the products you want and go without having to wait in line or use a checkout also has the potential to transform the retail landscape.
From whatever the source, the retail industry is ripe for disruption. Consumers will win. But what about the losers? Disruption of this kind is decimating jobs. I live and work in Manhattan and the entire city is teeming with retail workers. If companies like Amazon start to acquire grocers, and eventually chains like Macys, Sephora etc, deploying Amazon-Go "pick up and walk out" technology to these stores, where does the buck stop?
They now speak of technology being developed that will take 360 imagery of humans inside stores, and locally 3D-print custom-sized clothing and shoes to their body's individual specifications. How will this impact the clothing design and manufacturing industry? These are big questions we are bound to face as a society.
The bureau of labor statistics has projected employment of retail sales workers is to grow 7 percent by 2024. I am assuming they know something that we don't.
Don't get me wrong - I absolutely love technology and automation. I am a a digital/ tech guy by profession, practice and education. Amazon is an integral part of our lives like most other people's. But I am also a human being with eyes and every time I travel across the country, I see how all the tech transformation is eating up rural and suburban malls, decimating established brands and resulting in astronomical job losses.
Some argue that our impatience and unreasonable expectations have forced companies to adopt technology-based solutions to give consumers what they want and when they want it at the expense of the worker.
Are we inadvertently destroying our employment prospects with all this tech and automation? I have a point of view on this that I have expressed in a separate article and podcast that seems to have generated even more buzz than this one.
As traditional job roles are retired, the reality is that there will be a wealth of new skills to learn and the introduction of new jobs fit for a digital rather than analog world. Mark Cuban for example has said that the blue collar jobs of the future will be data related, such as the labeling and tagging of data.
"In order for machine learning, deep learning, etc. to be effective and work the most quickly, the more data that is tagged and defined and labeled correctly the quicker everything goes. The equivalent of low-end skilled labor today... will be labeling and tagging data. It's going to be the job of the future" - Mark Cuban
Right now, the world's largest retailer is defending its crown against the world's largest e-retailer, and it will need more human labor to do so. I hope!
So, who will emerge victorious and how will it change the world we live in?
Related
Popular in the Community