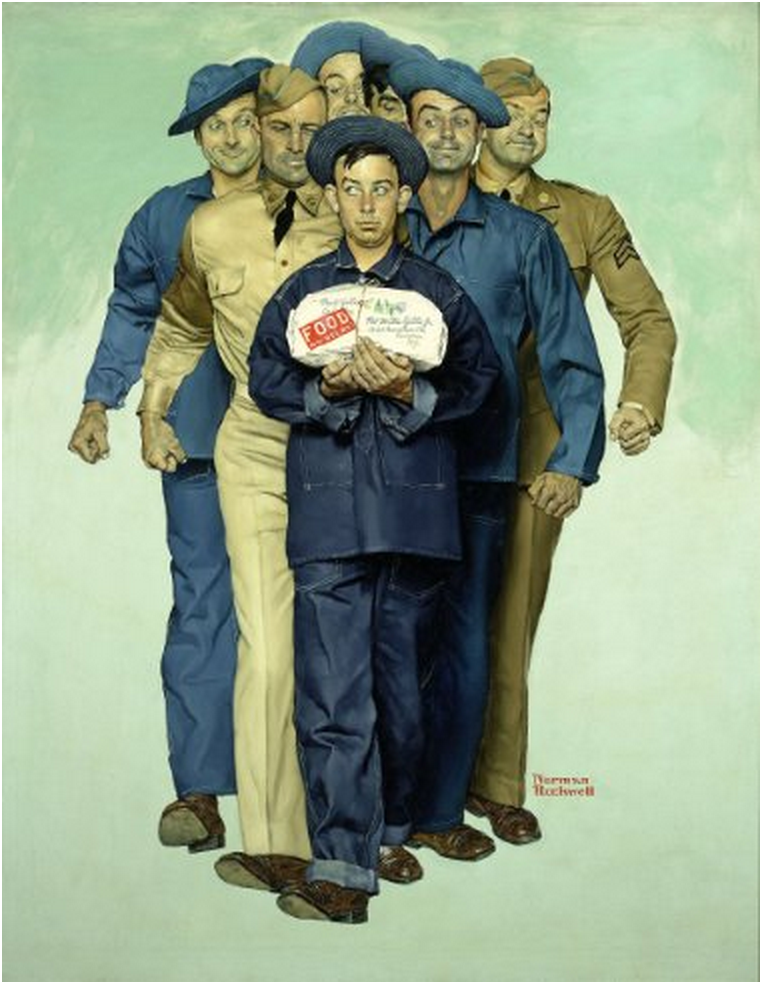 The $4.85 million Rockwell, titled "Willie Gillis: Package from Home." Still from Amazon.com.
And so began the life of Amazon Art. The website's latest venture brings together works from more than 150 galleries and 4,500 artists -- some priced in the millions, and at least one at $10. Participating dealers handle shipping, insurance, and storage of the stock; even return policies are their own. Amazon offers only the sixth most viewed platform on the web. In return, the site charges a commission of between 5 and 20 percent of every sale (standard terms for Amazon sellers, according to The New York Times).
So why should we care about the world's biggest middleman getting bigger?
Because Amazon -- the highest trafficked, and arguably least glamorous, site to sell original art -- stands to reset our conception of art creation, collection and valuation to a dramatic degree. Slick competitors like Artsy can seem as intimidating as a Chelsea gallery. Amazon, meanwhile, has a "Diapering" section.
Critics say the vagaries of the art market won't support the experiment. But that argument ignores a crucial slice of the market: the growing ranks of short-term collectors -- or buyers who don't care about the value of their art.
Collectors like Maya Wiest. A mother of four, Wiest lives in Wenatchee, Wash., where art is sparse. The few galleries nearby sell "mainly cowboys on the hill stuff. Lots of fruit and sunsets."
Consequently, Wiest is a serial online art shopper. Her market of choice is UGallery, one of the participants in Amazon Art. The site specializes in contemporary work by artists who generally aren't household names. Unlike Artsy, which liaises with galleries, UGallery posts the work of artists who apply for a spot. Such pieces may not increase in value over time, but Wiest says she doesn't buy to invest. She compares the process to adoption. "You watch them from afar, and it's really expensive, and they finally get here and you're like, 'oh, you're part of the family.'"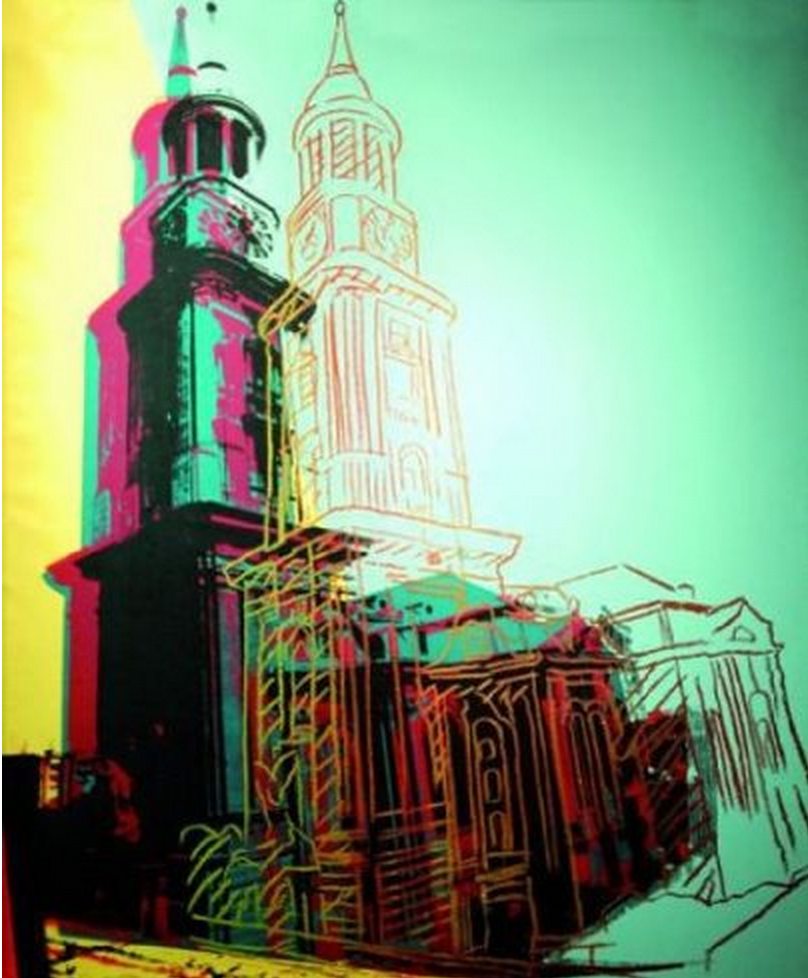 Another Amazon masterpiece: Andy Warhol's Hamburger Michel. Price: $1.45 million. Still from Amazon.
Amazon's naysayers tend to overlook buyers like Wiest, who wouldn't have existed before the internet. One of the more compelling critiques comes from economist Tyler Cowen, who posted an obituary for Amazon Art on his site as early as Wednesday. Cowen points out that art valuation is temperamental. Simply appearing on Amazon could theoretically devalue a work. He imagines a painting sold at $10,000 in "the right NYC gallery" not going for more than $2,000 on eBay. Amazon, he predicts, will cast a similar pall, making its best bet simulacra: "posters, lower quality lithographs, and screen prints, not fine art per se."
But that scenario accounts only for wealthy buyers with access.
What about someone like Wiest, a short-term collector who can't get to that brick-and-mortar gallery? She says she isn't bothered by an Amazon tag devaluing a piece, provided she loves it.
And ultimately, it may not make a difference to Amazon's model whether or not millionaires click Add To Cart, so long as Wiest and her cohorts do. Lori Paige, vice president of marketing at M.S. Rau Antiques, the New Orleans-based proprietor of the $4.85 million Rockwell, told HuffPost that her shop actually expects its painting won't sell on Amazon.
It's more of a "branding tool," Paige explains. "Amazon was really excited about saying they had a Rockwell on their site. But it's obviously not an impulse purchase."
Think of the Rockwell as window dressing, rather than a genuine product. Even if it were to sell, Paige says the buyer would likely contact M.S. Rau to transact directly and avoid paying a lump sum online. Even millionaires have credit card limits, she points out.
Of course, Paige is quick to add, "Amazon probably wouldn't like that." If a buyer were to bypass the middleman and go directly to the source, Amazon would lose its revenue.
The sweet spot on this pricing scale then is in the middle: price points that are payable by credit card, but still yield a healthy commission. Wiest is arguably Amazon's dream shopper. Her most expensive UGallery purchase -- a psychedelic painting of sheep, by artist Russ Noto -- cost her $4,000. For three months, she says, she "kept coming back, and waiting until I had enough money to pay for it." She expects she'll keep it forever, or if for some strange reason she needs to sell it, "I wouldn't expect to make much back."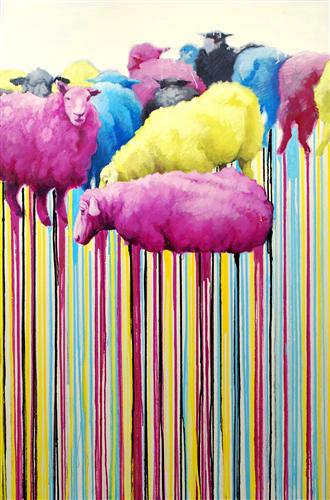 Wiest's $4,000 purchase, titled "Process Grouping 1.1," by Russ Noto. Courtesy UGallery.
That buying philosophy, so antithetical to the rules of cloistered art dealing, is standard on the outside. As a whole, UGallery customers don't purchase with valuation in mind. As of Friday, one of the site's most popular artists wasn't an up-and-comer generating buzz; he's Robert Hofherr, a director at a Baltimore advertising firm. According to UGallery cofounder Stephen Tanenbaum, the amount of works sold by the gallery's cast of low-profile artists, like Hofherr, has increased by double digits each year since the site's launch in 2009.
Tanenbaum says he can't see a downside to posting stock on Amazon. While he was initially worried artists might not like to sell their work at a one-stop shop, "the response from our artist base was actually overwhelmingly positive."
"They're excited to get their artwork out there to millions of potential customers," Tanenbaum says. "Everybody shops on Amazon."
CORRECTION: A previous version of this article misidentified the subjects of Russ Noto's painting as cows.
This story appears in Issue 63 of our weekly iPad magazine, Huffington, in the iTunes App store, available Friday, August 23.
Related
Before You Go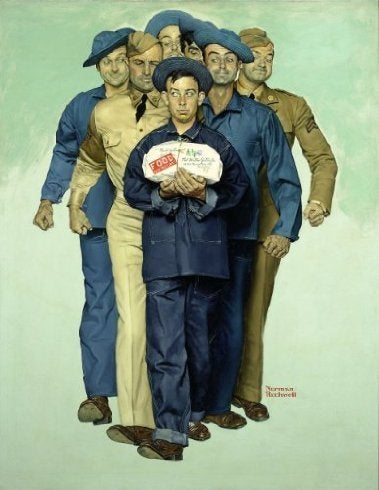 Fine Art From Amazon
Popular in the Community