Amazon, the world's largest online retailer, kept its spot as America's favorite brand in YouGov BrandIndex's semi-annual ranking of how U.S. consumers feel about some of the biggest global companies. The market research firm released the rankings on Wednesday.
Amazon was already number one, having bested Ford at the end of last year, when BrandIndex last released what it calls its U.S. Buzz Rankings.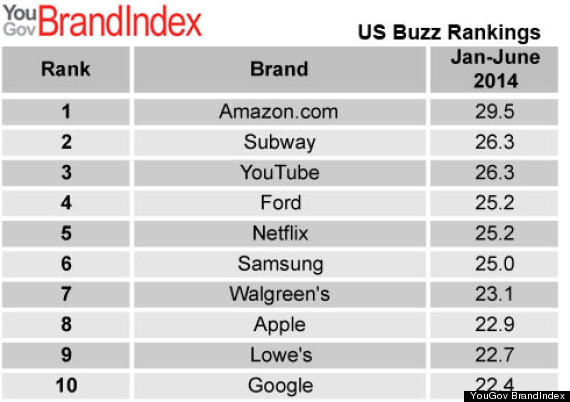 As negotiations have faltered, Amazon has tried pressuring Hachette by removing presale buttons from some Hachette titles and delaying shipping times on others.
All of this bad publicity doesn't seem to have hurt Amazon. At least not yet.
Ted Marzilli, BrandIndex CEO, called Amazon a "Teflon brand," immune to bad press.
"People tend to focus more on the good aspects that they hear about Amazon and are perhaps more forgiving of any negatives they might hear," Marzilli told The Huffington Post.
"As you become bigger and people no longer look at you as the underdog or the upstart, but rather as the established player and the big guy on the block, that's when they start to look for the next upstart or underdog to cheer for," Marzilli said. "And as a consequence, they might be a little bit more likely to focus on the negatives or remember some of the negative things they've heard."
The latest rankings -- which BrandIndex determined by asking more than 4,000 people in the U.S. each weekday if they've heard in recent weeks anything positive or negative about certain brands -- are a mixed blessing for Amazon. "Kindle," Amazon's brand of e-readers and tablets, fell off the top 10 list in the latest survey.
"It's not easy to get two brands on this list," Bezos told a crowd of journalists, analysts and Amazon customers.
Turns out it's just as hard to keep two brands there.
YouGov conducts daily polls for The Huffington Post, but the BrandIndex research was not part of that partnership.
Popular in the Community