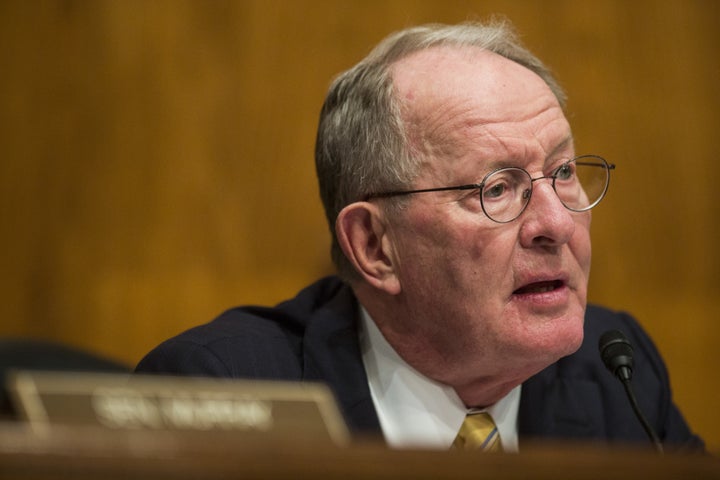 WASHINGTON ― The second-largest employer in the United States thinks it's time for Congress to raise the minimum wage, but the Republicans in control aren't quite ready for that discussion.
Far from it. The chairman of the Senate labor committee, in fact, suggested Friday that he does not even support the concept of a federally enforced minimum wage. He said Congress should stay out of the way and let the market determine pay.
"For the government to fix wages is not the way to give the largest number of Americans a good living wage," Sen. Lamar Alexander (R-Tenn.) told HuffPost. "The way to do it is the way we're doing it: cut taxes, reduce regulations, improve the economy, and wages go up."
The federal minimum wage is $7.25 per hour and prevails in the 21 states that don't mandate a higher one. It hasn't been raised since 2009, when the last of a series of increases signed into law by former President George W. Bush took effect.
The idea of raising the minimum wage tends to be popular among the public, polling well even among GOP voters. Democrats and Republicans on Capitol Hill typically come together every few years to implement a wage floor hike, often as part of a larger legislative compromise. (The raise during the Bush years was passed in a military spending bill for the Iraq War.)
But proponents of a raise have made little headway in recent years with Republicans in control of the House and Senate. Former President Barack Obama joined congressional Democrats in pressing for a hike in 2013, making it a feature of his economic agenda. He continued that push in vain until the end of his second term, ultimately becoming the first president since Ronald Reagan to not sign a minimum wage raise.
Meanwhile, cities and states around the country have plowed ahead with their own minimum wage increases, sometimes even doubling the federal level. The labor-backed Fight for $15 has played a large role in that, helping to organize local campaigns to get minimum wage proposals on ballots and in front of state legislatures. Unlike just a few years ago, more states than not now require employers to pay a higher wage floor than the federal level.
"For the government to fix wages is not the way to give the largest number of Americans a good living wage."
Even if both parties can hash out a deal, it isn't at all clear what the new minimum wage would look like. The success of the Fight for $15 has prodded more and more Democrats to rally around that number, with pressure from progressives making it hard to support anything less. And yet Republicans refused to put even $9 up for a vote during Obama's second term. Many have said they are philosophically opposed to raising it at all, arguing it would kill jobs.
Amazon announced this week that it would be raising pay for its workers to $15 per hour, saying it had listened to critics who'd pilloried the company for wages so low that some of its workers qualified for food stamp benefits. The online retailer employs more than half a million Americans.
Amazon also said it would advocate for a higher federal minimum, though it did not specify $15. "We will be working to gain congressional support for an increase in the federal minimum wage," Amazon spokesman Jay Carney, a former White House press secretary, said in a press release.
An Amazon spokesperson declined to share more information about its lobbying plans.
Alexander suggested Amazon's pay hike is a better way to raise wages anyway.
"The right way to raise pay is for Amazon to raise pay because the economy's so good it has to do it to attract workers," he said.
Sens. Richard Burr (R-N.C.), Tim Scott (R-S.C.) and Johnny Isakson (R-Ga.), who are also members of Senate Committee on Health, Education, Labor and Pensions, said they weren't interested in a minimum wage hike.
It doesn't bode well for progressives that any minimum wage hike would have to go through Alexander's committee. His resistance to a minimum wage raise is nothing new, having opposed all the recent proposals by Democrats. In a 2013 committee hearing, he even argued the minimum wage should be abolished while debating with Sen. Bernie Sanders (I-Vt.), a vocal backer of the Fight for $15. (The minimum wage has been on the books since the Great Depression.)
To further complicate matters, there's no telling where President Donald Trump comes down on a minimum wage increase, if his own public statements are any indication. While campaigning in 2016, then-candidate Trump declared that the federal minimum wage must go up, saying "I would like to raise it to at least $10."
Later in the campaign, Trump completely reversed himself, saying the federal government shouldn't get involved in setting a wage floor. "I'd rather have the states go out and do what they have to do," he said at the time.
Trump's flip-flops on the issue have been so numerous that The Washington Post created a lengthy timeline breaking down his shifting stances.
Popular in the Community