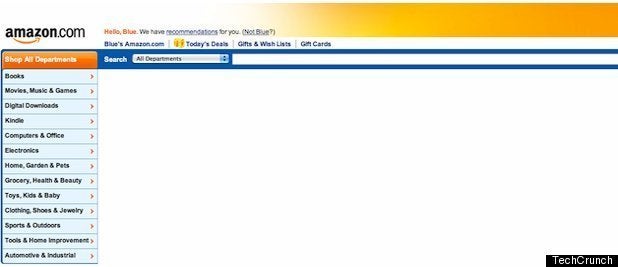 UPDATE: When Twitter goes down, it's a nuisance. But when Amazon goes down, as it did yesterday, the costs can be much higher.

Amazon endured a rare three-hour crash yesterday, leading to a 7.8-percent drop in shares by the market's Tuesday close. Based on total revenue, analysts estimate the site burned through approximately $51,400 per minute
It seems so! Twitter is full of reports that Amazon is experiencing downtime:
@Richard_Kadrey: Amazon is down. Retreat to your bunkers. Arm yourselves. Remember that cannibalism is a good way to prevent potential zombies.
@ColleenLindsay: Why is everyone so upset that Amazon is down? Things break, people. Go into a bookstore for a change. But please stop complaining about it!
@mchesner: FYI, Amazon.Com appears to be down. Loading only a bare-bones screen.
@migueldeicaza: SOMEONE ALERT THE FEDERAL GOVERNMENT AMAZON IS DOWN FOR SHOPPING
Downtime is a rare occurrence for Amazon--by some estimates it's been years since an outage occurred.
TechCrunch notes, "For the past couple of hours the service has been switching back and forth between being totally down and being up, but showing no products."
Have you had problems with Amazon? Tell us in the comments section below.
Calling all HuffPost superfans!
Sign up for membership to become a founding member and help shape HuffPost's next chapter