A bug in Amazon's new set-top box -- it allows you to use your TV to stream Netflix, play games and, of course, easily buy movies and TV shows from Amazon
-- may be sucking data on your home network, even when you're not watching anything.
This could put some owners at risk of blowing through monthly Internet data limits.
That's what happened to Tyler Hayes, a freelance writer based in Southern California. When he started using Fire TV, his monthly data usage skyrocketed. For the first time ever, he got a warning from his Internet service provider, notifying him he'd exceeded his 250 gigabyte per month data plan.
But when he started using Fire TV, he used more than 800 gigabytes in one month. On June 8, he used nearly 80 gigabytes in a single day.
To put that in perspective, last year the average American household used 62.8 gigabytes of data per month, according to Cisco.
Hayes' Recent Monthly Data Usage: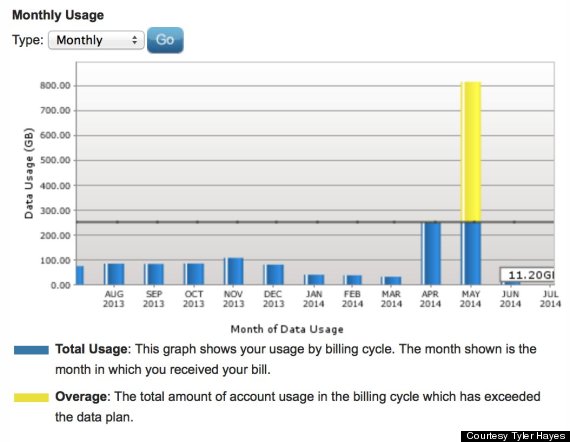 Hayes suspected the issue was related to ASAP, a Fire TV feature that gets to know you and your viewing habits so it can predict what you're going to watch and make it load faster. But Amazon says it's caused by a bug related to a screen saver option.
If a customer uses the "mosaic" screen saver -- which shows images scrolling from left to right -- there's a chance that the images won't get cached, or stored, to the Fire TV. So each time the screen saver runs, it's actually downloading the images from the Internet, which can take a huge toll on your home network.
Although Amazon said that it hasn't heard from other Fire TV owners with the same issue, that doesn't mean it isn't happening to more people. It isn't clear how many people actually own Fire TVs, and Amazon won't say. (Fire TV is currently the number three bestseller in Amazon's electronics category. Chromecast, Google's $35 dongle that plugs into your TV and allows you to watch Netflix, HBO Go and other programming, is first.)
The "mosaic" setting isn't the default, but if you're a Fire TV owner and you've changed the screen saver, you may want to change it back. To do this, simply scroll down to "settings" on the home screen and select "display & sounds." Then click "screen saver," scroll down to "slide style" and select either "pan & zoom" or "dissolve."
In a statement, Amazon said it's working on a software update to fix the issue. It's not clear if Amazon will reimburse people who may have been billed by their Internet service providers due to the bug. An Amazon representative told HuffPost that customers having issues should contact customer service.
Are you a Fire TV owner who's noticed an increase in your data usage? Let us know in the comments, or send an email to timothy[dot]stenovec[at]huffingtonpost[dot]com.
Full statement from Amazon:
We have confirmed this issue was not caused by ASAP. A big thanks to this customer for helping us find an edge case bug related to our screensaver. There is a small possibility if a customer uses the "mosaic" feature (not the default setting) on the screensaver images will not be cached. We're working on a software update that will fix the bug, and in the meantime customers can turn off the mosaic view for the screensaver to avoid the issue. To date, we have not heard about this issue from other customers.
Calling all HuffPost superfans!
Sign up for membership to become a founding member and help shape HuffPost's next chapter