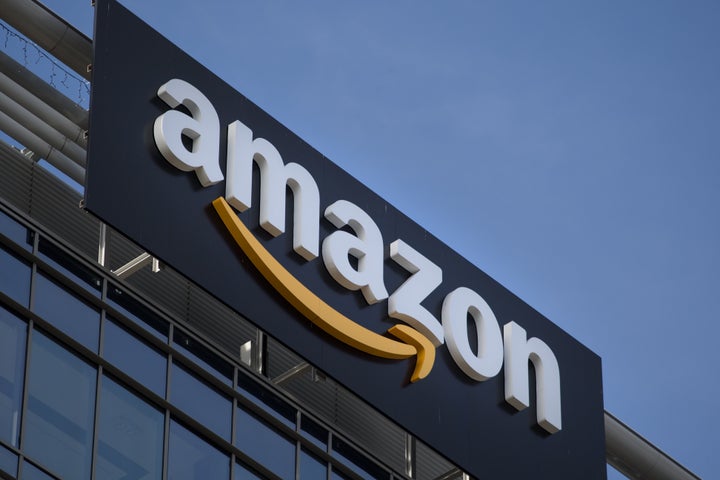 After the United States announced they are withdrawing from the Paris Agreement, many commentators expressed the hope that firms will be able to make up for the policy slack. One such firm is Amazon that touts its environmental credentials. These include hosting rooftop solar systems, supporting Clean Power Plan, and committing to 100 percent renewable energy for its web farms. But, when soliciting HQ2 proposals, it has not listed climate considerations.
Not surprisingly, city rankings produced by various analysts fail to account for climate change vulnerability — an issue that will affect the viability of any business. Including climate vulnerability data from FEMA, we identify two cities that feature in the top 10 in both rankings. We hope this piece will motivate any company scouting for a new location to look into the climate vulnerability dimensions.
What is Amazon looking for?
In September 2017, Amazon announced that it is going to create its second headquarters (HQ2) and invited cities to send their proposals. In its Request for Proposals (RFP), Amazon listed core elements of its preferred location: "Metropolitan areas with more than one million people; a stable and business-friendly environment; urban or suburban locations with the potential to attract and retain strong technical talent; communities that think big and creatively when considering locations and real estate options."
By the October 18 deadline, 238 proposals were in: from cities in the U.S., Mexico, and Canada, as well as by counties and even states! An economic development group supporting the bid of Greater Tucson sought to send a unique gift: a 21-foot saguaro cactus. But Amazon declined to accept such gifts as part of the bidding process, although it welcomed other gifts such as tax breaks.
Business Analysts Make Recommendations
Amazon will announce its decision only next year. But this has not prevented several analyst firms and media outlets to rank these proposals and make their recommendations. Moody's Analytics led the charge and published their top 65 candidates. Their analysis examines 34 variables such as the business environment, costs, human capital, quality of life, transportation, and distance to Amazon's core facilities, including Amazon's owner Jeff Bezos' home.
Others soon followed. Anderson Economic Group produced its list of 35 top candidates, examining three categories of variables such as access to labor and services, ease of transportation, and cost of doing business. CNN, without revealing its methodology, also identified eight cities that Amazon should consider. The New York Times presented its own analysis, identifying Denver as the only candidate that can offer everything Amazon needs.
But where is climate change in these rankings?
It is surprising that neither Amazon nor the analysts, who have ranked various cities, thought it fit to consider how a given city might be vulnerable to climate change. After all, sea level rise, extreme temperatures, drought, and floods would probably make it difficult for the projected 50,000 Amazon workers to function effectively in HQ2. In fact, Moody's recently told its clients it incorporates climate risk in its state and municipal bond ratings.
There is substantial evidence that climate change is already impacting communities in the U.S. According to NOAA, in 2017 alone, there were 15 significant weather and climate related events, such as drought, flooding, freeze, severe storms, tropical cyclones, and wildfires, each costing over $1 billion. Many of these events occurred in relative proximity to the top ranked cities for Amazon HQ2. The map below depicts these billion-dollar extreme weather events and the proximate location of these cities.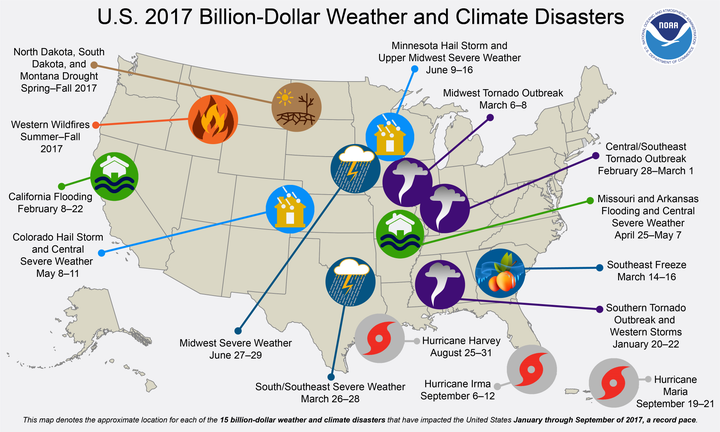 Suppose we include climate change in the rankings
We have constructed a simple indicator to measure cities' vulnerability to climate- and weather-related extreme events. Using FEMA data on declared emergencies such as severe storms, severe ice storms, flooding, hurricanes, tornadoes, snow, coastal storms, and weather-related fires, we counted days (starting 1992) during which a county had a federally declared emergency or disaster. We started the analysis for year 1992 to include Hurricane Andrew, the second most damaging storm in the U.S. after the 1926 Great Miami storm.
Table 1 presents the top 25 cities as per Moody's ranking and according to our climate vulnerability ranking. Top ten cities for each group are highlighted. Only two cities make it to the Top 10 in both: Pittsburgh and Portland. This suggests that economic and business criteria probably do not help us to understand a city's vulnerability to climate change.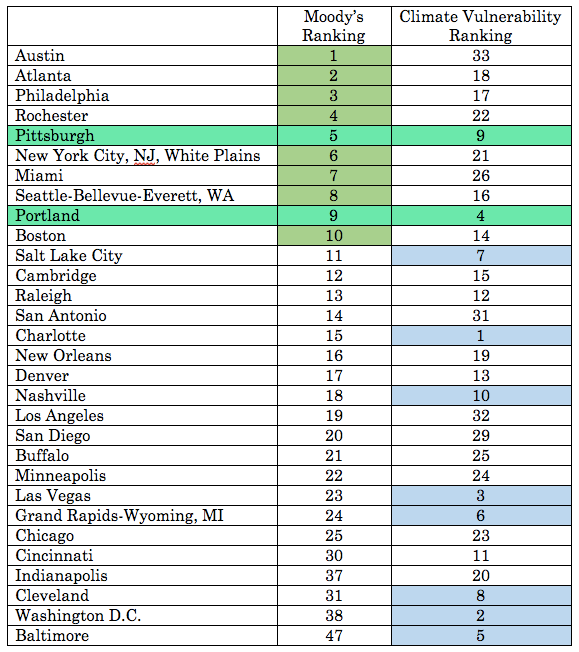 It is not clear how much importance Amazon should attach to climate vulnerability rankings. That is, how much should it weigh climate vulnerability in relation to economic indicators? Further, because cities may already have taken some proactive measures to climate-proof by say building sea walls, should cities be ranked on their resilience to climate change, as opposed to vulnerability? These are fair questions that Amazon and other businesses looking for a new location for their offices or factories should consider. As never before, there is a compelling reason for firms to include climate change issues in their business plans.
Nives Dolšak is Professor and Associate Director of the School of Marine and Environmental Affairs, University of Washington Seattle. She serves on the Science Panel of the Puget Sound Partnership. She is also a visiting professor at the Faculty of Economics, University of Ljubljana, Slovenia.
Aseem Prakash is Professor of Political Science, the Walker Family Professor for the College of Arts and Sciences, and the Founding Director of the Center for Environmental Politics at University of Washington, Seattle.
Related
Popular in the Community