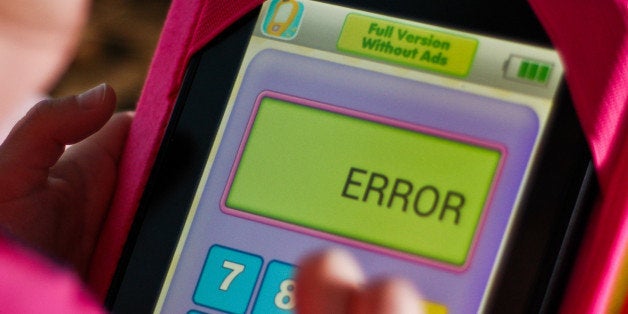 A federal agency just filed a lawsuit against Amazon for letting children make purchases too easily on mobile devices without their parents' approval.
In a complaint filed Thursday, the Federal Trade Commission alleged that the retailing giant has unlawfully charged customers millions of dollars for kids' "in-app purchases" -- buying digital knickknacks while playing games or using apps on devices like Kindle Fire tablets -- that were made without their parents' or the account holders' knowledge.
"In total, parents and other Amazon account holders have suffered significant monetary injury, with thousands of consumers complaining about unauthorized in-app charges by their children, and many consumers reporting up to hundreds of dollars in such charges," the lawsuit, filed in the U.S. District Court for the Western District of Washington, contends.
The FTC said that the price of such purchases ranged from 99 cents to $99.99 each.
According to the complaint, making a purchase while playing a game or using an app was as easy as simply closing a pop-up window that had appeared, which allowed children, sometimes too young to even read, to amass charges on their parents' accounts.
"In many instances, parents have complained that their children could not or did not understand that their activities while playing the app could result in charges that cost real money," the lawsuit says. "Amazon has received thousands of complaints related to unauthorized in-app charges by children in these and other games, amounting to millions of dollars of charges."
The FTC wants Amazon not only to refund parents and other customers who've had unauthorized charges made to their accounts, but also to require "informed consent" from parents before kids can make these types of purchases.
Asked to elaborate on the meaning of "informed consent" during a conference call with reporters Thursday afternoon, Jessica Rich, consumer protection director at the FTC, said, "You need to do it in a way that a kid couldn't easily just tap the phone and incur charges."
According to the lawsuit, customers started complaining to Amazon only weeks after the company began allowing in-app purchases in November 2011. The FTC contends that Amazon knew this was an issue, with one Amazon employee commenting in December 2011 that permitting these types of charges without a password was "clearly causing problems for a large percentage of our customers."
Amazon has since made some changes to in-app purchasing -- requiring a person to enter a password for charges over $20 or before some charges kick in -- but according to the FTC, it wasn't until last month that the company began to require "informed consent for in-app charges on its newer mobile devices."
According to the lawsuit, Amazon receives 30 percent of the revenue from purchases made within apps.
The company would not comment on the lawsuit itself and referred to a statement it made in a letter last week to the FTC, in which it called news of the impending complaint "deeply disappointing."
"We have continuously improved our experience since launch, but even at launch, when customers told us their kids had made purchases they didn't want we refunded those purchases," wrote Andrew DeVore, vice president and associate general counsel at Amazon. "[O]ur experience at launch was responsible, customer-focused, and lawful, including prominent notice of in-app purchasing, effective parental controls, real-time notice of every in-app purchase, and world-class customer service."
"Companies need to get consumers' consent before placing charges on their bills," Rich said in prepared remarks during the press call. "This principle applies to companies of all types, from brick-and-mortar businesses to mobile app stores. And it applies to charges of all kinds, from purchases of physical goods to charges for the virtual items at issue in today's action."
Calling all HuffPost superfans!
Sign up for membership to become a founding member and help shape HuffPost's next chapter