As an organization focused on rescuing and protecting wildlife in India, we were pleased to see that our recent campaign there prompted Amazon India to remove more than 400 items--including brutal snares, traps, animal trophies, and preserved carcasses--from their website.
The tragedy that led to Wildlife SOS launching this campaign involved a little sloth bear named "Rose." At just a few months old, she was rescued in the wild after being severely maimed by a snare that severed her leg. Sadly, the primitive device handicapped Rose permanently, and now she can never be returned to the wild. Rose will require lifetime care at our wildlife rehabilitation center. To watch her struggle in pain using her delicate muzzle to support her body in place of her missing leg was nothing short of heartbreaking.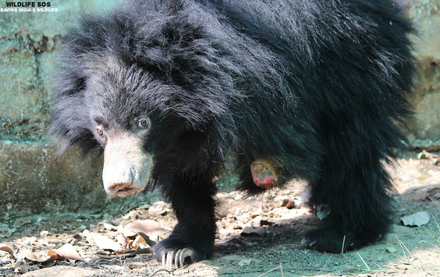 Sadly, Rose's story is not unusual--it represents the ugly truth about the fate of millions of animals around the world that suffer and struggle as these traps and snares kill and maim them. And in a terrible way, Rose was actually luckier than most: we found her when she was still alive. Most animals trapped in snares succumb to painful deaths after hours or even days of suffering. To make matters worse, it's disturbingly easy for anybody to impose this sort of thoughtless cruelty with the click of a mouse to buy snares and traps online. And it can have consequences that reach far beyond an individual animal being exterminated.
So when we discovered that Amazon India sold wildlife-killing devices (not to mention hundreds of different protected wildlife species), we had to take action. In India, hunting is illegal; the Wildlife Protection Act of 1972 affords some of the strongest wildlife laws in the world. It reflects a culture that had the foresight--and the will--to take strict action 45 years ago and protect what was left of its wildlife. The public outrage in India over the items being sold on Amazon India was truly heartening, and cannot be overstated.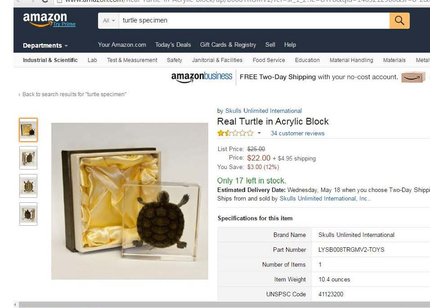 We circulated a petition that brought attention to the products on Amazon India. Soon we had nearly 10,000 signatures. Within days Amazon responded and began taking down the most lethal items (as well as a variety of poached animal bodies). A week later, Amazon India sent a legal team to our office to confirm that hundreds of items pointed out by us had been removed from their website. They also pledged to "support wildlife conservation efforts."
We are glad that Amazon India expressed concern over the situation and acted quickly to correct it. We also hope that they keep their promise of supporting wildlife conservation efforts. That said, we need to ask this: Why is corporate responsibility in this matter the sole purview of Amazon India? Why is it not shared throughout the company? The traps and snares that inflict such suffering in India wreak the same havoc on wildlife throughout the world. Most of the traps, snares, killing devices, dead animals, trophies, and body parts that had been available for purchase in India can be easily purchased in other countries.
Currently, wildlife throughout the world face a crisis like none we have ever known before. Thousands of endangered species teeter on extinction. We are in the sixth mass extinction event of our planet's entire history. The loss of every individual brings their species ever closer to utter and permanent disappearance. As such, it is crucial that all companies and individuals examine their own role in environmental stewardship. Do our actions protect animal species or contribute to their demise?
Amazon India's removal of illegal items on their site displayed true concern on their part. But we worry about Amazon as a whole. If they are a truly responsible company with a desire to "support wildlife efforts," they will acknowledge that the mere legality of a listing isn't the issue--acting ethically regardless of the law is the issue. As one of the major players in world commerce, their actions have major influence and real-world, on-the-ground consequences for individual animals and species. Amazon sets the bar for what is acceptable for merchants to sell internationally--and what is convenient for consumers to buy. We hope Amazon.com seizes this opportunity to show true leadership, and show the world that it is unacceptable to traffic in suffering.
Popular in the Community