Two months after the New York Times published a damning investigation into its workplace culture, Amazon is fighting back.
In a blog post on Medium published Monday morning, Amazon spokesperson Jay Carney claims that the Times' reporters Jodi Kantor and David Streitfeld failed to check the accuracy of the anecdotes in the piece.
"Had the reporters checked their facts, the story they published would have been a lot less sensational, a lot more balanced, and, let's be honest, a lot more boring," he writes. "It might not have merited the front page, but it would have been closer to the truth."
The Times' executive editor, Dean Baquet, tore apart Carney's post in his own blog on Medium. Kantor and Streitfeld spoke with more than 100 current and former Amazon employees, Baquet said. Nothing in Carney's latest response refutes their claims, he writes, adding, "This story was based on dozens of interviews. And any reading of the responses leaves no doubt that this was an accurate portrait."
Carney refused to let the Times get the last word, though. Later on Monday, he shot back at Baquet "thanking" him for his response and sticking to his point that the Times failed to thoroughly fact-check its sources.
The back-and-forth drew a wave of critics on Twitter, fed up with the petty feuding.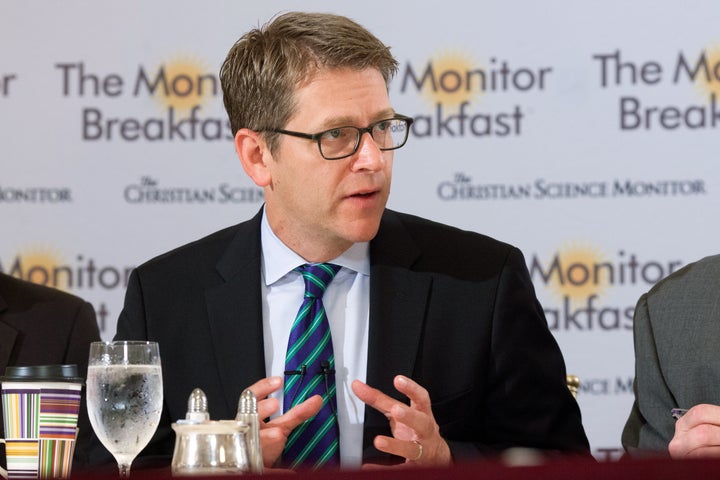 Two months is an awfully long time to take in responding to a newspaper story. Especially one as big as the Times' piece, a brutal portrayal of a Hobbesian workplace at Amazon that generated a raft of think pieces, hot takes and blog posts from current and former employees.
At the time, Amazon CEO Jeff Bezos defended his company, but only in vague terms, not addressing the specifics of the story. The demanding chief executive asked employees to let him know if they saw any problems at the retailer. He said there was "zero tolerance" for a lack of empathy there. (In other words, he has no empathy for anyone without empathy.)
Back then, Carney, who previously served as White House press secretary, said he was unable to track down some of the employees quoted in the piece.
In his blog on Monday, Carney partially explained the delay by saying that the company's goal was to get the Times to correct its story.
"We presented the Times with our findings several weeks ago, hoping they might take action to correct the record," Carney writes. "They haven't, which is why we decided to write about it ourselves."
Carney offers details on four employees that the Times quoted in the piece. In particular, Carney claims that the man who said that Amazon workers cry at their desk -- a damning often-quoted assertion -- was fired from the company for "defraud[ing] vendors." Carney's account is disputed by the former employee, Baquet writes, adding that there was no formal accusation of wrongdoing.
Carney explains that one woman who told the Times she didn't sleep for four days to complete a project, chose to do so.
Carney also claims that Kantor misled Amazon about the focus of the piece. "[T]his story will express that Amazon has a somewhat counterintuitive theory of management that really works," Carney quotes Kantor as telling the company.
Baquet writes that this claim is particularly disingenuous.
We have reviewed notes from Ms. Kantor's communications with your team. The topics discussed relatively early on included Amazon's reputation as a difficult place to work, social cohesion, complaints of a culture of criticism and other worker concerns that were emerging from the reporting.

I should point out that you said to me that you always assumed this was going to be a tough story, so it is hard to accept that Amazon was expecting otherwise.
A few days after the Times' story published, the paper's public editor criticized the piece for its reliance on anecdotes to paint its picture of Amazon but acknowledged that no facts reported were in question.
This post has been updated with Dean Baquet's response to Jay Carney's critique of the Times story, and with Carney's response to that response.
Related
Popular in the Community