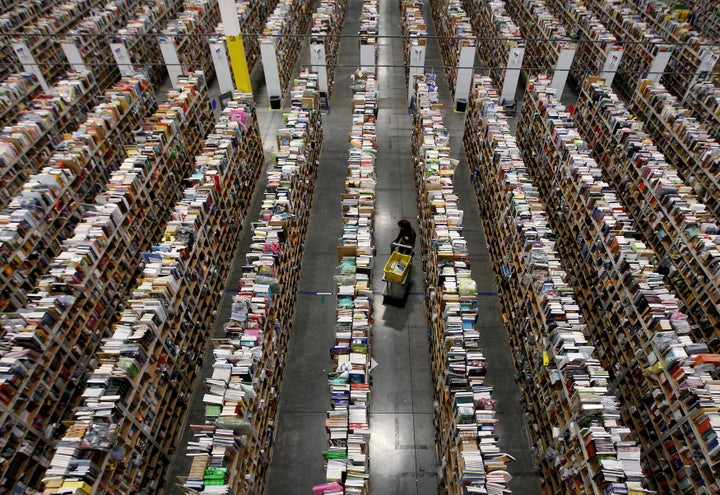 Amazon's stranglehold on the U.S. economy is growing ever tighter, with devastating effects for the job market, says a report released Tuesday afternoon.
The group's wide-ranging analysis details how Amazon, which recently saw annual revenue top a stunning $100 billion, has reshaped the way Americans shop and radically altered the job market.
After years of undercutting other retailers by selling products at a loss, funneling its customers into its super-convenient Prime service and ― essentially ― perfecting the art of online retail, Amazon is now synonymous with online shopping itself.
Taking into account goods sold through third-party retailers on its site, nearly $1 of every $2 spent online currently flows through Amazon, the report found. That's had devastating consequences for retailers who simply can't compete ― both online and out in the real world (remember Borders?).
About 149,000 jobs have been lost as Amazon's business has expanded, according to the analysis from the nonprofit Institute for Local Self-Reliance, which advocates for fair, sustainable local economies.
Amazon declined to comment on the report. In a letter to shareholders this year, the company claimed that its Marketplace, where third-party sellers offer up goods, has created 600,000 jobs. It's unclear what kind of jobs these are, however.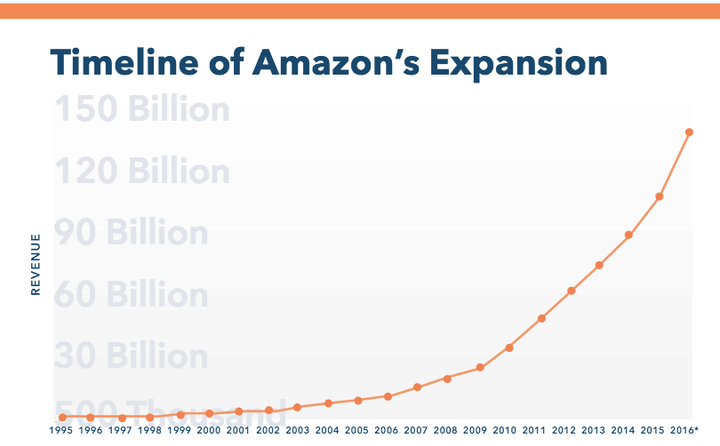 Donald Trump got himself elected, in part, by talking about how American jobs shifted overseas as factories closed up shop and moved abroad. That's a process that began decades ago and, most economists would concede, has largely already rippled through the country with heartbreaking effects. Now, Amazon's growing business poses a similar kind of threat.
"I have a hard time seeing the company as anything less than a new wave of economic dislocation on par with the earlier collapse of manufacturing and small businesses that devastated so many regions of the country," said Stacy Mitchell, co-director at the Institute and one of the report's co-authors.
Yet Trump so far has mainly confined his criticism of Amazon mostly to jabs at CEO Jeff Bezos (who has also publicly criticized Trump) and some pointed comments about how the retailer avoids paying taxes and famously doesn't prioritize profit-making, choosing instead to push growth.
Most Amazon customers have already made the tradeoff between in-person service and the slick convenience the shopping site provides. And, of course, technological advancement in the retail space isn't solely Amazon's province.
However its utter dominance has had wide-ranging consequences. The researchers point out some other downsides to Amazon's takeover of retailers, including fewer new products getting created or new businesses starting up.
The growing popularity of online shopping also translates into store closures. The report's authors say that Amazon has, so far, caused more than 135 million square feet of retail space to become vacant. That's "the equivalent of about 700 empty big-box stores plus 22,000 shuttered Main Street businesses," they write.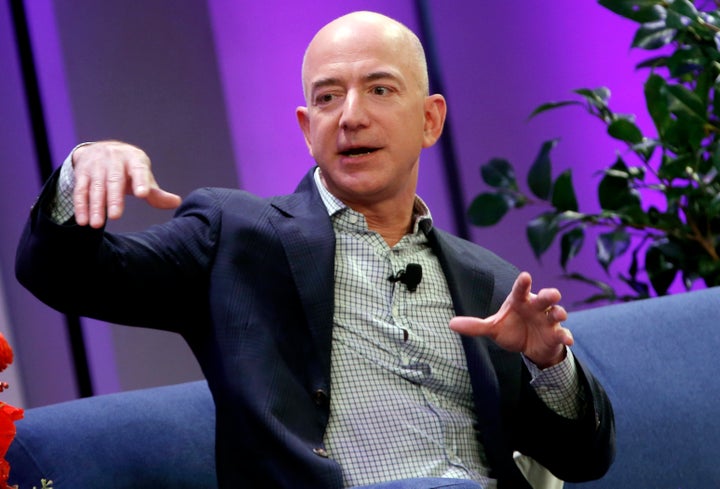 Overall, you don't need as many people to sell goods online as you do to sell stuff in the real world. Brick-and-mortar retailers with the same sales as Amazon would employ 294,574 people, the researchers estimate using Census data. Amazon employs just 145,800 people. And the jobs the company has created at its warehouses often pay less than comparable work, according to the report.
The company pays its fulfillment workers an average of 15 percent less than the prevailing wage for comparable work in 11 metro areas where Amazon has a significant presence, the report finds.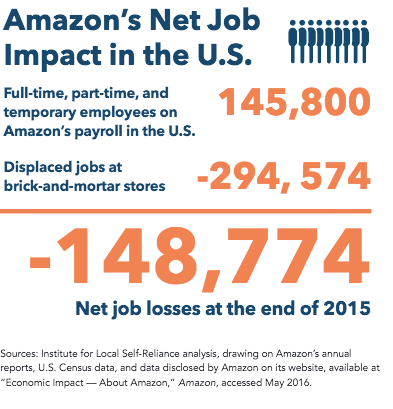 The company also relies on a growing number of temporary workers to fulfill customer orders and those jobs don't provide the kind of benefits or simply the stability of a full-time job. In October, Amazon announced it was hiring 120,000 seasonal workers. The rub: These jobs are expected to eventually be displaced by automation, something Amazon has been particularly keen on exploring.
"Amazon appears to be aiming for a future in which it employs few workers and instead relies on machines and a bench of on-demand freelancers," the authors write.
The company's labor model is also impacting traditional package delivery companies ― UPS and the Postal service must now compete with Amazon, which is developing alternate delivery methods. The company's low-wage, precarious labor model threatens the jobs of nearly 1 million unionized, middle-income workers at UPS and the U.S. Postal Service, the authors write.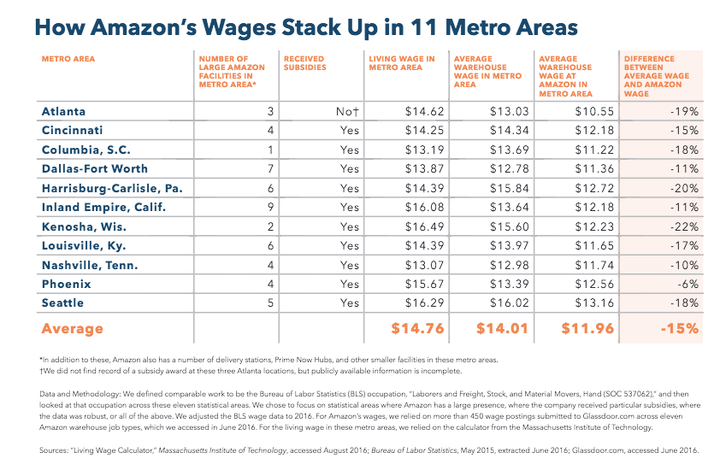 But the researchers also offer up interesting analysis about how Amazon relies on local tax subsidies to fuel its growth. The company has gotten at least $613 million in subsidies since 2005, according to the report. Yet, at the same time its online retail business leads to brick-and-mortar store closures, which can ultimately deprive a locality of much-needed property tax revenue. Meanwhile, in some states the company still doesn't charge shoppers sales tax.
Popular in the Community