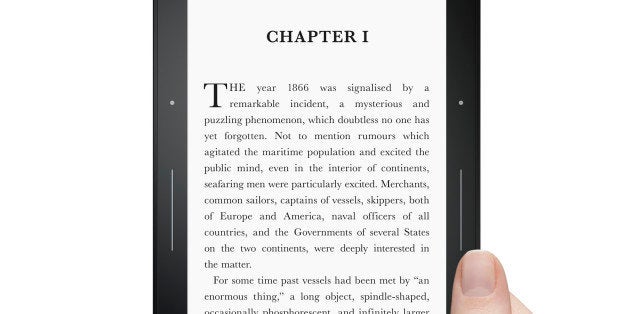 Amazon's goal is to make reading a book on a Kindle better than reading a traditional book.
But in the seven years the retailing giant has been making Kindles, they've fallen short in one huge and annoying way: Without a sneaky (and not recommended) workaround, sharing your collection of eBooks with other people was nearly impossible.
Amazon said on Wednesday it's adding the ability to share your eBook collection with your household. The company calls it Family Library, and it will come as part of Amazon's new lineup of Kindles, unveiled on Wednesday and available next month. Amazon says the new feature will roll out to all Kindle eReaders released since August 2010, from the Kindle Keyboard onward.
New customers will be able to add another Amazon account when they register their new eReaders, and people who already have Kindles will be able to link another account once the software is updated. (Amazon already allows you to loan certain eBooks to other people, but you can only do it once per book, for two weeks at a time, and you can't read the book while someone else has it. An Amazon spokesperson said Family Library doesn't have those restrictions, though many publishers do limit books to six devices in total.)
"This is something customers have been asking for for a long time," said Peter Larsen, vice president of devices at Amazon, adding that people can choose to share their entire eBook collections, or just specific titles.
Amazon's new lineup of Kindles -- and updated Kindle features -- comes as the company is engaged in a bitter, public dispute over eBook prices with the publisher Hachette.
Apart from sharing eBooks, people using Family Library will be able to share games, apps, audiobooks and programming from Prime Instant Video, the Netflix-like streaming video service that comes as part of Amazon Prime, the company's $99 loyalty program. Amazon said it will add downloaded movies and TV shows to the list next year. And the feature will work across multiple Amazon devices, so if you start reading something on your Kindle Fire tablet, you can pick it up on your Kindle eReader, or, eventually, your iPad.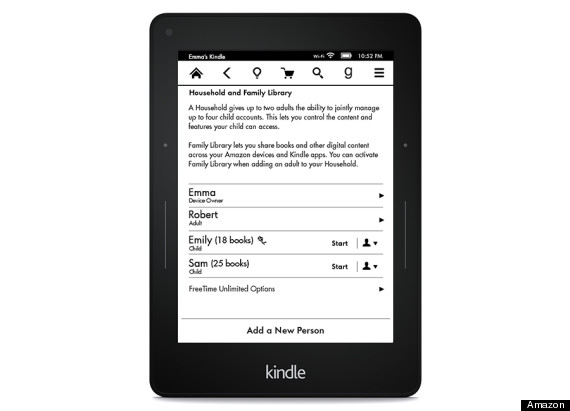 The Family Library screen shown on a new Kindle Voyage
Apple included a similar feature -- it's called Family Sharing -- in iOS 8, the latest version of its mobile operating system, which became available for download on Wednesday. Apple lets you share music, books and other content with up to six people. Amazon's Family Library only allows for two adults and four kids. (Amazon has kid-specific accounts.)
Amazon's not just doing this to be nice. The company wants to keep you in its Kindle-sphere. You may be more likely to buy a Kindle Fire tablet, and download pricey movies and TV shows from Amazon if your partner also has a Fire tablet.
This article has been updated with new information from an Amazon spokesperson regarding which models can support Family Library. A previous statement that it would not be available on models released before 2013 was incorrect.
Calling all HuffPost superfans!
Sign up for membership to become a founding member and help shape HuffPost's next chapter