 Amazon's new Kindle Fire tablet is thicker than the iPad, lacks a camera and has measly storage space. It can't connect to a 3G wireless network and its battery life is average at best.
Still, the Kindle Fire may be poised to steal coveted marketshare from the iPad, so far largely immune to the onslaught from major manufacturers such as Samsung, Motorola and Sony. Nearly two years after the iPad's debut, Apple still commands the lion's share of the tablet market.
What distinguishes the Kindle Fire from other iPad competitors and gives Amazon's tablet an edge has little to do with its design -- barebones at best -- and everything to do with its wallet-friendly pricetag and direct line to Julia Roberts and Elvis Presley, analysts say. Thousands of books, movies, music and games from Amazon's digital media storefront integrate seamlessly with the Kindle Fire, making it the first tablet, besides the iPad, to marry hardware with a robust content library.
"Until now, iTunes has been pretty much the only option offering a true end-to-end experience where you can find content you like, buy content, and access that content on a device, instantly," said Jeremy Toeman, chief product officer for Dijit, a digital media company. "With the Kindle Fire, Amazon is now the first viable alternative to that. It's a place where you can buy a device and easily access all the content you want to consume as well."
Tech industry behemoths have tried to best Apple with tablets, like the Motorola Xoom and BlackBerry Playbook, that offer more bells and whistles than the iPad for a comparable price.
With the Kindle Fire, Amazon aims to sidestep Apple's key strengths with an approach that distinguishes the device from the iPad and its herd of rivals. Rather than attempting to outdo the iPad's sleek hardware -- a tall order -- Amazon has contented itself with a $199 tablet, half as expensive as the cheapest iPad, that is functional, but not fabulous. It's simple, affordable and just does what's needed, an appealing alternative for individuals who prefer not to pay hundreds for an iDevice.
At the same time, Amazon has chosen to compete with Apple on content, betting that people will settle for a tablet that does less, and costs less, if accessing music and movies is simple and cheap. Experts say it's a savvy play. "Consumers are not buying a device because it has a dual core processor or it has 16GB of RAM or an AMOLED display," said Michael Gartenberg, an analyst with Gartner, a research firm. "They're buying it because they want to watch movies, listen to songs and play Angry Birds."
"Where Amazon separates itself from the Barnes and Noble Nook and even other Android devices is that it has content and services," Gartenberg added.
These days, as tech giants increasingly double as media providers, buying a smartphone or tablet also means buying into a specific ecosystem of content and services, explain analysts, who note that consumers covet an end-to-end experience that puts their favorite blockbusters and Hollywood hits at their fingertips. While non-iPad tablets offer access to movies and music, unlocking content on these devices can be clunky and time-intensive next to the instantaneous iTunes, which peddles everything from apps and TV episodes to bestsellers and Britney Spears' songs. Amazon, like Apple, has interwoven its media storefront with its tablet in a bold move that suggests Amazon has both the iPad and iTunes in its crosshairs. The low cost of the Kindle Fire could drive consumers into Amazon's arms and, as the retailer hopes, catalyze content shopping sprees that swell the web giant's coffers and lock users into storing their e-goods with Amazon. "The thing about these tablets is what's on the other end of the network is as important as what you hold in your hand," said Ezra Gottheil, a senior analyst with Technology Business Research. "What makes the iPad work is that people can get movies, apps and content, just by plugging it in to the iTunes Store. Amazon is offering the same solution." Amazon has content, and lots of it, to put on the Kindle Fire. Users can tap into a digital Newsstand stocked with more than 400 premium magazines, as well as a library of thousands of ebooks. Amazon boasts 17 million songs in its collection, nearly 13,000 streaming movies and TV shows, and a curated selection of apps from Pandora, Netflix, ESPN and others. By comparison, iTunes hosts more than 200,000 ebooks, more than 20 million songs, and in excess of 500,000 apps, as well as its own Newsstand and video rental service. Google has been growing its own content collection, but was late to the game: Google Music, for example, launched to the public just last week, four years after Amazon's online music store and eight years after Apple's.
Reviewers note that Amazon has made purchasing media front and center on its device. The Kindle Fire is "a fiendishly effective shopping portal in the guise of a 7-inch slate," wrote one reviewer. Another observed, "Amazon is "definitely presenting a smoother path to buying content than any of the other guys." "For the purposes of content consumption, the Kindle Fire will be the ideal device," Gartenberg said. "Before Amazon went into the business of building a tablet, they built out an ecosystem of books and music, they put up an app store...and they launched streaming services. That really sets them apart." But some experts maintain the Kindle Fire isn't a direct competitor to the iPad, arguing that the new tablet's limited capabilities and lower pricetag put it in another category altogether. The Kindle Fire has been met by mixed reviews, and users who can afford to spend upwards of $500 on a tablet aren't likely to be deciding between Apple and Amazon, analysts say. "The truth is the Kindle Fire doesn't really compete with the iPad," Gartenberg said. "You can't compare them because they're designed for different audiences, different functions and different price points. The iPad can do an awful lot more than a Kindle can do." While it seems unlikely that Amazon's tablet will bring the iPad to its knees, analysts note the tablet will take a bite out of Apple's sales this holiday season -- and beyond. Gottheil estimates that the iPad will lose a million units in sales to the Kindle Fire this quarter, as price-sensitive shoppers defect to Amazon's offering, which could chip away, bit-by-bit, at Apple's lead. Less than a month after it was unveiled, the Kindle Fire has already skyrocketed in popularity to become the second most-desired tablet after the iPad, according to a study by ChangeWave research.
Toeman argued that for people who use their tablets for entertainment, rather than as PC substitutes, the two devices are close rivals.
"For the consumer buying a tablet as a portable, media-consumption device, the iPad and Kindle Fire are highly competitive," Toeman said.
There's far more at stake than tablet market share, however. These devices have become a valuable platform through which web companies sell content, and the battle over tablets is by extension a war over the media marketplace. In choosing the Kindle Fire over the iPad, users are potentially making a longer-term commitment to sourcing and storing their content on Amazon.com. On the flip side, Apple stands to suffer a double whammy: losing sales of the iPad as well as sales on iTunes. Analysts say that Amazon is pursuing a "razor and blades" marketing strategy with the Kindle Fire by giving the tablet away, practically at cost, as a way of increasing its sales of books, music and movies.
Amazon's chief financial officer Thomas Szkutak said as much during a recent call with investors. "What we're seeing certainly is that once customers purchase a Kindle and are carrying around this really massive selection at their fingertips, they're buying more content," Szkutak said. "So we're not just thinking about the economics of the device and the accessories. We think about the content."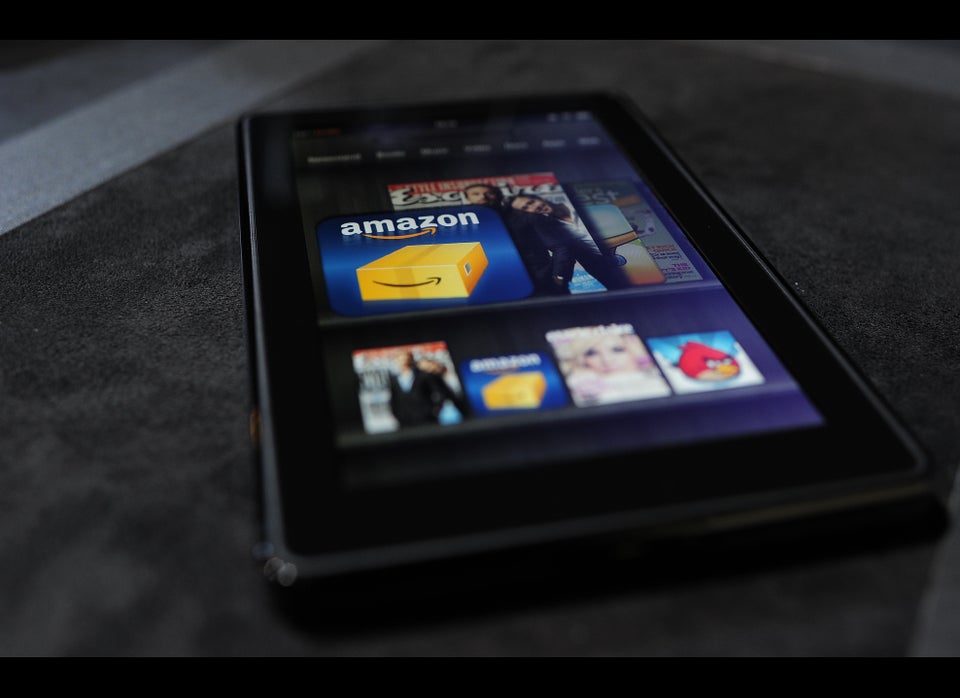 Amazon Fire: What You Need To Know(CLONED)