Executives from JPMorgan Chase and BlackRock are scheduled to speak about the need to slash planet-warming emissions next week in Bonn, Germany, at the United Nations' annual conference on climate change.
Yet the financial giants continue to fund at least three companies that drill for oil in the Amazon rainforest, including on tracts of land contested by indigenous tribes, a report released Thursday found.
JPMorgan Chase, the largest U.S. bank by assets, holds nearly $113 million in combined debt and equity investments in South American oil and gas giant GeoPark, Canadian firm Frontera Energy Corporation and Chinese-owned Andes Petroleum, according to a 16-page report by Amazon Watch, a California-based conservation nonprofit. BlackRock, the investment behemoth, owns $567 million in stocks and bonds in GeoPark, Frontera and the two parent companies of Andes Petroleum.
The investments highlight the gap between how many major corporations ― including most big banks and financial firms ― spend their money and the public positions they take on climate change. In recent years, corporate giants have pledged to convert their operations to 100 percent renewable energy, issue sustainability reports and broadcast lofty statements in support of action to curb global warming. Executives make annual pilgrimages to global summits such as the World Economic Forum in Davos, Switzerland, and the U.N.'s 23rd Conference of the Parties, held this year in Germany.
"Like so many big businesses, JPMorgan Chase and BlackRock greenwash their activities rather than apply their resources to real solutions," Leila Salazar-López, executive director of Amazon Watch, told HuffPost in a statement. "Our report exposes their complicity in Amazon destruction, and we know savvy investors will respond accordingly, as we've seen in the massive divestment from fossil fuels and the financial institutions that bankroll them."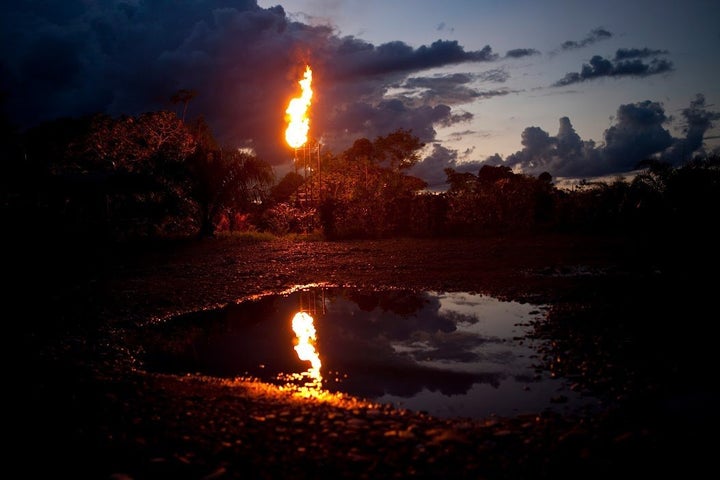 Environmental activists have increasingly set their crosshairs on major financial institutions. JPMorgan became the target of a new campaign by the well-funded Rainforest Action Network in September over the bank's funding of tar sands oil projects. Bank of America faced similar scrutiny last year for backing a company behind the Dakota Access Pipeline.
But the Amazon Watch report took specific aim at the companies as they seek to align themselves with the U.S. interests supporting action on climate change at the conference, called COP23. While President Donald Trump withdrew the U.S. from the Paris climate accord and is sending delegates to the Germany meeting to advocate for increased fossil fuel use, another group, including California Gov. Jerry Brown (D) and New York State Comptroller Tom DiNapoli, is slated to stump for reducing the use of the fuels responsible for producing planet-warming emissions. Among the latter group will be JPMorgan and BlackRock, as well as representatives from Bank of America, the Coca-Cola Company and candy maker Mars Inc.
Aside from the obvious environmental hazards of drilling for oil in the fragile and rapidly-depleting hub of biodiversity that is the Amazon rainforest, the report focused on tensions between the JPMorgan- and BlackRock-funded companies and indigenous groups.
GeoPark entered Peru in 2014, and took a majority stake last December in an oil block located in an area of the Amazon where the indigenous Kichwa and Achuar tribes have been fighting drilling for years. JPMorgan has invested $31,151,656 in the firm, while BlackRock owns a stake worth $6,263,139.
A block owned by Frontera in the Peruvian Amazon is "infamous for its antiquated, leaky pipeline infrastructure" and its "legacy of dumping billions of gallons of toxic production waters and hundreds of oil spills have left lagoons with oil, contaminated animals, dead fish, cultural knowledge loss, mistreatment of men, women and children," according to the report. JPMorgan's investment totaled $23,687,433. BlackRock invested just $18,606.
Andes Petroleum was created in the wake of a series of 2009 oil-for-loans deals between Ecuador and China, which now has a near monopoly on crude exports from the South American nation. The company, which operates exclusively in the Ecuadorian Amazon, has battled the Kichwa and Sápara tribes, who say blocks Andes Petroleum purchased in recent years overlap with their territory. The firm is a joint venture between the China National Petroleum Corporation ― in which JPMorgan owns a $24,655,800 stake and BlackRock owns $6,637,000 ― and Sinopec, in which the firms have investments worth $33,462,670 and $553,991,110 respectively.
JPMorgan declined to comment, and BlackRock did not respond to a request for comment.
This post has been updated to note JPMorgan declined to comment.
Related
Before You Go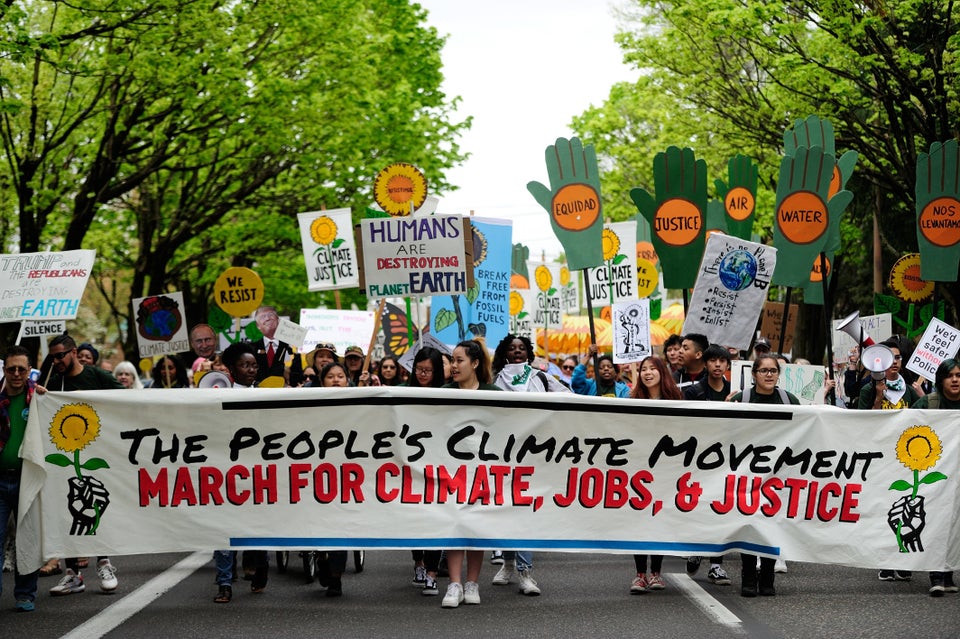 Climate Marches Across The U.S.
Popular in the Community