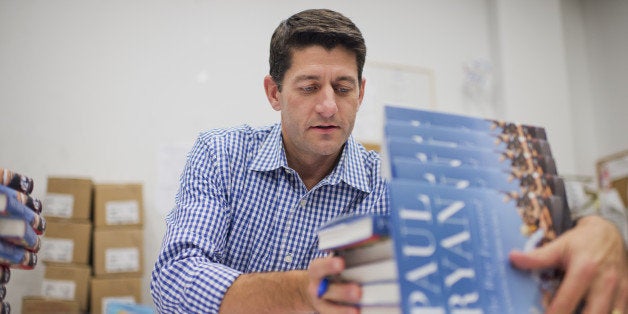 Amazon appears to be giving Representative Paul Ryan special treatment.
Over the last few weeks, the online retailer has backtracked on its initial refusal to promote the one-time Republican vice presidential nominee's new book The Way Forward after Ryan complained of being a pawn in Amazon's war with French publishing giant Hachette.
In what some have called an example of "rapacious near-monopoly," Amazon has removed the buying feature or delayed shipping on thousands of Hachette listings to pressure the publisher into selling e-book versions of its titles for about $5 cheaper.
Twelve, a Hachette-imprint, published Ryan's 304-page political memoir on on August 19. But after the book was released, it was difficult to find on Amazon's website, the New York Times reported. As part of its strategy of damaging Hachette sales, the retailer refuses to promote new titles from the company.
This ham-fisted approach to a negotiation has drawn the ire of major Hachette authors such as JK Rowling, James Patterson and Malcolm Gladwell. On Monday, even more literary lions who aren't published by Hachette united against Amazon.
Last month, a day after his book was released, Ryan hinted that -- were he not a Congressman -- he would wade into the debate on the side of his fellow scribes.
During an August 20 appearance on CNBC's "Squawk Box," he said, "Amazon is clearly making kind of a power play here."
He declined to say whether he felt Amazon was a monopoly. But pressed by host Andrew Ross Sorkin on whether he'd support regulation to weaken Amazon's grip over the publishing industry, Ryan blew a dog whistle of support for his publisher.
"If I were just a private citizen I would voice one straight opinion," he said, plugging Amazon rival Barnes & Noble as a good place to buy his book at a discount.
Amazon, it seems, heard his plea.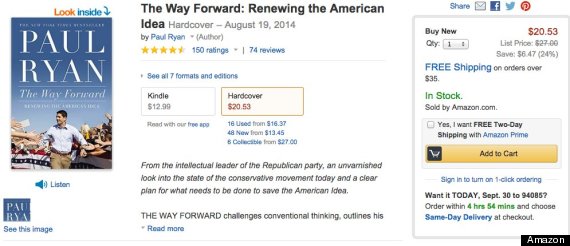 A screenshot of the Amazon listing for Paul Ryan's book, which is available for sale.

Soon after the appearance, Ryan's book was stocked and discounted on Amazon, according to the New York Times. A few other Hachette books have found their way to Amazon's top-selling lists with the help of discounts and availability. But other bestselling books from Hachette have not seen the same reversal.
Without a discount, The Closer, a memoir by New York Yankees' star Mariano River, sells on Amazon for $28. The same book is priced at $19.32 at Barnes & Noble.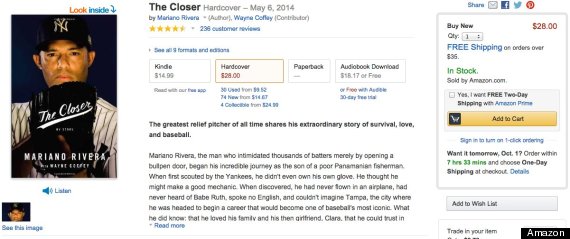 Michael Connelly's upcoming thriller The Burning Room is not available for preorder:

The father-son memoir from television personalities Bill and Willie Geist, Good Talk, Dad, is listed at a full-priced $27 on Amazon, where it could take up to three weeks to ship. At Barnes & Noble, the hardcover costs $18.63 and "usually ships within 24 hours."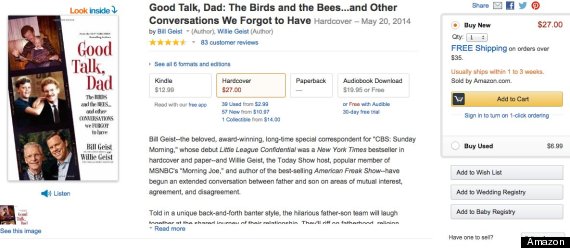 Neither spokeswomen for Amazon nor Hachette immediately responded to The Huffington Post's requests for comment on Tuesday morning.
Related
Popular in the Community