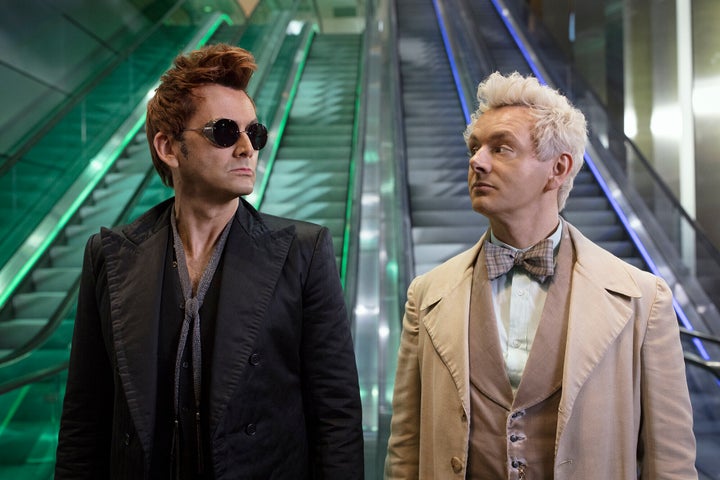 The Amazon Prime highlight: "Good Omens," Season 1. (Streamline recommends this show for a second week because between June 2 and June 8, Amazon Prime didn't add any noteworthy Originals besides a documentary about the Jonas Brothers. Although that documentary has actually earned a few good reviews, I couldn't bring myself to recommend you spend your time with that unless you're a Jobros superfan.)
Premise: An angel and demon work together to thwart their respective bosses' desires to bring about the apocalypse. The duo have been on Earth since the time of Adam and Eve, but still have little clarity on their roles, just like any employee far down a corporate ladder. When the Antichrist enters the world as a baby (emerging from the ground in a wicker basket ) the angel and demon insert themselves into the boy's childhood to try to influence the Antichrist into being a good person. Due to a mix-up at birth, however, they help raise the wrong child. Meanwhile, a woman has predicted numerous moments in history with complete accuracy, calling into question the balance between free will and fate.
Stars: Benedict Cumberbatch, Jon Hamm, Frances McDormand, Nick Offerman, with Michael Sheen and David Tennant playing the lead roles.
Sum-up: A high-stakes fight between literal manifestations of good and evil makes for a strong foundation to insert jokes of both a quirky and goofy nature. The comedic chemistry of Sheen and Tennant, both wearing near clown-like costumes of human city folk, ultimately carries a meandering plot. Although the bones of the story may be dissatisfying, the show's seeming more-is-more ethos does a ton of work to keep you smiling.
Heads-up: The visual aesthetic of this show borrows heavily from discarded artistic ideas of the past. While most shows have a clean, sharp look these days, "Good Omens" features an almost clip-art style that would be bad in most hands, but comes around to achieving a charm here.
Look-up: "Good Omens" by Terry Pratchett and Neil Gaiman. The Wrap has an interview with Gaiman that focuses on the Monty Python influence in this new adaptation.
Will everyone be talking about this? The trailer has amassed over 3 million views on YouTube alone. Gaiman's writing celebrity paired with the various A-list actors will give this a solid shot at popularity.
Check out the trailer for "Good Omens" below.
Read on for more recommendations.
And if you want to stay up to date with what to watch on a weekly basis, subscribe to the Streamline newsletter.
Here's the trailer:
May 26
May 31
"Antitrust"
"Awaiting"
"Blaze You Out"
"Body of Evidence"
"Chinese Hercules – Ma tou da jue dou"
"Cougars Inc."
"Deadtime Stories"
"Emperor"
"Eulogy"
"F/X"
"F/X2"
"Super Dragon – Feng qi yun yong dou kuang lung"
"Flawless"
"Fluke"
"Forbidden Ground"
"Free Money"
"Friday Night Lights"
"Friday the 13th"
"Friday the 13th Part 2"
"Friday the 13th Part III"
"Friday the 13th Part VI: Jason Lives"
"Friday the 13th Part VII: The New Blood"
"Friday the 13th Part VIII: Jason Takes Manhattan"
"Friday the 13th: A New Beginning"
"Fun Size"
"Good Omens" (Season 1) Amazon Prime Original Series
"Hart's War"
"I'm Gonna Git You Sucka"
"Jennifer Eight"
"Lost and Delirious"
"Mission: Impossible"
"Murimgori"
"N.Y.C. Underground"
"Night of the Living Dead 3D"
"Night of the Living Dead: Resurrection"
"Patriot Games"
"Planes, Trains & Automobiles"
"Private Parts"
"Reservoir Dogs"
"Shaolin Drunk Fighter – Gimunsayukbang"
"Shaolin vs. Lama – Shao Lin dou La Ma"
"Woman Avenger – Shi mei chu ma"
"Tao tie gong"
"The 'Burbs"
"The Big Wedding"
"The Constant Gardener"
"The Doors"
"The Ghostwriter"
"The Gift"
"The Letter"
"The Lonely Man"
"The People vs. George Lucas"
"The Puffy Chair"
"The Secret of NIMH"
"Trainwreck: My Life as an Idiot"
"X+Y"
June 3
"District 9"
"Jackass 3D"
June 4
"Jonas Brothers: Chasing Happiness" (Amazon Original)
"Creative Galaxy" (Amazon Original Children's Series, Season 3)
June 7