The Amazon Prime highlight: "The Tick," Season 2. Amazon debuted this new season on April 5.
Premise: Life in New York City must go on, even though superheroes and supervillains have become residents. Heeding a desire to do something meaningful, a young man teams up with a dumb-but-strong superhero and creates his own super persona. The duo joins the seemingly eternal fight of good versus evil. Despite becoming super, the protagonist still has human obligations, such as taking calls from his mom and figuring out how to pay rent.
Sum-up: With all the earnest megabudget takes on the superhero genre over the last decade, "The Tick" feels like a mildly refreshing break from form. Rather than presenting barely flawed heroes or super-bleak anti-heroes, this show features characters that simply don't have all the answers. That's a far more relatable approach than the competition these days.
Heads-up: "The Tick" strives to be different, but superhero stories dominate American culture right now. As such, this still feels like just one more superhero project. Also, the budget obviously comes nowhere close to the on-brand movies, so the fights play up an early "Power Rangers" vibe that's funny the first time but gets boring once the joke has been established.
Will everyone be talking about this? The trailer has over 1 million views on YouTube. Although culture publications don't talk about this show that much, I think it has a dedicated following.
Check out the trailer for "The Tick" below.
Read on for more recommendations.
And if you want to stay up to date with what to watch on a weekly basis, subscribe to the Streamline newsletter.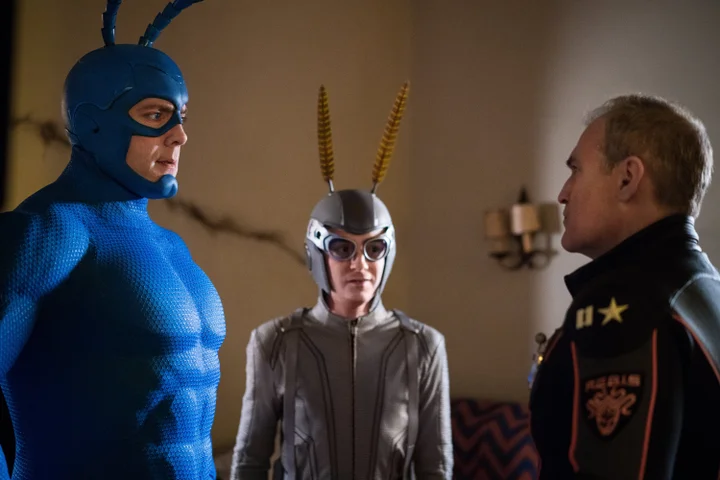 "Murder, She Wrote" (Seasons 1-5)
"1492: Conquest of Paradise" (1992)
"Addams Family Values" (1993)
"An Invited Guest" (1999)
"Beetlejuice" (1988)
"Beverly Hills Cop II" (1987)
"Blade" (1998)
"Blade II" (2002)
"Blade: Trinity" (2004)
"Blown Away" (1994)
"Case 39" (2009)
"Days of Thunder" (1990)
"Diamonds Are Forever" (1971)
"Die Another Day" (2002)
"Dragonslayer" (2011)
"Escape From L.A." (1996)
"An Everlasting Piece" (2000)
"Everything Must Go" (2010)
"Foxfire" (1996)
"Funny About Love (1990)
"Goldfinger" (1964)
"In a World…" (2013)
"Interview With the Vampire: The Vampire Chronicles" (1994)
"Law of the Lawless" (1964)
"Liberty Stands Still" (2002)
"Little Monsters" (1989)
"Live and Let Die" (1973)
"Never Say Never Again" (1983)
"Octopussy" (1983)
"Primal Fear" (1996)
"Racing With the Moon" (1984)
"Sharkwater Extinction" (2018)
"Six Degrees of Separation" (1993)
"Starsky & Hutch" (2004)
"Stories We Tell" (2012)
"Teenage Mutant Ninja Turtles II: The Secret of the Ooze" (1991)
"The Addams Family" (1991)
"The Living Daylights" (1987)
"The Man With the Golden Gun" (1974)
"The Minus Man" (1999)
"The Perfect Storm" (2000)
"The Shawshank Redemption" (1994)
"The Spy Who Loved Me" (1977)
"The World Is Not Enough" (1999)
"Up in Smoke" (1978)
"Up in the Air" (2009)
"You Only Live Twice" (1967)
"The Tick" (Prime Original Series, Season 2)