Streamline recommends "The ABC Murders" on Amazon Prime this week. Amazon debuted this new show on Feb. 1.
Premise: Based on an Agatha Christie novel, this takes place in the 1930s and tells the story of a once-famous detective who longs for his glory years while spending much of his time alone. A serial killer starts to send messages to the detective, which sets off a cat-and-mouse mystery that, of course, involves murder.
Stars: Rupert Grint and John Malkovich.
How excited should you be? Amazon doesn't have as many British crime shows as Netflix, so adding this highly stylized detective thriller should be a welcome move for fans of that genre. Malkovich elevates everything he stars in (even with a ridiculous accent this time around) and Grint looks nothing like Grint in this role, so that's kind of fun. Although this show wallows in grimness, clever moments of humor peek through occasionally.
Any reasons to be skeptical? This show plods along at a glacial pace. During multiple scenes, I wondered if my internet had slowed down and I was watching this at half-speed. The poor direction and dialogue make this hard to get through, so you really have to love detective thrillers to find enjoyment here. Sometimes I watch shows with hourlong episodes that feel too long, but it's hard to say what should have been cut. That's not the case here, as the show decides to spend a laughable amount of time focusing on shots of sinks and typewriters and other uninteresting inanimate objects.
Will everyone be talking about this? Almost definitely not.
Check out the trailer for "The ABC Murders" below.
Read on for more recommendations.
And if you want to stay up to date with what to watch on a weekly basis, subscribe to the Streamline newsletter.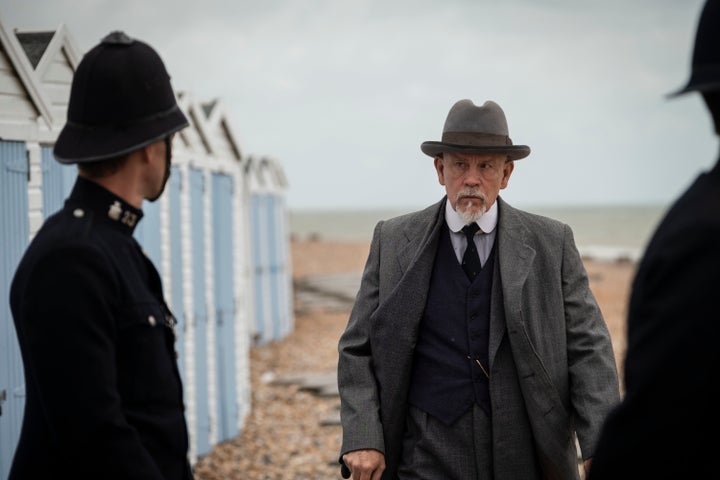 What Else Is New This Week
Amazon adds over 100 movies on Feb. 1, but not many notable ones. This is far more than Amazon (or Netflix) has typically ever added on a single day and I wonder if this portends a new strategy of mass volume for the streaming company.
The full Amazon Prime list for the week:
Jan. 29
Feb. 1
"23 1/2 Hours Leave" (1937)
"Agatha Christie Presents: ABC Murders," Season 1
"A Romance of Happy Valley"
"A Strange Adventure"
"Along Came Polly"
"Barefoot"
"Bounty"
"Brand of the Devil"
"Broadway Danny Rose"
"Chaos"
"Delta Farce"
"Flesh+Blood"
"Foolish"
"Four Weddings and a Funeral"
"Gambler's Choice"
"Generation Wealth"
"Gorilla Ship"
"Guru, the Mad Monk"
"Hay Foot"
"Headline Crasher"
"High Lonesome"
"High School Girl"
"Hollywood Without Make-Up"
"Hunters of the Deep"
"In Plain Sight," Season 1-5
"Irish Luck"
"Jacaré"
"Joan the Woman"
"Just Add Magic," Season 3
"Lady From Chungking"
"Lara Croft: Tomb Raider"
"Little Miss Hoover"
"Loaded Pistols"
"Lost Canyon"
"Lucky Ghost"
"Lucky Terror"
"Lying Lips"
"Marathon Man"
"Marie Galante"
"Men of the Plains"
"My Lady of Whims"
"Neath Canadian Skies"
"Neath the Arizona Skies"
"Next Day Air"
"No Substitute for Victory"
"On Her Majesty's Secret Service"
"Oriental Evil"
"Orphans of the Storm"
"Outlaw Express"
"Outlaws of the Desert"
"Paradise Express"
"Partners of the Plains"
"Pirates on Horseback"
"Private Snuffy Smith"
"Queen of the Jungle"
"Racing Blood"
"Raiders of the Border"
"Rawhide"
"Reckless Decision"
"Rogue of the Range"
"A Romance of the Redwood"
"Round-Up Time in Texas"
"Rubber Tires"
"Secret of the Wastelands"
"Secrets of Three Hungry Wives"
"Sepia Cinderella"
"Sisters of Death"
"Sparrows"
"Spirit of Youth"
"Star Kid"
"Stella Maris"
"Swamp Fire"
"Terminator 2: Judgment Day"
"Texas Jack"
"Texas to Bataan"
"That Gang of Mine"
"The Blues Brothers"
"The Border Legion"
"The Ghost Walks"
"The Hoosier Schoolmaster"
"The James Dean Story"
"The Jesus Trip"
"The Kid"
"The Kid Ranger"
"The Last of the Clintons"
"The Last of the Mohicans"
"The Love of Sunya"
"The Married Virgin"
"The Matrix"
"The Matrix Reloaded"
"The Matrix Revolutions"
"The Money"
"The Phantom Broadcast"
"The Portrait of a Lady"
"The Proud and Damned"
"The Purple Rose of Cairo"
"The Quiet Ones"
"The Shadow Strikes"
"The Thomas Crown Affair"
"The Time Traveler's Wife"
"The Violent Years"
"Thelma & Louise"
"Three Husbands"
"Three Men From Texas"
"Tombstone Canyon"
"Tomorrow at Seven"
"Tracy the Outlaw"
"Unforgettable"
"Universal Soldier"
"Untamed Heart"
"Vigilantes of Boomtown"
"Wacky Taxi"
"Wagon Trail"
"Wagon Wheels"
"Water Rustlers"
"Wayne's World"
"Wayne's World 2"
"West of the Law"
"Whistling Bullets"
"White Pongo"
"Wild Country"
"Wildfire"
"Winning of the West"
"Ye Shanghai"
"Yodelin' Kid From Pine Ridge"
"Young Dynamite"

Related